Marcelo shows you every detail behind securing the two on one, controlling the grip, and launching high percentage attacks
Use double legs, single legs, butterfly sweeps, single leg X, and more - all from the two on one gripping system
Marcelo Garcia is one of the greatest grapplers and coaches of all-time, with many world championships of his own and world champion students training under him
Add the two on one grip to your game from standing, bottom, top, and tons of useful situations
Get a grip and get to work from your guard with Marcelo Garcia's no-gi guide to attacking from bottom using the two on one gripping systems that brought him so much success over his career. Learn how to secure the two-on-one and how to begin sweeping using his classic techniques in this new 4-part series.
With two on one gripping, Marcelo will show you how to hand fight, secure controls, and start using high percentage offense and counters that anyone can use. Attack from bottom with wrestling sweeps, butterfly sweeps, ankle picks, back takes, and more, with each one taught in extreme detail for complete understanding.
Marcelo Garcia is a nine-time world champion in Brazilian jiu-jitsu and submission grappling, with countless elite victories and incredible performances. Now, he operates as one of the world's premier coaches, sharing his knowledge with the world. This is your opportunity to learn from him as he shares all the secrets behind these highly effective moves.
The two-on-one can be your hack to creating action in no-gi grappling with the security of a strong grip to work from. Marcelo shows you all his best ways to get this two on one, moving around with it, and gaining the upper hand always. Don't miss out on this 4-part series where you can learn the system for one of the best grappling guards ever!
SO, WHAT EXACTLY DO YOU GET?
BREAKING AND COUNTERING GRIPS
WINNING THE 2 ON 1 VS EVASIVE OPPONENT
FIREMAN'S CARRY FROM 2 ON 1
DOUBLE LEG FROM 2 ON 1 COUNTER
GUARD PULL WITH 2 ON 1 TO DUMMY SWEEP
SINGLE LEG X ENTRY AND SWEEP FROM 2 ON 1
BUTTERFLY SWEEP FROM 2 ON 1
FINISHING THE BUTTERFLY SWEEP WHEN OPPONENT POSTS
SINGLE LEG X ENTRY AND SWEEP OPTION 2
BUTTERFLY SWEEP WHEN OPPONENT BREAKS GRIP
2 ON 1 TO DOUBLE UNDER CONTROL TO X GUARD SWEEP
KICK SWEEP WHEN OPPONENT COMES FORWARD
KNEECUT PASS AND PASSING CONCEPTS WITH 2 ON 1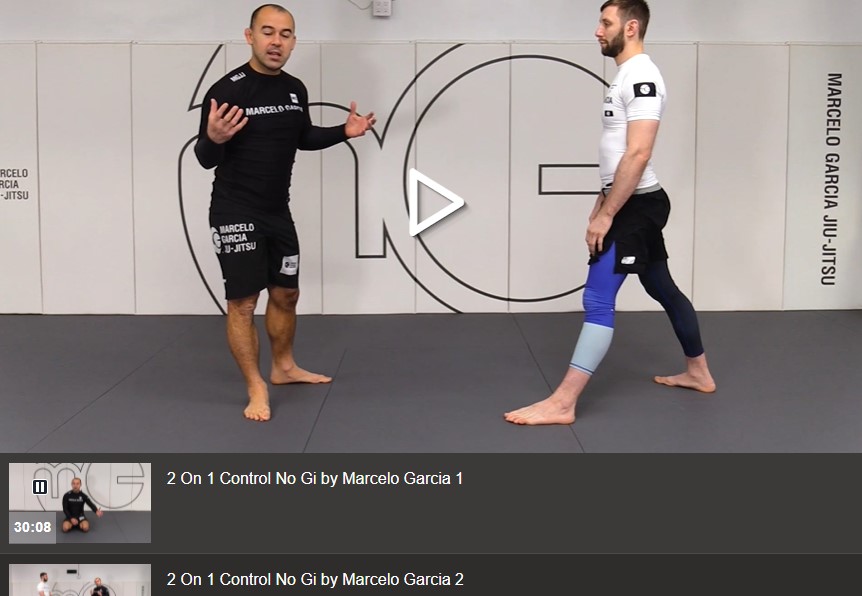 Format file 4xMP4 HD 720p (please inform if you need FHD 1080p)
duration 2 hours 4 minutes
2 on 1 Control NoGi by Marcelo Garcia
Product Code: bjj1272
Availability: In Stock
---