The Iron Pillow System Takes Easy To Learn Fundamental Movements And Applies Them Across The Grappling Spectrum, Rapidly Upgrade Your Defensive Skills With 5th Degree Black Belt John Frankl!
With over TWO decades of Jiu-Jitsu experience John Frnakl is a true pioneer of the sport!
Learn fundamental movements that apply across the grappling spectrum that allow for a MAJOR upgrade to your defensive skills.
Frankl's unique approach will show you how to defeat high-percentage techniques by using low-risk movements that ruin the structure of your opponent's offense.
Master the art of prevention with iron pillow concepts that give you a better grasp on what to do from a wide variety of scenarios.
Build confidence in your ability to defend against aggressive guard passes, stifling side control, back control, and MORE!
5th Degree Black Belt John Frankl Teaches His Creative And Highly Effective Iron Pillow System For Defending Yourself In This 4-Part Series!
PART 1
INTRO
OVERVIEW AND PHILOSOPHY
OVERVIEW AND PHILOSOPHY 2
STRUCTURE SKILL AND TECHNIQUE
IRON PILLOW CONCEPTS
IRON PILLOW VS GUARD PASSING THEORY
IRON PILLOW SOLO POSTURE
IRON PILLOW 3 PINTS OF PERFORMANCE
IRON PILLOW VS SIDE CONTROL
PART 2
NECK ATTACKS FROM THE FRONT
KNEE ON BELLY
SWITCH TO THE BACK
SWITCH TO THE BACK 2
PART 3
DEFENSES FROM BACK
SHIN GRAB
WRIST LOCK DEFENSE
LOWER BODY ATTACKS
PART 4
OMOPLATA
HORIZONTAL OMOPLATA
BASED OUT OMOPLATA
IRON PILLOW FROM BACK
OUTRO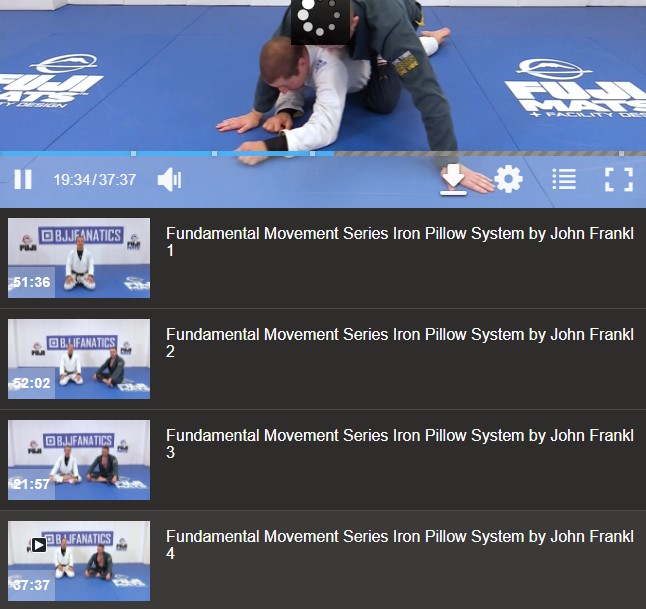 Instant Download Only
Format file 4x MP4 HD 720p
duration 2 hours 43 minutes
Release August 2021
Fundamental Movement Series Iron Pillow System by John Frankl
Product Code: bjj1185
Availability: In Stock
---