World Champion Xande Ribeiro teaches the half guard passing method that he uses at the elite level, with concepts different to his game that you can benefit from
Use some of Xande's half guard passing concepts like the crab walk, the super hold, and the diamond trap to smash your way through the guard easier than ever
Stop common forms of half guard like the deep half with Xande's advice on how to technically stay a step ahead
Go to side control or to mount using pressure that you can build over time with Xande's tips on creating the most squeeze from top possible
Xande Ribiero is one of the best grapplers of all-time, with 8-time black belt world championships and some of the most technical and fluid BJJ ever.
Grip fight and control the bottom fighter with cross faces, shoulder control, and more from top that you can establish and anchor down opponents with
This is your chance to learn a highly effective and easy-to-understand passing system from BJJ legend and 8-time Brazilian Jiu-Jitsu World Champion Xande Ribeiro, as he shows you how he forces half guard and passes to dominant positions using this simple formula. Put it all together with his help as he explains his favorite techniques, necessary concepts, and more for a unified system.
Xande Ribeiro is one of the most technical and fluid grapplers in history, with many accomplishments in gi and no-gi and an incredible wealth of knowledge. Now you can benefit from that knowledge as he breaks down every detail of his half guard passing, including how he creates the most pressure possible against the opposition.
Force the half guard with headquarters passing, leg staples, and more, then work for side control and mount as Xande explains how to create crushing pressure to free your trapped leg and pass. Use Xande's concepts like the Diamond Trap, the Super Hold, and more as he explains how you can use your body to slide away and out of the half guard with less effort and more focus on technique.
Let Xande help you improve from basics to advanced half guard passing as he shows advanced concepts like beating deep half and other trickier half guards. With this four-part series, you'll get coaching on how to fight your way out of stubborn half guards with systematic approaches that help you simplify and understand things better than ever.
SO, WHAT EXACTLY DO YOU GET?
UNDERHOOK SCOOP AND TOP BUTTERFLY HOOK
SAULO CHOKE THREE QUARTER MOUNT PASS
WINNING THE INSIDE BATTLE
FLATTEN OPPONENT'S SHOULDERS
CROSSFACE SHOULDER PRESSURE 4
FORCE THE MOUNT FROM CROSS FACE
FORCE THE MOUNT FROM OVER SHOULDER CONTROL
FORCE THE MOUNT FROM UNDER ARMPIT TURN
PASSING TO SIDE CONTROL WITH THE CROSSFACE
UNDER THE ARMPIT TO SIDE CONTROL
NEGATIVE PASS FROM DEEP HALF
PUTTING IT ALL TOGETHER TO KNEE SLICE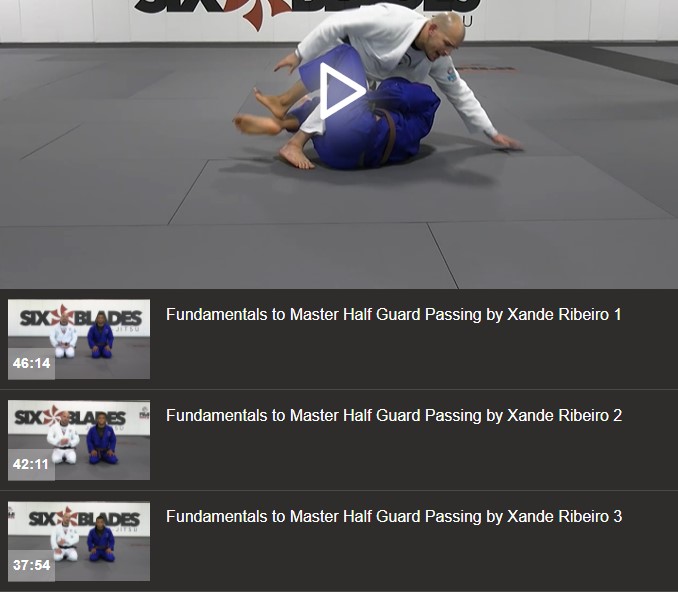 Format file 4xMP4 HD 720p
(please inform if you need FHD 1080p)
duration 2 hours 41 minutes
Fundamentals To Master: Half Guard Passing by Xande Ribeiro
Product Code: bjj1333
Availability: In Stock
---