Stay Out Of Modern Leg Locks And Counter With Effective Attacks Of Your Own With Grappling Star & Leg Locking Ace Craig Jones's 6 Volume Series On Escapes & Defenses
Stop tapping anytime someone grabs your foot and start defending and countering the leg lock with knowledge and technique
Craig Jones is a fan favorite black belt who is known for having some of the most dangerous leg locks ever
Learn the secrets to slipping your heel that can keep you safe even when you are stuck in deep heel hooks
Understand lower body submissions better than ever as you learn the defense to exchange confidently
Even if you don't want to go out and start locking up heel hooks, modern grappling is becoming more and more leg lock savvy. Now you can understand this revolutionary game, shut down these techniques, and start countering for dominant position and submission with the help of Australian black belt and grappling star Craig Jones.
This 6-volume series on leg lock defenses and escapes is from one of the best leg lockers in history, and who better than a submission expert like Craig to break down exactly how to stop the heel hook? Now you can deconstruct the hold, learn how and why it works, and how to stop it step-by-step.
Unwrap yourself from modern leg entanglements like the cross ashi, the outside ashi, 50/50, and more, as Craig shows you how to stay safe as you free your leg and never give up damage. With tips ranging from avoiding the leg lock all together to escaping a fully locked inside heel hook, this series is a full-service guide to submission safety.
Over the last few years, Craig Jones has established himself as one of grappling brightest stars and greatest leg lockers, with tons of victories over elite competition with devastating heel hooks. His style has helped create a new revolution in leg locking, and now you can learn from the man himself how to shut down these positions.
SO, WHAT EXACTLY DO YOU GET?
INTRODUCTORY CONCEPTS & PRINCIPLES
TESTING THE TAP: THE FEAR OF ROUSIMAR
THE HIPS CHANGE EVERYTHING: TRADITIONAL VS MODERN ESCAPES
UNDERSTANDING THE KNEE LINE
CONTINUING TO UNDERSTAND THE KNEE LINE
LIMITING DOUBLE TROUBLE ACHILLES LOCK PRESSURE
HAMSTRING EXPOSURE CROSS ASHI
ADVANCED CONCEPTS & PRINCIPLES
THE MISCONCEPTION BETWEEN KNEELING AND STANDING
DEFENDING FROM OPEN GUARD
PASSING LEG LOCKERS GUARDS
GETTING A LEG INSIDE FROM SUPINE
DEFENDING FROM CLOSED GUARD
DEFENDING FROM HALF GUARD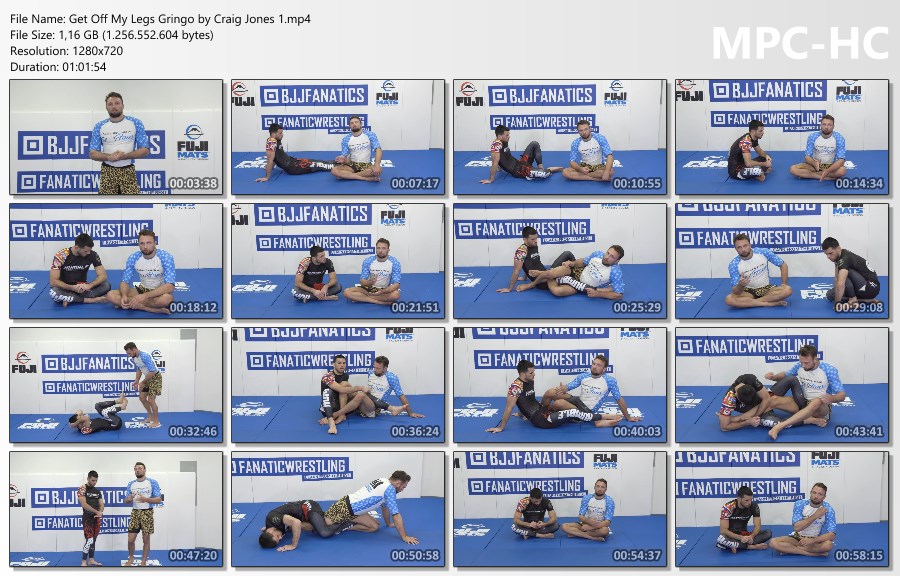 Format file 6x MP4 HD 720p
duration 5 hours 17 minutes
Get Off My Legs Gringo by Craig Jones
Product Code: gra172
Availability: In Stock
---