Forward Pressure: The Yang of Yoga™ is a 3 phase, incrementally progressive Prasara Body-Flow™ dedicated to the development of power to yield, halt and overcome forces in the frontal plane: the eccentric, isometric and concentric strength of the core and all four limbs. This course was uniquely crafted from Scott Sonnon's years of championship coaching of thousands of athletes as well as competing himself at an international level in multiple sports.
It is named the Yang of Yoga to metaphorically refer to the rebalancing emphasis that this style of yoga intends. We've seen a recent fixation on the yin aspect of yoga: referring to the releases of connective tissue and joints. The yang aspect, contrarily, alludes to muscle and movement.
This is not to say that Prasara Body-Flow™ is either Yin or Yang. How can it be? One cannot exist without the other. No activity is specifically this or that. It's always integrated. Only our beliefs are separated. But, it is the recent domination of yin presentations of yoga which prevents access to it for many people, if not most men. The generative, yielding feminine aspect has reclaimed its rightful place in fitness and internal work. But like everything, there must be balance, and in this case homeostatic rebalancing. That is what the yang aspect of yoga brings to us: a sensible yogic path which develops sound muscularity through movement.
Before the PC commercialization of yoga in the West, you'd never find a namby-pamby milquetoast guru. Yogi were each and every one tough, strong men who wrestled, swung heavy clubs (even the Indian god of strength, Hanuman, is depicted hoisting heavy clubs), performed acrobatics on ropes and pillars, and practiced very challenging gymnastic movement sessions. Good luck to you if you weren't living up to your potential (just ask Coach Sonnon's athletes!)
Having this style of yoga available gives access to so many more people, especially men who just can't grasp the contortions of a 105lbs woman. Re-injecting masculinity back into the equation only restores balance to the equation. That's not to say that Forward Pressure is a "men's only yoga". Many women will be absolutely delighted to finally be able to appreciate the muscular movement that you won't find anywhere more present than in Forward Pressure. Women will LOVE this course!
You need a total integrated path for yourself. Sometimes you need to be gentle and release, to concentrate on centering your thoughts and controlling your emotions. Sometimes, on the other hand, you need to take action, to move and writhe in the ecstasy of physical life! It's all in balance.
No style of yoga is superior. No yoga is THE way. Yoga is about creating YOUR way. Forward Pressure will contribute to your opportunity to do just that. The DVD is scientifically, systematically crafted into four equally empowering sections:
I. Introduction: the theory and intentions of Forward Pressure;

II. Instruction: the mechanics of breath, structure and movement in each exercise;

III. Flows: the three follow-along, incrementally progressing multi-movement programs;

IV. Compensations: the specific movements to balance and anchor the gains you make in the Flow Chains.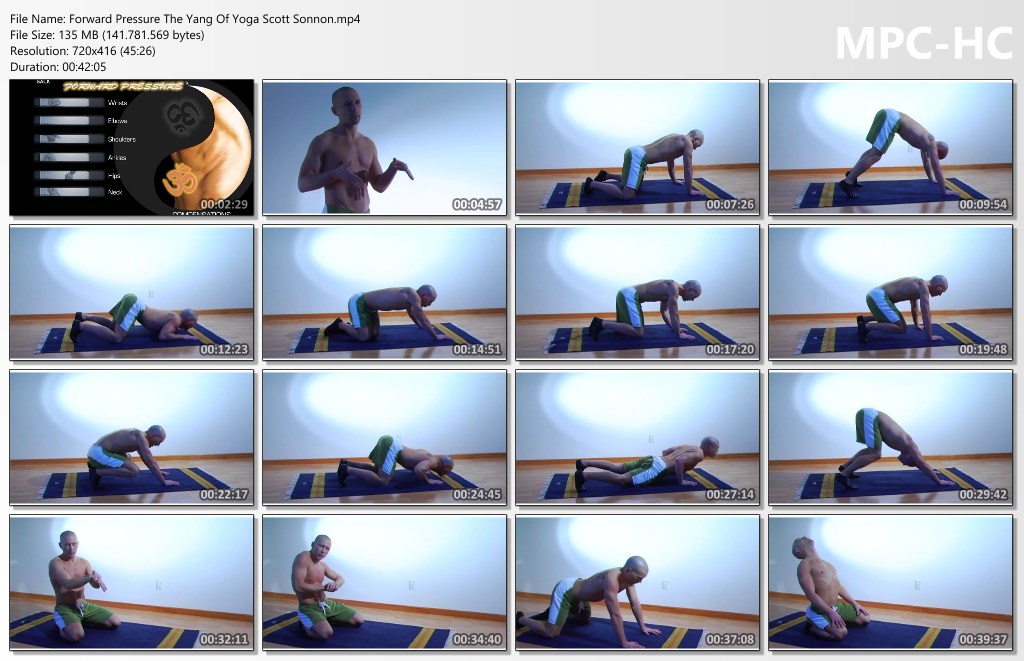 Instant Download only
Format file MP4 400p
durasi 1 hour 20 minutes
release March 2006

Forward Pressure The Yang of Yoga by Scott Sonnon
Product Code: yog211
Availability: In Stock
---