Brazilian Jiu Jitsu black belt Felipe Costa teaches everything there is to know about maximizing control from the back position.
Look in techniques from standing up and the turtle position, and make sure you have mastered all the fundamentals of the rear naked choke.
Find the best strategies for getting the second hook and discover transitions to the bow and arrow and other collar chokes.
Felipe takes a detailed approach to covering his favorite progressions and variations that have brought him all of his success throughout his career.
When it comes to just about every technique in Jiu Jitsu, especially back positioning, maximizing control is always the objective. It's one thing to be able to get to the position, but maintaining it is the other half of the battle. In this series Felipe Costa covers a number of high level techniques to get to the back, successfully maintain it, and finish with the most effective submissions.
Discover concepts and positioning when it comes to taking a standing opponent to the ground and finding the quickest route to the back. Don't allow your opponent to stall or get back to their guard from the turtle position by learning exactly what you need to do to gain control and set the pace of your attack.
Because nothing can be 100% effective, Felipe goes over the best options for transitioning from the back to maintain your dominant position and to keep your attacks coming. As black belt with an extremely long history of competitive and coaching experience, Felipe has narrowed down his absolute favorite techniques from the back to share with you in hopes that you can blossom into the practitioner of your true potential.
As a black belt under Rodrigo "Comprido" Medeiros, Felipe Costa comes from an impressive lineage and brings some of the best techniques on the market into his instructionals. With a passion for the art itself and for teaching, Felipe is easy to learn from and you will find that your comprehension of the techniques will drastically improve. Master every aspect of the back position and make your opponents fear your level of control with this high level instructional!
SO, WHAT EXACTLY DO YOU GET?
STANDING UP: CONCEPTS, POSITIONING AND TAKING TO THE GROUND
TURTLE POSITION: CONCEPTS, POSITIONING AND CONTROL
TIMING TRANSITIONING HIP TO UPPER BODY ACTION REACTION
FUNDAMENTALS OF REAR NAKED CHOKE
BACK CONTROL TRANSITIONING TO MICHELLE'S MATTA FAVORITE
FLIP THE PERSON LIKE A BULL
FELIPE'S FAVORITE PROGRESSION
FELIPE'S FAVORITE VARIATION
STRATEGY THE GET THE SECOND HOOK
FIGHT THE HAND NOT THE NECK / BOW & ARROW
BASIC TRICK TO COLLAR CHOKE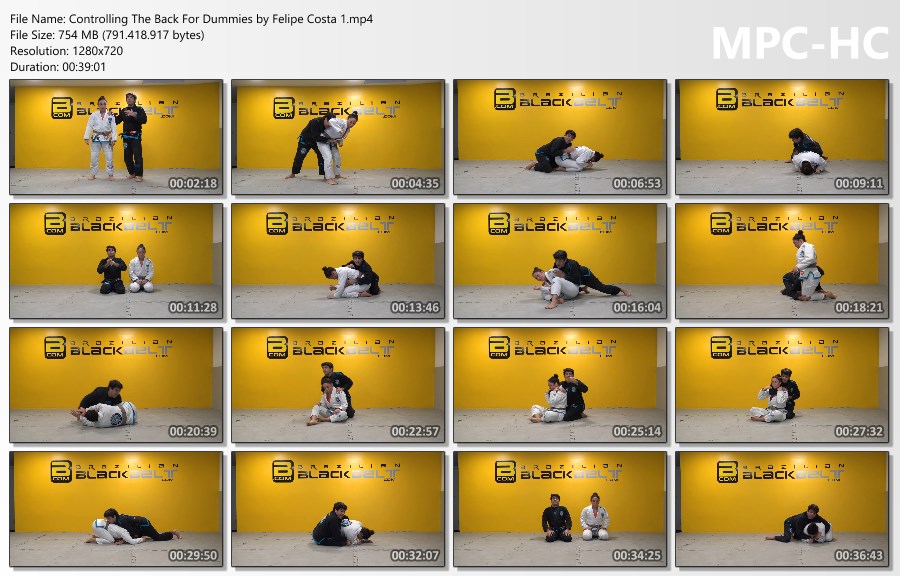 Format file 2x MP4 HD 720p
duration 1 hour 21 minutes
Controlling The Back For Dummies by Felipe Costa
Product Code: bjj1118
Availability: In Stock
---