Speed Up the Learning Process with a Total Jiu-Jitsu Diagram for Beginners Featuring 2020 IBJJF Masters World Champion Italo Lins
Master an effective and systemized approach to BJJ for beginners with GFT standout and 2020 IBJJF Masters World Champion Italo Lins.
Learn the hierarchy of positions and how to effectively navigate an entire library of entry level jiu-jitsu exchanges.
Recruit skills quicker and understand critical concepts faster with elite level guidance and perfectly assembled instruction that will help you develop a better BJJ gameplan.
After a career spent scooping up LOADS of prestigious high level competition hardware including a 2020 IBJJF Masters World Title, Italo Lins would like to introduce you to his systemized approach to expediting your learning process as a jiu-jitsu beginner! The GFT star has compiled an entire library of resources dedicated to helping you get better, faster and enjoy more success in your early days of training. With A complete blueprint for BJJ navigation, Lins will guide you through the hierarchy of BJJ positions, introduce you to trustworthy concepts and techniques, and provide an overall more comprehensive outline for mastering the beginning stages of your BJJ journey!
Start with a deep dive into the jiu-jitsu hierarchy of positions so you can better understand your goals as a practitioner of the gentle art. Lins will dole out critical insights on how to reverse, pass, use basic submissions effectively, and provide conceptual gold that every beginner can benefit from. Take the back with Lins's signature methods, learn how to finish a proper guard pass, explore top and bottom half guard solutions, and more in this one of a kind series dedicated to getting you on track and building a solid BJJ foundation!
Lins has been at the top of the competition food chain for years, competing with the best in the world! His qualifications are boundless and he's got the perfect formula to help you streamline your learning experience as a BJJ beginner! Let Lins guide you through the early stages of your journey and set you up for years of BJJ success!
SO, WHAT EXACTLY DO YOU GET?
PART 1
INTRODUCTION
UNDERSTANDING THE HIERARCHY OF THE POSITIONS
BACK CONTROL
FULL MOUNT TOP
SIDE CONTROL TOP
TURTLE POSITION TOP
CLOSED GUARD BOTTOM
HALF GUARD TOP
HALF GUARD BOTTOM
CLOSED GUARD TOP
TURTLE POSITION BOTTOM
SIDE CONTROL BOTTOM
MOUNT BOTTOM
BACK TAKEN
UNDERSTANDING OPEN GUARD
INTRO
PULLING GUARD TO OPEN GUARD
UNDERSTANDING THE PROCESS OF GETTING INTO OPEN GUARD
TRIPLE SUBMISSION ATTACKS FROM OPEN GUARD
SWEEPING FROM OPEN GUARD
OPEN GUARD/TRIPOD SWEEP
DE LA RIVA OVER HEAD SWEEP
BASIC SPIDER GUARD SWEEP
BUTTERFLY BASIC SWEEP
PART 2
PASSING OPEN GUARD
BASIC PASS FROM SPIDER GUARD USING TOREANDO/BULL FIGHT PASS
KNEE SLIDE
LEG DRAG
CLOSED GUARD SUBMISSIONS
GOING FROM STANDING TO CLOSED GUARD
ARM BAR
TRIANGLE
OMOPLATA
KIMURA
CROSS COLLAR
CROSS COLLAR USING THE LAPEL
PART 3
CLOSED GUARD SWEEPS
SCISSOR SWEEP
FLOWER/PENDULUM
SLEEVE/PANT GRIP
HIP BUMP
BACK TAKE FROM CLOSED GUARD
CLOSED GUARD TOP POSITION
3 WAYS TO ESCAPE
POSTING THE LEG AND PUSHING THE KNEE DOWN
STANDING UP TO BRAKE THE GUARD
FINISHING THE PASS AFTER OPENING THE CLOSED GUARD
KNEE CUT
OVER UNDER
DOUBLE UNDER
PART 4
HALF GUARD BOTTOM
KNEE TRAP TO RECOVER THE UNDER HOOK
PUNCH AWAY
BUTTERFLY SWEEP
COUNTERING THE WHIZZER
UNDER HOOK/LAPEL
HALF GUARD TOP
AMERICANA
BRABO CHOKE
HEAD AND UNDERHOOK
LEG HUGS
KNEE SLIDE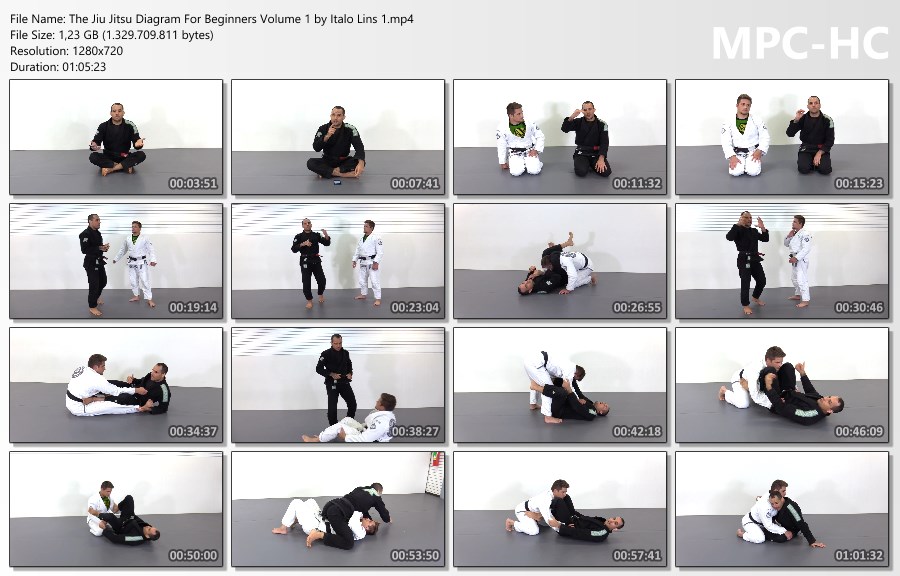 Instant Download Only
Format file 4x MP4 HD 720p
duration 4 hours 11 minutes
Release May 2021
The Jiu Jitsu Diagram For Beginners Volume 1 by Italo Lins
Product Code: bjj1119
Availability: In Stock
---