Dive into world class technique from turtle with Brazilian Jiu Jitsu black belt and IBJJF Pan Champion Thiago "Turtle King" Macedo in this turtle and back defense blueprint series!
As the most recent IBJJF 2020 Pan Champion, Thiago Macedo has an arsenal of the most effective top level technique that your defensive game does not want to miss.
Including basic turtle fundamentals, crab ride and standing technique, as well as advanced defensive strategies, this instructional is geared for Jiu Jitsu practitioners at all levels.
Understand the ins and outs of the turtle position and keep your transitions fresh with this all inclusive blueprint.
Defensive technique is just as important as being able to finish submissions. Without good defense, you won't be in the position to finish submissions. Thiago Macedo has proved the effectiveness of his defensive technique through his long list of achievements; including his 1st place titles in the 2020 IBJJF Pan Championship, 2018 IBJJF American Nationals, and countless other top level tournament placements.
So much of Thiago's technique is based on becoming familiar with attacking options from the turtle so you can anticipate your opponent's next move and be in a position to defend and counter. Use Thiago's method of recognizing the bow and arrow choke early by using a fundamental shrimp paired with a pull on the choking arm to defend and start moving to a dominant position against the highest level opponents.
While studying his technique, it is easy to see the correlation between his teachings and his world championship wins. His flawless technique is practical and speaks for itself. After 120 professional grappling wins, Thiago definitely has his game down to a science.
This 4 part series covers basic turtle fundamentals, crab ride technique, standing technique, and advanced defensive technique. All 4 parts draw on elements on each other, forming a collective and strategic approach to the turtle position that is nothing short of a recipe for success. The work Thiago has put into his Jiu Jitsu since his training began at age 7 has developed into some of the most advanced and technical Jiu Jitsu in the world today.
SO, WHAT EXACTLY DO YOU GET?
PART 1
INTRODUCTION
BASIC TURTLE FUNDAMENTALS
ARM TRAP ROLL
SEAT BELT ROLL TO SIDE CONTROL
SEAT BELT HIP DROP
LATE BACK TAKE DEFENSE WITH ONE HOOK FROM TURTLE
BACK ESCAPE TOWARD SEAT BELT GRIP WITH TWO HOOKS
BACK ESCAPE AWAY FROM SEAT BELT GRIP WITH TWO HOOKS
PART 2
CRAB RIDE
HIP DROP ESCAPE
CRAB RIDE BACK ROLL
CRAB RIDE KNEE DROP
STANDING CRAB RIDE CONTROL ESCAPE
PART 3
STANDING
STANDING BACK DEFENSE TOSSING OVER THE SHOULDER
TRAPPING THE ARM
BACK DEFENSE BODY SHIFT
DEFENDING THE LEG TRAP TAKEDOWN
LATE BACK TAKE STANDING DEFENSE WITH BOTH HOOKS IN AND CHOKE GRIP
SUPER LATE CHOKE DEFENSE
PART 4
ADVANCED
PREVENTING THE TWISTER HOOK
DEFENDING THE BOW AND ARROW FROM HALF GUARD - BACK TAKE
USING YOUR OWN LEGS TO CLEAR THEIR HOOKS
BODYLOCK (TRIANGLE) ESCAPE
WHEN PERSON HAS ONE HOOK AND WANTS TO STRETCH YOU TO PUT THE OTHER HOOK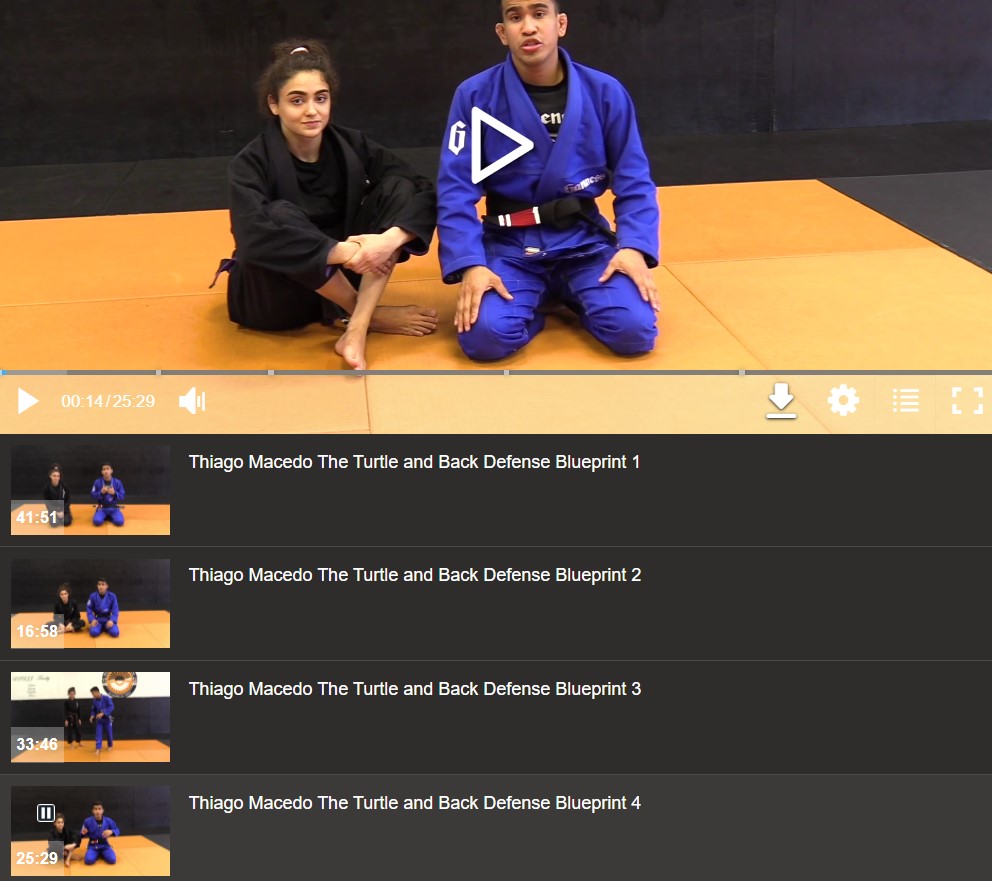 Instant Download Only
Format file 4x MP4 HD 720p
duration 1 hour 58 minutes
Release july 2021
The Turtle and Back Defense Blueprint by Thiago Macedo
Product Code: bjj1136
Availability: In Stock
---