Stop The Mount Take and Systematically Dismantle Some of BJJ's Most Dominant Positions with Legendary BJJ Master and Pioneer, Pedro Sauer's Series On Effective Grappling Escapes
8th Degree Coral Belt Pedro Sauer is one of BJJ's earliest pioneers in America, crafting his skills under the tutelage of the Helio Gracie himself and the great Rickson Gracie, who awarded Sauer his Black Belt in 1985
Learn timeless technique, intelligent escape plans, and essential survival skills to help you shut down some of BJJ's most dominant positions
Stop the mount before it arrives with premeditation strategies that will help you avoid this dangerous position
Understand what your opponents need and want, for a successful transition to the mount and systematically disrupt their plans
8th Degree Coral Belt Pedro Sauer is One of BJJ's most respected and celebrated instructors. A pioneer of the art, Sauer has been a Black Belt since 1985, receiving the high honor from Helio and Rickson Gracie themselves. A technical master of jiu-jitsu, Sauer is world renowned for his highly effective and detail oriented application of BJJ. With Avoiding Mount, you'll experience Sauer's legendary instruction firsthand on one of the most important subjects in the game. Being stuck in the mount is one of the most dangerous and difficult predicaments in BJJ and Sauer is an escape artist with the technical prowess and instruction to not only help you successfully escape the position but avoid it all together!
In 4 parts, Sauer will guide you as you examine multiple scenarios and key details that focus on mount survival and escape, while also developing the foresight to know that the mount is coming and how to shut it down before it arrives! You'll start with premeditation strategies to avoid getting stuck underneath your opponents. Next, you'll explore a special study on the knee on belly position where you'll learn to reverse, escape, and even create opportunities for your own offense! From here, you'll dive into an entire library of mount escape options, contingencies for different variations, and survival tactics to help you stay in the fight!
Pedro Sauer has been an integral part in the journey of thousands of BJJ students. His teaching is highly sought after and his philosophy and approach to learning are some of the most respected in the entire community. Take this rare opportunity to learn essential skills from one of the true pioneers of our craft and upgrade your ability to anticipate, survive, and ultimately escape from some of the worst positions in BJJ!
SO, WHAT EXACTLY DO YOU GET?
PART 1
INTRODUCTION
PREMEDITATION
AVOIDING MOUNT - BRIDGE REVERSAL
SHIELD SWEEP
SCOOP GRIP SWEEP
PART 2
KNEE ON BELLY
HIGH KNEE ON BELLY REVERSAL
HIGH KNEE ON BELLY REVERSAL 2
KNEE ON BELLY UNDERCUT
TWO ON ONE REVERSAL
PUSH PULL REVERSAL VS KNEE ON BELLY
INVITING TO MOUNT
INVERTED ARM LOCK
LEG LACE REVERSAL
LEG LACE TROUBLESHOOTING
PART 3
SURVIVING THE MOUNT
CONTROLLING FROM BOTTOM
PREVENTING HEAD CONTROL
DEFENDING THE EZEKIEL
TRAP & ROLL
CLIMBING UP
ELBOW ESCAPE FUNDAMENTALS
PART 4
ADDRESSING 'PRAYING FEET'
ADDRESSING GRAPE VINES
ADVANCED ELBOW ESCAPE
RICKSON'S BRIDGE & SHRIMP
RELSON BRIDGE & SHRIMP
"USING THE JACK" ELBOW ESCAPE
HIGH MOUNT HORIZONTAL ESCAPE
HIGH MOUNT BACKDOOR
FISHING THE LEG - TOE VARIATION
FISHING THE LEG - HEEL VARIATION
MODIFIED MOUNT
HITCHHIKER FROM MOUNT
S MOUNT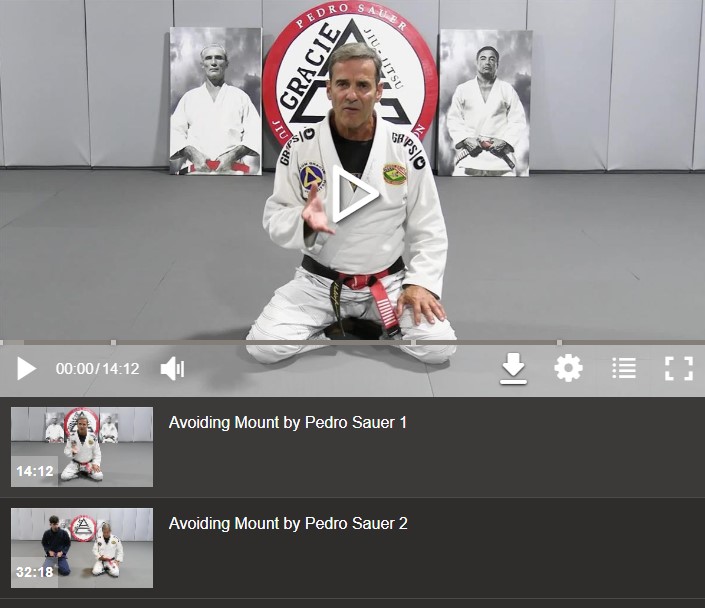 Instant Download Only
Format file 4x MP4 HD 720p
duration 2 hours 2 minutes
Release August 2021
Avoiding Mount by Pedro Sauer
Product Code: bjj1190
Availability: In Stock
---