The Arm Drag and 2 on 1 Formula gives you the exact step-by-step gameplan to dominate your opponent from guard using two different forms of elbow and wrist control.
In this instructional renowned BJJ instructor Rob Biernacki and I show you…
How to use hand fighting to control your opponent from the open, closed and half guard,
How to use these positions to take the back, choke, sweep, armlock and leglock your opponents,
What to do if someone is much bigger than you and trying to power out of your techniques,
Drills and training methods to make the techniques fast and absolutely instinctive,
Combinations for your attacks so that your opponent is always on the run,
The simple adjustments to use this material in both gi and no gi settings,
There's a reason that great grapplers like Marcelo Garcia, Roger Gracie, Eddie Cummings, Caio Terra, Robert Drysdale have all used these techniques, and now you'll have the exact step-by-step template to add them to your game too.
The Arm Drag and 2 on 1 Formula is a logically laid out 4 volume instructional with all the steps you need to add these attacks to your game as fast as possible.
Here's a quick breakdown of what's in each of the 4 volumes…
Volume 1: Arm Drag Concepts and Variations
It's always easier to learn techniques when you understand the reasons why things are done a certain way. In this volume you'll learn the concepts that'll make your elbow and wrist control attacks MUCH more effective and require MUCH less effort!
Base, Posture and Structure Simplified
The Backtake or Sweep Quandary
Moving Yourself vs Moving Your Opponent
Thinking of the Arm Drag and 2 on 1 as Positions
Volume 2: Arm Drag Attacks for both Gi and No Gi
The arm drag is everywhere! In this volume you'll learn how to hit the arm drag from every conceivable guard configuration, both with and without the gi. Then we'll give you some super surprising arm drag attacks to get to the back from positions your opponent will definitely not expect!
From Seated vs Kneeling Opponents
From the Half Guard Shell
From the Half Guard Shell with the 2 on 1
As a Counter to Over-Under Pass
From de la Riva vs Standing
From de la Riva vs Combat Base
From Closed Guard Cross 2 on 1 to Back
From Closed Guard Cross 2 on 1 to Mount
Problems with Arm Drag 1.0 and 2.0 from Closed Guard
Arm Drag Counter to the Deep Half Guard
Arm Drag to Back from Mount
Arm Drag to Inside Trip Takedown
The Value of the Arm Drag in the Gi
How to Adapt All Your No Gi Arm Drags to the Gi
Roger Gracie Arm Drag from Closed Guard
Armpit Drag Counter to Single Leg
Volume 3: 2 on 1 Handfighting and Attacks
In this volume you'll learn the strategies, tactics, techniques and tricks for the 2 on 1 guard. You'll learn how to get there, how to maintain it, and how to chain your attacks together until you get the sweep or the submission. Your training partners and tournament opponents are about to lose their minds in frustration!
Intro to the 2 on 1 Guard
Dealing with External Rotation
Dealing with Internal Rotation
2 on 1 Cross Drag to Back
Butterfly Elevation to the Back
Idiot Sweep vs Standing Opponent
K Guard vs Standing Opponent
Sweep Single vs Standing Opponent
Retention vs Standing Opponent
DVD 4: Arm Drag and 2 on 1 Training Drills
Now that we've shown you all the techniques and strategies you need to make them your own. In volume 4 you'll learn the proprietary training methods used by Rob and his team that'll have you locking on the 2 on 1 and hitting the arm drag without even thinking about it and long before your opponent has a chance to react!
How to use Gamification to Improve Faster
The Arm Drag Game Live Demo
FYJJ 2 on 1 Guard vs Kneeling
FYJJ 2 on 1 Guard vs Kneeling Live Demo
FYJJ 2 on 1 Guard vs Kneeling and Standing
FYJJ 2 on 1 Guard vs Kneeling and Standing Live Demo
How to Train with Rob for Free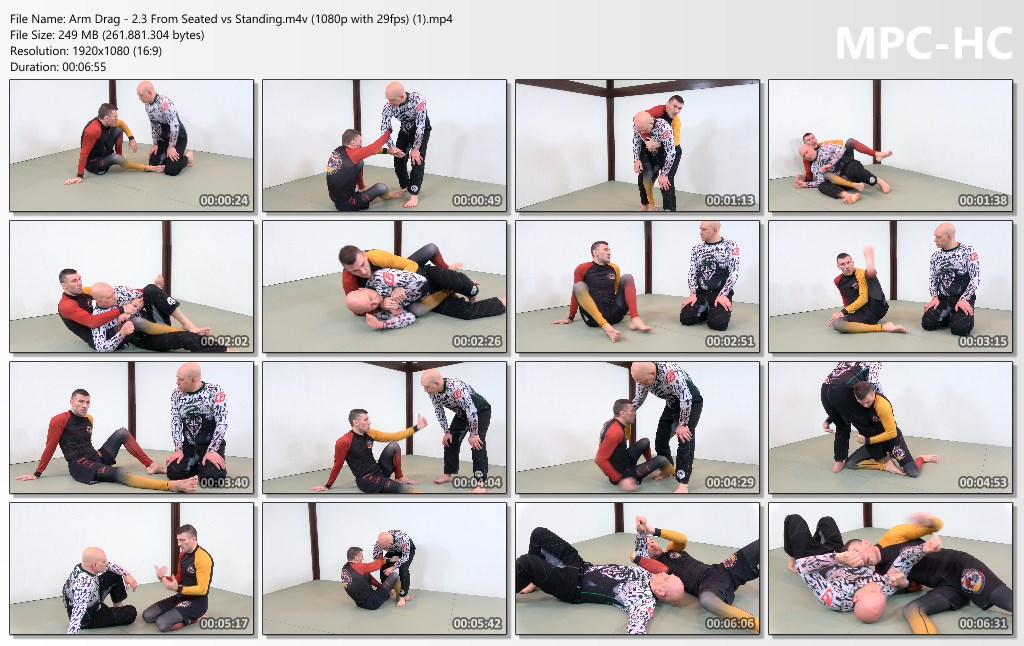 Format file 66xMP4 FHD 1080p
duration 4 hours 18 minutes
The Arm Drag and 2 on 1 Formula by Rob Biernacki and Stephan Kesting
Product Code: bjj1247
Availability: In Stock
---