Attack from everywhere using these techniques for finishing fights from Nicholas Meragli - including moves he used to win at the most elite levels
Learn how to apply the tightest and most effective loop chokes, triangle chokes, armbars, kimuras, and more
Fight more effectively from closed guard, half guard, open guard, mount, the back, and more common positions
Nicholas Meregali is a top pound-for-pound BJJ athlete who has a finishing rate at the top of the gi competition world
In BJJ, there is no victory more impressive and dominant than the submission - but that is because it is so hard to achieve against good opponents. Now, you can increase your finishing rate and learn the subtle details behind some of grappling's most effective submissions with Nicholas Meregali and his new 4-part series.
Nicholas Meregali is known as one of Brazilian Jiu-Jitsu's most aggressive attackers, constantly hunting for submissions - and that's a big reason why he carries one of the highest finishing rate in the gi at nearly 80%. This is your opportunity to learn from the best as Nicholas teaches you the steps and details to controlling and finishing for the tap.
Instead of focusing on crazy submission holds with low-percentage effectiveness, Nicholas brings you through his most common holds, including the triangle choke, loop choke, armbar, and more. Learn how to apply these techniques from places you'll find yourself often, including closed guard, open guard, mount, half guard, and more.
With chokes and joint locks that are supercharged with details and variations that help them work against elite competition, world champion Nicholas Meregali gives you a masterclass in effective subs. Don't miss learning from one of the best competitors of his generation on this specialty skill now on this 4-part series.
SO, WHAT EXACTLY DO YOU GET?
TRIANGLE FROM CLOSED GUARD WITH BELT CONTROL
TRIANGLE WITH LAPEL SET UP FROM CLOSED GUARD
TRIANGLE FROM SPIDER GUARD
TRIANGLE FROM CROSS COLLAR AND SLEEVE GUARD
TRIANGLE FROM SIDE CONTROL
ARMBAR FROM MOUNT CONTROL
ARMBAR FROM THE TURTLE CONTROL
KIMURA FROM HALF GUARD (TOP)
KIMURA FROM OVER UNDER OVER PASS
REVERSE KIMURA FROM DEEP HALF GUARD
LOOP CHOKE FROM ANY GUARD
OMOPLATA VARIATION FROM GUARD
LEG DRAG + BACK TAKE + CHOKE FROM THE BACK
TURTLE POSITION + BOW & ARROW CHOKE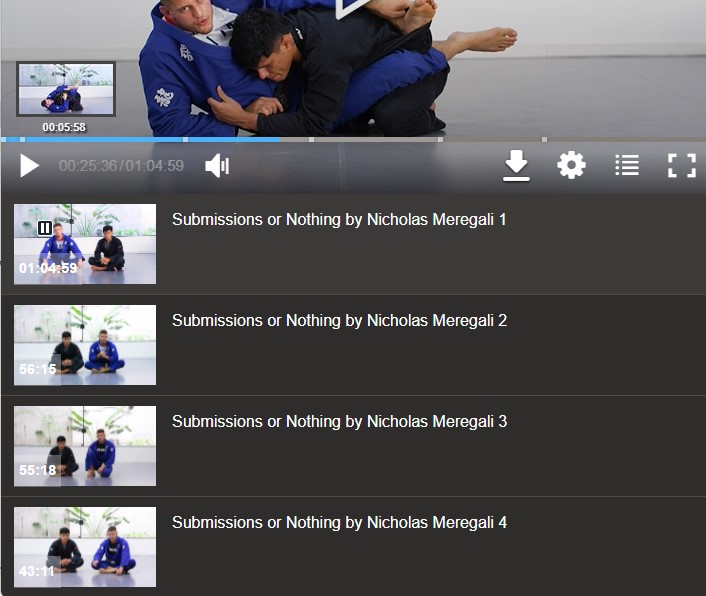 Format file 4xMP4 HD 720p (please inform if you need FHD 1080p)
duration 3 hours 39 minutes
Submissions or Nothing by Nicholas Meregali
Product Code: bjj1252
Availability: In Stock
---