Black Belt World Champion & Guard Passing Legend Lucas Lepri Shares His Complete System For Passing The Collar & Sleeve Open Guard In This Must-Have 4-Part Series
Learn how to maintain a good base while working towards a wide range of passes, including Lepri's battle-tested knee cut pass!
Know what to expect from the collar/sleeve position with Lepri's preventative positioning to keep you safe from sweeps and submissions.
Catch opponents by surprise with several jumping variations of classic passes like the knee cut and DLR pass.
The Collar & Sleeve Guard is used at the highest levels of the sport and is also taught early on in most people's Jiu-Jitsu career. This makes it one of the most practiced and effective positions in Jiu-Jitsu! Thankfully, guard passing legend Lucas Lepri is here to teach you how to take on this ultra-effective guard in a way that keeps you safe from sweeps and submissions as you work your way to secure a wide variety of passes.
Lepri leaves no stone unturned when dismantling the collar & sleeve guard in this 4-part series. You'll learn how to approach each scenario with a good base, and clear-cut concepts to apply against a variety of situations. This means that not only will you begin to handle classic collar & sleeve guard, but variations including De La Riva, Lasso guard, and even Deep DLR!
Many of the passes covered in the series are classic passes like the knee cut, stack pass, and leg drag. Lucas takes it several steps further by teaching his version of each pass specifically designed to defeat the collar & sleeve position. Guard players love collar/sleeve guard because it provides control over the upper body while allowing them to set up their legs for further attacks. Lepri explains throughout the series exactly what to do from the very first grip!
With Lepri's approach you will learn how to create tempo with your guard passing. This means that you won't be caught waiting around for your opponent and instead will be taking the fight to them! By creating and controlling the tempo of the match you will be able to stay ahead of your opponent's attacks and force them to play defense. Lucas Lepri is known for his guard passing skills and they are on full display throughout this must-have 4-part series!
SO, WHAT EXACTLY DO YOU GET?
COLLAR AND SLEEVE TO JUMPING KNEE CUT
COLLAR AND SLEEVE TO JUMPING KNEE CUT VARIATION WHEN OPPONENT USES LASSO
COLLAR AND SLEEVE TO SHUTTING DOWN DEEP DE LA RIVA
COLLAR AND SLEEVE TO DE LA RIVA TO X GUARD ESCAPE
COLLAR AND SLEEVE WITH DEEP DE LA RIVA TO X GUARD ESCAPE VARIATION
MODIFIED STACK PASS VARIATION TO LEG DRAG
MODIFIED STACK PASS TO LEG DRAG VARIATION
STOMP PASS TO NORTH SOUTH TO SIDE CONTROL
STOMP PASS WHEN IN FULL LASSO TO NORTH SOUTH
FULL LASSO TRAPPING THE ANKLE WITH A GRIP
COLLAR AND SLEEVE TO KNEE CUT GRIPPING THE BELT TO KNEE ON BELLY
COLLAR AND SLEEVE WITH LASSO WITH NO BELT TO LONG STEP
COLLAR AND SLEEVE WITH DE LA RIVA COUNTER TO NORTH SOUTH
SMASH PASS ATTEMPT TO EZEKIEL CHOKE
COLLAR AND SLEEVE CLEARING FOOT ON HIP USING THE KNEE
COLLAR AND SLEEVE WITH FOOT ON THE HIP STEP BACK PASS
CROSS SIDE COLLAR AND SLEEVE TO KNEE CUT PASS TO BACK TAKE
CROSS SIDE COLLAR AND SLEEVE TO DUCK UNDER PASS
CROSS SIDE COLLAR AND SLEEVE CONNECTIONS
COLLAR AND SLEEVE WITH FULL LASSO TO WALKING BACK TO TOREADA PASS
COLLAR SLEEVE WITH LASSO TO THE FOLD PASS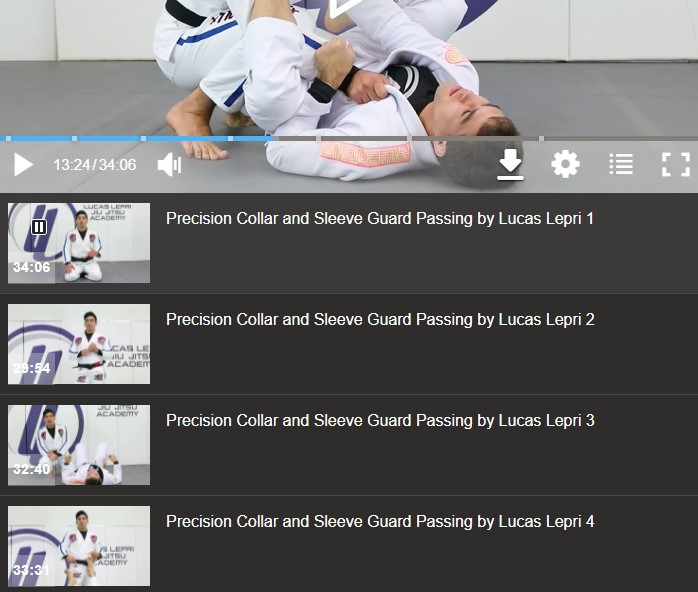 Format file 4xMP4 HD 720p (please inform if you need FHD 1080p)
duration 2 hours 10 minutes
Precision Collar and Sleeve Guard Passing by Lucas Lepri
Product Code: bjj1253
Availability: In Stock
---