Check out some of the best techniques in the game to counter leg locks by taking the back, passing the guard, and entering into your own leg locks


Use positions like the outside De La Riva, inside De La Riva, lasso guard, spider guard, and more to your advantage with Felipe's techniques for passing
Get to the back with ease from top or bottom 50/50 and utilize the most effective ashi counters
Focus intensely on standard, outside, and cross ashi and become so proficient from these positions that you are confident in knowing you can do whatever you want from here
Learn how to counter inversions before they become a threat and shut down your opponents attack with your own high level offense
Counter directly into backside 50/50, reverse figure four, and so many other high level positions where you can launch unstoppable attacks


World class competitor and Brazilian Jiu Jitsu Ethan Crelinsten dives into the dark side of leg locks to help you learn not only how to stay safe, but to use counters to take advantage of your opponents attempted attacks. This includes countless variations of back takes, guard passes, and countering leg locks with your own leg locks! Becoming proficient in leg locks is essential in modern day Jiu Jitsu, so be sure to take advantage of all this series has to offer.


Getting into all of the small yet important details from each position, Ethan leaves nothing out when it comes to giving you a full understanding of these positions. As an ADCC veteran who has competed at the highest levels in this sport, Ethan uses his real world experience to bring you some of the best techniques available on the market. You can be sure that you will learn the most important aspects of every technique covered in this series.


Counter inversions, back steps, and more to get to the back before your opponent even knows what hit them. Make your opponent think twice before entering into the legs when they see that you have a high level answer to each of their attacks. In compiling all of the knowledge and technique you will pick up in this instructional, you will surely notice the new confidence you have when stepping onto the mats.


Although leg locks are typically known to be more advanced techniques, the techniques in this series can be applied to all levels of the sport. Leg locks continue to be an ever growing part of Jiu Jitsu and you need to have the best techniques in the game to keep up with the evolution. With this series, you can rest assured that you will be competent with the legs and no opponent is going to attack you with something that you don't have an answer for. Elevate your game to the next level and don't skip out on your chance to retain everything in this series!


SO, WHAT EXACTLY DO YOU GET?
PART 1
INTRODUCTION
COUNTERING TO THE BACK
TOP 50/50
BOTTOM 50/50
SEATED OUTSIDE ASHI
REAPING ASHI COUNTER
BELLY DOWN BOLO
DOUBLE TROUBLE
MID RANGE COUNTER
ELEVATION COUNTER
INVERSIÓN COUNTER
BACK STEP COUNTER


PART 2
COUNTERING TO GUARD PASS
STANDARD ASHI
STANDARD ASHI SMASH
HIGH STEP
OUTSIDE ASHI
STANDARD OUTSIDE SMASH
DOUBLE UNDER
TURK PASS
CROSS ASHI
CROSS ASHI SMASH
LEG PUMMEL COUNTER
ROLLING KNEE FOLDING
CRAB RIDE PASS
KICK OVER
HIKE OVER PASS
LIMP LEG PASS
50/50
KNEE BAR PASS
STACK PASS
50/50 TO OUTSIDE ASHI PASS


PART 3
COUNTER LEG LOCKS
STANDARD ASHI
STANDARD COUNTER
INSIDE FOOT COUNTER
OUTSIDE ASHI
BACKSIDE 50/50
REVERSE FIGURE 4
DOUBLE UNDER
CROSS ASHI
PUMMEL COUNTER
50/50
HIP FLOP
KNEE BAR


PART 4
CONCEPTS
BATTLE OF HIP & KNEE
DEFEND YOURS
FEET TOGETHER STAY TOGETHER
DIVIDE AND FOLD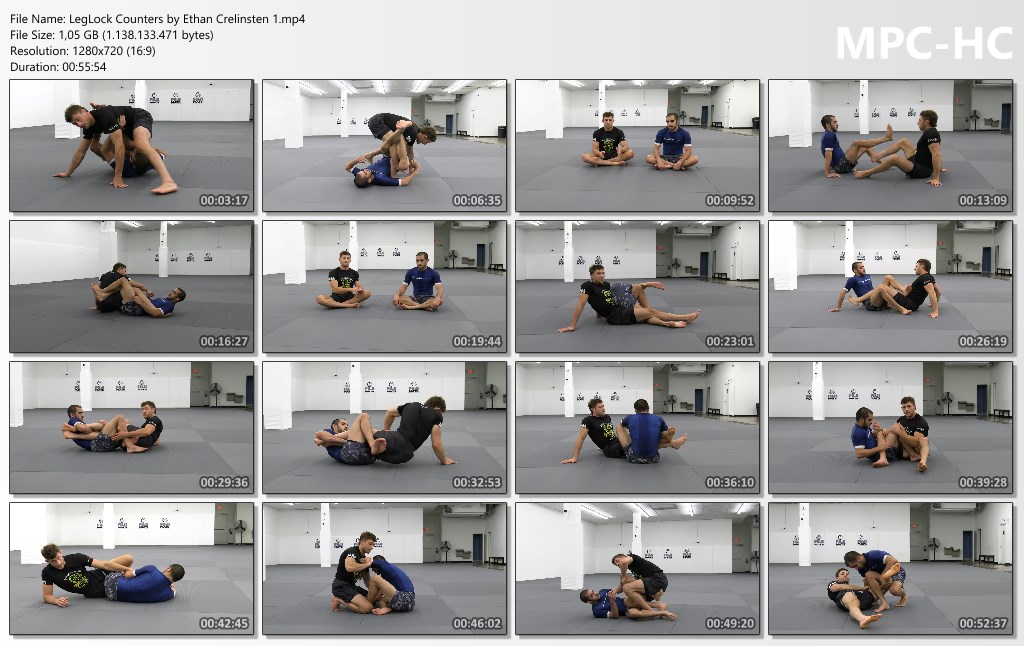 Format file 4x MP4 HD 720p
please inform if you need FHD 1080p
duration 2 hours 55 minutes
LegLock Counters by Ethan Crelinsten
Product Code: bjj1387
Availability: In Stock
---