Multiple Time World Champion Xande Ribeiro Shares His Complete Back Attack System Including How To Control And Submit From The Most Dominant Position In ALL Of Grappling!


Xande is regarded as one of the best Jiu-Jitsu competitors who ever put on a Gi, and much of his success is due to his ability to secure the back, dominate opponents, and hunt for the submission!
Learn to tactically attack the turtle and leave no option for opponents to re-guard as you break opponents down to a hip, look for hooks, and even roll through to take the back.
Develop go-to back takes from multiple variations of the guard including closed guard, butterfly guard, and coyote half guard!
Make the back your opponent's last stop with Xande's battle tested submissions he has used throughout his legendary career.
Flip the script and learn how to systematically DEFEND your back with Ribeiro's favorite way to unwind and untangle yourself from stifling back control!


A surefire way to find more success on the mat is to outflank your opponent, gain control of their back, negate their defense, and secure the submission. The Back, and its many variations, is easily one of the most dominant positions in ALL of combat. Since it's so dominant opponents will do whatever it takes to avoid the position at all costs so it can be difficult to consistently gain this sought after position. Thankfully, legendary Jiu-Jitsu competitor and instructor Xande Ribeiro breaks down his complete system from the back in his latest 3-part series.


In the series you will explore multiple phases of the battle for the back. Xande explores a wide range of positions to take the back including the turtle, closed guard, half guard, and more. Breakdown the most common defensive tactics you will encounter and learn to exploit them! Ribeiro looks to create predictable scenarios that can put you ahead of the opposition as you work simultaneously to take the back and secure submissions.


Speaking of submissions, Xande wraps up the series with his highest percentage submissions that helped him become a 5-time IBJJF world champion and 2-time IBJJF absolute champion! You'll be mesmerized by how seemingly basic lapel chokes can be wielded at the highest levels of competition with Xande's unparalleled finishing details. Even if opponents are able to escape Xande teaches you how to put them right back into danger!


As an added bonus Xande goes DEEP on defensive tactics that will ensure you understand how to defend and escape this dreaded position. Once again, hard to see details will be uncovered with Ribeiro's ability to highlight commonly brushed over details that make ALL the difference in your ability to escape the back. Before long you will be unwinding your opponent's hooks, body triangles, lapel chokes, and MORE!


SO, WHAT EXACTLY DO YOU GET?
PART 1
INTRO
TURTLE ANGLE CONCEPT
SAFETY FOR BEGINNERS
TURTLE
HIP BUMP DRAG DOWN TO SIDE CONTROL
HIP BUMP DRAG DOWN TO BACK TAKE
SEAT BELT CONCEPT
SINGLE HOOK SHOULDER ROLL BACK TAKE
SEATBELT BACK TAKE
LEG FISHING
GARCIA ROLL
LEG FISHING TO GARCIA ROLL
PART 2
DEFENSE
ROLLOVER SWEEP
FADE AWAY TO GUARD
SINGLE HOOK DEFENSE
HEAVY BODY
GARCIA ROLL TO HEAVY BODY DEFENSE
HEAVY DEFENSE WITH HOOKS IN
MAINTENANCE DRILL / HIP SWITCH
BACK RETAKE TO CONTROL AND SUBMISSION


PART 3
GUARD
CLOSED GUARD BACK TAKE
BODYLOCK
BUTTEFLY GUARD SHOULDER CRUNCH
BUTTERFLY GUARD DUCK UNDER
BUTTERFLY GUARD MODIFIED HOOK
COYOTE HALF GUARD
OVER THE SHOULDER CONTROL
DEFENDING REVERSE KESA BELT GRIP BACK TAKE


PART 4
SUBMISSIONS
NEUTRAL LAPEL CHOKE
TRAP SIDE LAPEL CHOKE
ARMBAR
GOOD SIDE LAPEL CHOKE
REGAIN THE BACK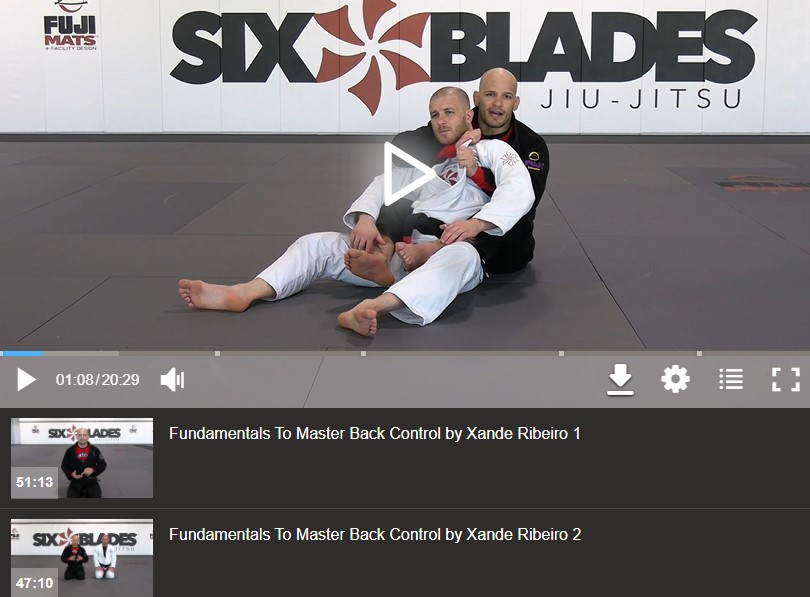 Format file 4x MP4 HD 720p
please inform if you need FHD 1080p
duration 2 hours 47 minutes
Fundamentals To Master: Back Control by Xande Ribeiro
Product Code: bjj1390
Availability: In Stock
---