Fight Off Your Back And Build The Guard Of Your Dreams With BJJ World Champion Mikey Musumeci's Masterclass On How He Uses Open Guard To Win At The Elite Levels Of Grappling - Even Over Much Bigger & Stronger Opponents!


In this 6-part series, learn how to play guard with techniques for high percentage sweeps and submissions that work together systematically to create a strong, unified game that you can attack with
Mikey Musumeci is one of the greatest grapplers of his generation, with wins in the black belt world finals using these same techniques!
Break down the goals and limitations of guard conceptually, so that you can understand the position better with Mikey's advice on the guard boxes, gripping, alignment, and more
Use the Tomoe Nage, double ankle sweep, tripod sweep, and much more - each one taught with incredible insight from one of the most thorough instructors on the planet
Finish fights with some of BJJ's best submission holds, including MIkey's setups and variations of the triangle, omoplata, armbar, and more


Get a total overhaul of your guard and start learning how to build an incredibly tough bottom game with Mikey Musumeci's Foundations of Guard series, with hours of lessons on how grapplers of all levels can improve fast. On over six volumes, BJJ world champion Mikey shows his arsenal for attacking the top fighter - including some of his signature offense that has helped make him a dominant grappling force for years.


Mikey breaks down the guard for you conceptually, showing you how to think about fighting off your back effectively and explaining critical points about alignment, gripping, and more that has helped set him apart from even the best black belts on Earth. Create offense with the foundation of conceptual understanding that Mikey brings here, as he dives deep into lessons that can totally revolutionize the way you are grappling from bottom.


Launch high-percentage attacks that work together, as Mikey coaches you through his best moves from open guard - including the Tomoe Nage, his tripod sweep series, submission sequences like the triangle and armbar, and much more. With six volumes packed with technique, Mikey offers you a total blueprint on how guards like spider, De La Riva, collar sleeve, and more can start benefiting you right here.


Now is your chance to learn from one of the best instructors and grapplers on Earth with MIkey Musumeci, one of the most detailed and thorough martial artists in the game. Don't miss out on all these tips on how you can start improving now - including his advice on how you can train these moves and level up as quickly as possible!


SO, WHAT EXACTLY DO YOU GET?
PART 1
INTRODUCTION FOUNDATIONS OF GUARD - ATTACKS
OVERVIEW OF WHERE GUARD IS
OVERVIEW OF CONTROL AND WHEN WE ATTACK
WHAT WE ARE DOING WHEN WE PLAY GUARD
CONCEPT ABOUT THE COLLAR GRIP
HOW TO HOLD SLEEVE
THE TWO BASES ON TOP
THE 3 BOXES OF ATTACKS
THE ALIGNMENT CONCEPT
THE CONCEPT OF SHOULDERS
THE DOUBLE ANKLE SWEEP MECHANICS
THE DOUBLE ANKLE SWEEP POSITION
THE TRIPOD SWEEP CONCEPT
TRIPOD SWEEP #1
TRIPOD SWEEP #2
TRIPOD SWEEP VARIATION CROSS SLEEVE


PART 2
TOMO NAGI
CHAINING TOMO NAGI AND DOUBLE ANKLE SWEEP
CHAINING DOUBLE ANKLE SWEEP TO TRIPOD
CHAINING TO TRIPOD SWEEP 2
ENTERING BOX 2 SUBMISSIONS (TRIANGLE)
CHAINING SUBMISSIONS (TRIANGLE TO OMOPLATA)
CHAINING SUBMISSIONS (OMOPLATA TO TRIANGLE)
CHAINING (TRIANGLE TO ARMBAR)
HOW I WANT YOU TO DRILL THIS
ME DRILLING THE SUBMISSION CHAINS


PART 3
SPIDER GUARD INTRODUCTION (BASIC TOMO NAGI)
SPIDER GUARD TO TRIANGLE
SPIDER GUARD CONCEPT (PLACEMENT OF FOOT ON TORSO)
SPIDER USING FOOT ON BICEP (TOMO NAGI AND TRIANGLE)
SPIDER GUARD TO OMOPLATA
SPIDER GUARD TO DOUBLE ANKLE SWEEP
SPIDER GUARD TOMO NAGI VARIATION
SPIDER GUARD DE LA RIVA SIDE SWEEP
SPIDER GUARD DE LA RIVA SIDE SWEEP VARIATION
SPIDER GUARD REVERSE DE LA RIVA SWEEP


PART 4
SPIDER STOMP INSIDE HOOK TO TOMO NAGI
SPIDER STOMP INSIDE HOOK TO DOUBLE ANKLE SWEEP
PERSON DROPS TO KNEES INTRODUCTION
SPIDER TRIANGLE FROM KNEES
SPIDER SEATED VARIATION AND BIG GUY ALTERNATIVE
SPIDER TRIANGLE KICKING KNEE VARIATION
SPIDER SIDE SWEEP
SPIDER SIDE SWEEP TO OMOPLATA
SPIDER WITH SAME SIDE COLLAR INTRODUCTION + TRIANGLE
SPIDER WITH SAME SIDE COLLAR TO TOMO NAGI
SPIDER SAME SIDE COLLAR TOMO NAGI TO TRIANGLE
SPIDER SAME SIDE COLLAR STOMP TO INSIDE HOOK TOMO NAGI


PART 5
INTRODUCTION BOX 3 TAKING BACK
SPIDER SAME SIDE COLLAR STOMP TO BACK TAKE
COLLAR SLEEVE INTRODUCTION
BASIC COLLAR SLEEVE TRIANGLE
IMPORTANT DETAIL + COLLAR SLEEVE OMOPLATA
COLLAR SLEEVE TOMO NAGI TO TRIANGLE
MUST WATCH!!! MOST IMPORTANT THING TO KNOW IN COLLAR SLEEVE
COLLAR SLEEVE TO OMOPLATA WHEN THEY TRY TO REMOVE BACK LEG
COLLAR SLEEVE SIDE SWEEP
COLLAR SLEEVE SIDE SWEEP TO OMOPLATA
FLEXIBLE VARIATION IF PERSON KEEPS ELBOW TUCKED
COLLAR SLEEVE DE LA RIVA INTRODUCTION + OMOPLATA
GOING BACK TO OMOPLATA WHEN PERSON DEFENDS SIDE SWEEP


PART 6
SAME SIDE COLLAR AND ELBOW CONTROL DE LA RIVA
TOMO NAGI SAME SIDE COLLAR AND ELBOW CONTROL DE LA RIVA
SIDE SWEEP SAME SIDE COLLAR ELBOW DE LA RIVA
DE LA RIVA COLLAR AND ANKLE INTRODUCTION
MUST WATCH!!! MOST IMPORTANT CONCEPT FROM DE LA RIVA
DE LA RIVA SIDE SWEEP
IMPORTANT!!! COLLAR GRIP CONCEPT PLUS SIDE SWEEP
CHANGING FROM SQUARE TO SIDE TO SIDE SWEEP
USING THE SHOULDER CONCEPT 2 SIDE SWEEP VARIATIONS
PERSON DEADLIFTS TO BELT GRIP INTRODUCTION
BELT GRIP DE LA RIVA TOMO NAGI
SIDE SWEEP WITH BELT
DE LA RIVA BACK TAKE (BABYBOLO)
WHEN PERSON DEFENDS BOX 3 BACK TO SWEEP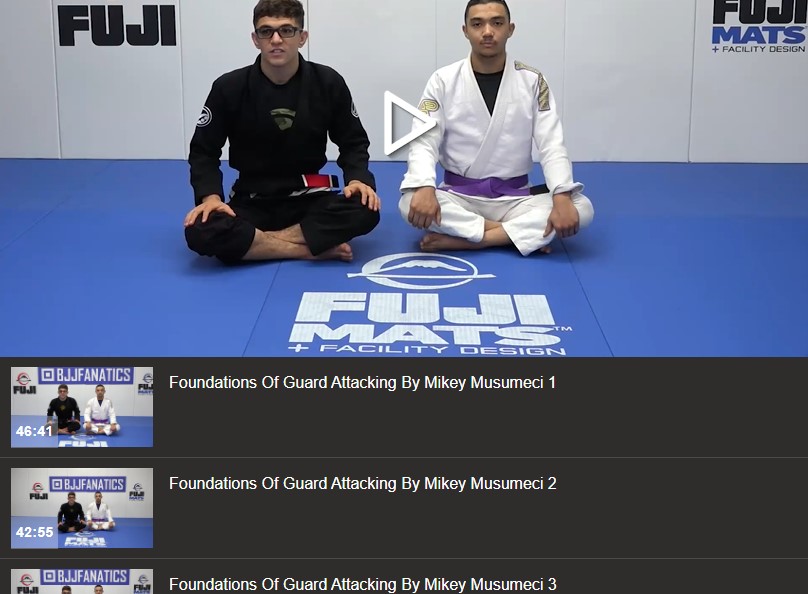 Format file 6x MP4 HD 720p
please inform if you need FHD 1080p
duration 4 hours 18 minutes
Foundations of Guard: Attacking by Mikey Musumeci
Product Code: bjj1391
Availability: In Stock
---