Completely Transform Your Reverse Half Guard Game And Effortless Transition To Submissions With The Top Tier Techniques Shown By 5th-Degree Black Belt Bernardo Pitel In This Series


Four-time world champion and Brazilian Jiu Jitsu black belt Bernardo Pitel leaves nothing out when it comes to playing reverse half guard.
Master a series of sweeps using the lapel as well as transitions to dominant positions such as the mount or the back off of a failed sweep.
Find all the high level submissions from reverse half guard such as a series of lapel chokes, the Ezekiel choke, and so much more.
Start pairing together the best options from the reverse half and create attacking sequences that cannot be stopped.
Check out various other setups and submissions such as the arm bar and knee bar, and make sure you are proficient in all of your options from reverse half guard.
Allow fifth degree black belt Bernardo Pitel to utilize his years of successful competition experience from the highest of levels to start to completely reshape your game.


PART 1
INTRODUCTION
THE BRIDGE SWEEP
USING HOOK TO SWEEP WHEN PERSON HUGS THE HEAD
THE BRIDGE SWEEP USING LAPEL
GOING TO THE MOUNT WHEN PERSON STOPS THE BRIDGE SWEEP POSTING THE HAND ON THE MAT
TAKING THE BACK WHEN PERSON STOPS THE BRIDGE SWEEP POSTING THE HAND ON THE MAT


PART 2
LAPEL CHOKE USING PERSON'S LAPEL
EZEKIEL CHOKE JAKE MACKENZIE'S STYLE
THE MACKENZIE SWEEP TRAPPING THE ARM
FROM REVERSE HALF GUARD TO MOUNT AND CHOKING PERSON WITH YOUR OWN LAPEL
KNEE BAR DEFENSE
LOOP CHOKE


PART 3
STRAIGHT ARM BAR
ROLLING BACK SWEEP GOING TO FULL MOUNT
KNEE BAR ATTACK
GABLE GRIP SWEEP
FROM GABLE GRIP SWEEP TO BACK TAKE


PART 4
BERIMBOLO FROM REVERSE HALF GUARD
GABLE GRIP CHOKE "ESGANA GALO"
SWEEPING TO MOUNT WHEN PERSON PUTS ELBOW UNDER YOUR ARM PIT USING THE HOOK
TAKING THE BACK WHEN PERSON PUTS ELBOW UNDER YOUR ARM PIT USING THE HOOK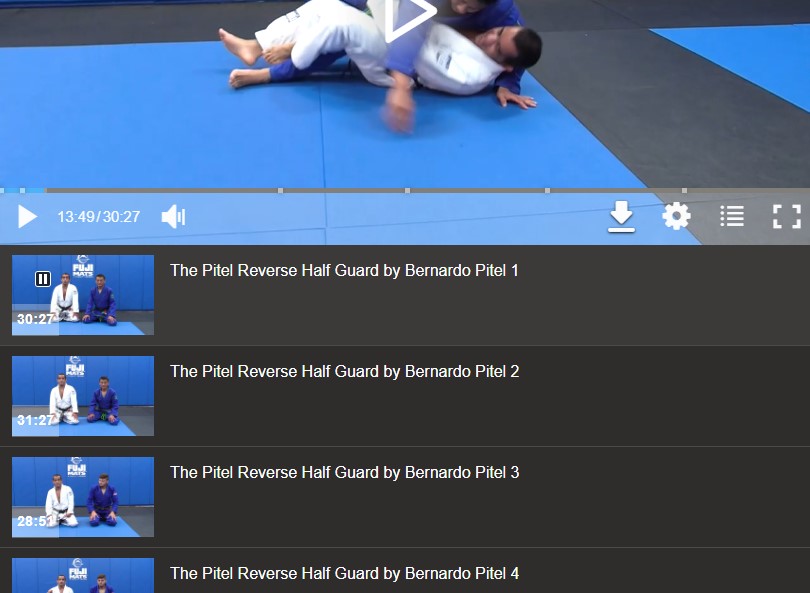 Format file 4x MP4 HD 720p
please inform if you need FHD 1080p
duration 1 hour 58 minutes
The Pitel Reverse Half Guard by Bernardo Pitel
Product Code: bjj1392
Availability: In Stock
---