Henry Akins is the very first American to receive a black from the great Rickson Gracie and has been privy to some of the most effective jiu-jitsu techniques ever created


Henry Akins is the very first American to receive a black from the great Rickson Gracie and has been privy to some of the most effective jiu-jitsu techniques ever created
Experience the acclaimed highly technical teachings of Akins and upgrade all aspects of your back game
Attack the back with precision mechanics that will help you continuously funnel your training partners and opponent into bad situations, where you can capitalize
Master old school defenses that have stood the test of time and served thousands of practitioners on their BJJ journeys
Learn Akin's signature back takes and maintenance concepts, so you can hunt down the back and maintain the position with an increased level of effectiveness


The back is one of the most coveted positions in BJJ and its acquisition puts us incredibly close to the finish IF we can maintain the position! On the flip side, getting your back taken is cause for alarm and you NEED to have a system of escape in place that's RELIABLE! Henry Akins received his black belt over 20 years ago from the great Rickson Gracie. His knowledge and understanding of the technical aspects of jiu-jitsu is boundless and he's become one of the most in-demand instructors in the world!


In The Back System Akins will give you the incredible tools you need to navigate the back from BOTH sides of the position! You'll learn signature techniques from Akins that will help you exit the back unscathed and how to masterfully attack with high percentage submissions and details that will take your finishing rate through the roof!


SO, WHAT'S IN THIS SERIES?
We are at our most vulnerable when someone has secured our back! In the first two parts of the series, Akins will address the common conundrums of having your back taken and help you dismantle your opponent's plans to control and finish you. You'll learn proper defensive posture, deal with the seatbelt grip, escape the dreaded body triangle, get quick taps with sneaky foot locks, and much much more! Akins will help you misalign your body to make meaningful connections nearly impossible, causing your opponent's attacks to fall apart and aid your escape! In the second half of the instructional Akins will start to sprinkle in some attacks! From controls and maintenance concepts to high percentage subs and entries into the position, Akins will provide you with unique blueprints that you will not find anywhere else! Utilize classic rear naked choke details and learn the bow and arrow choke that will command instant taps!


Master the secrets of decades-old technique and trustworthy concepts, all under the guidance of one of BJJ's most sought after figures! If you're looking to build a more complete back game that will serve you for years to come, this is your opportunity!


SO, WHAT EXACTLY DO YOU GET?
PART 1
CROSS GRIP DEFENSE
BREAKING THE UNDERHOOK WRIST GRAB
HEAD MOVEMENT TO DEFEND THE CHOKE
HEAD MOVEMENT TO DEFEND THE CHOKE BONUS
GETTING THE HEAD IN POSITION FOR THE ESCAPE
GETTING THE HEAD IN POSITION FOR THE ESCAPE BONUS
USING THE LEGS TO ESCAPE THE BACK POSITION
USING THE LEGS TO TRANSFER WEIGHT TO THE HEAD TO PREVENT GETTING PULLED BACK TO THE MIDDLE


PART 2
PREVENTING THE MOUNT ONCE YOU GET YOUR BACK TO THE GROUND
DEALING WITH THE SEATBELT GRIP BONUS
LEANING FORWARD TO PREVENT THE BACK ATTACK
FOOT LOCK WHEN OPPONENT CROSSES THEIR ANKLES FROM THE BACK
FOOT LOCK TO COUNTER BODY TRIANGLE (FIGURE FOUR BODY LOCK)
ESCAPE FOR THE BODY TRIANGLE (FIGURE FOUR BODY LOCK)
STRATEGY FOR ATTACKING THE NECK WITH BOTH ARMS
STRATEGY FOR ATTACKING THE NECK WITH BOTH ARMS BONUS


PART 3
DEFENDING & ESCAPING THE BACK FROM ALL-FOURS
GETTING FLATTENED OUT FROM THE BACK
ESCAPING AFTER GOING FLAT
MAINTAINING THE BACK USING THE LEGS
CONTROLLING WITH THE LEGS FROM LAYING BACK
ESCAPE FOR THE BODY TRIANGLE(FIGURE FOUR BODY LOCK) BONUS
THE REAR NAKED CHOKE
THE REAR NAKED CHOKE BONUS


PART 4
THE BOW & ARROW CHOKE FROM THE BACK
FLATTENING YOUR OPPONENT & CONTROLLING WHEN YOUR ON THE BACK
CHIN LIFT TO REAR NAKED CHOKE
TAKING THE BACK FROM THE MOUNT
TAKE THE BACK FROM THE GUARD
BONUS - THE KICKSTAND WHEN DEALING WITH THE SEATBELT GRIP
BONUS - ESCAPING THE SINGLE LEG HOOK FROM THE BACK
BONUS - ESCAPING THE BACK AND CROSS SIDE WHEN OPPONENTS CONTROLLING WITH THE KIMURA GRIP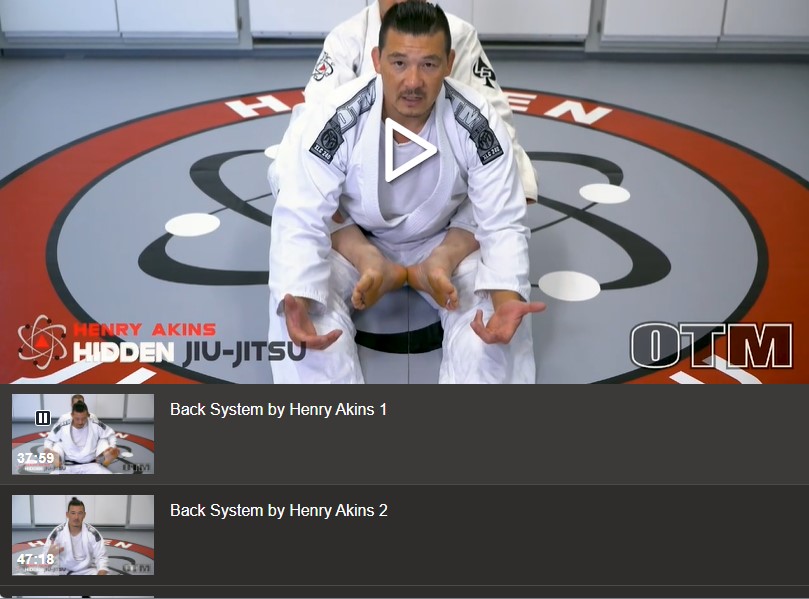 Format file 4x MP4 HD 720p
please inform if you need FHD 1080p
duration 3 hours 10 minutes
The Back System by Henry Akins
Product Code: bjj1393
Availability: In Stock
---