Upgrade Your Single Leg to "World Class" with a Road Map For One of the Most Versatile Techniques In All of BJJ, Featuring IBJJF No-Gi Pan Am Champion, Giancarlo Bodoni


Luca Lepri Black Belt Giancarlo Bodoni has cemented himself as one of Team Alliance's Standout competitors claiming multiple IBJJF Pan and World Titles during the course of his career
Master an entire arsenal of elite single leg techniques that will apply to nearly all areas of your game and learn how to truly put the single leg to work
Use the single leg as a reliable pathway to the back to maximize its benefits and score more points
After an impressive competition run at the colored belts, Alliance titan Giancarlo Bodoni continues to turn in impressive performances at black belt and establish himself as one of modern BJJ's best competitors, collecting a 2021 IBJJF Pans Gold Medal this year. A black belt under the great Lucas Lepri, Giancarlo is technical, calculating, and sure in his movements and in his newest instructional, he'll dive deep into the inner workings of developing a world class single leg. In The Single Leg Manual, Bodoni will provide you with top tier instruction on jiu-jitsu's most versatile atack, with guidance on multiple single leg attacks from a variety of different positions. Bodoni will help you see the single leg like you've never seen it before and add intelligent new layers of offense to your game!
This isn't your average takedown instructional! The single leg is one of the most versatile techniques in all of jiu-jitsu and this is where you find out! In 6-parts, Bodoni will guide you as you explore how the single leg can be used in multiple formats from a variety of positions. From seated, and standing entries, to countering common defenses and ways to properly finish, Bodoni will give your knowledge of the single leg a massive upgrade so you can begin using it, not only as a means to get the fight to the ground but also to wrestle up from the bottom, take the back, dominate the standing exchange, and much more!
Explore the single leg like never before with the highest caliber of instruction from one of today's most relevant competitors! Bodoni will help you revolutionize the way you implement this common attack, adding techniques and details that are sure to make the single leg a more reliable part of your game!
SO, WHAT EXACTLY DO YOU GET?
PART 1
INTRO
BREAKING DOWN THE SINGLE LEG
CONCEPTS
SINGLE LEG VERSATILITY
SINGLE LEG POSTURE AND POSITIONING
HAND POSITIONING
PICKING THE LEG UP
POSITIONING ON THE FEET
NECK EXPOSURE AND BELT EXPOSURE
SUMMARIZING SINGLE LEG CONTROL CONCEPTS
PART 2
ENTRIES
WRESTLING UP VS WRESTLING DOWN
OPEN GUARD NEUTRAL 1
OPEN GUARD NEUTRAL 2 (ARM DRAG)
DE LA RIVA ENTRIES
FAR SLEEVE TO TRICEP GRIP
FAR SLEEVE TO LOW SLEEVE GRIP
CROSS GRIP
2 ON 1 (PART 1)
2 ON 1 (PART 2)
OFF BALANCE FROM HEADQUARTERS TO SINGLE LEG
SIT UP GUARD
SLEEVE FEED
SLEEVE FEED WHEN OPPONENT POSTURES UP
PART 3
REVERSE DE LA RIVA
2 ON 1
ROLLING UNDER
LAPEL FEED
KISS OF THE DRAGON
BUTTERFLY ASHI LOW SINGLE
SINGLE LEG FROM HALF GUARD (SCRUB SOUND IN BACKGROUND WHEN KIDS ARE TRAINING UPSTAIRS)
SINGLE LEG FROM SIDE CONTROL
TRIPOD SWEEP ATTEMPT TO SINGLE LEG
SUMMARIZING WRESTLING UP
PART 4
STANDING ENTRIES
AI-YOTSU VS KENKA YOTSU
STANDING CONCEPTS FOR THE SINGLE LEG
DEFENDING YOUR COLLAR
POSTING
RVR
SWING SINGLE
KNEE PULL SINGLE LEG
KOUCHI OFF THE GRIP TO KNEE PICK/SNATCH SINGLE
RUSSIAN TO HIGH SINGLE
RVL
HIGH SINGLE (INSIDE UNDER)
HIGH SINGLE (OUTSIDE OVER BREAKING DOWN THE ARM)
ARMDRAG HIGH SINGLE
PART 5
FINISHES (TAKEDOWNS/BACKTAKES)
CROSS ANKLE GRIP
TURNING THE KNEE OUT
CREATING BACK EXPOSURE FROM CROSS ANKLE GRIP
UPPER CUT FOOT SWEEP
FOOT SWEEP AS YOU PICK THE LEG UP
STRAIGHT ANKLE GRIP FINISHES
RUN THE PIPE TO KNEE TAP OR DOUBLE LEG
FINISHING WITH BACK EXPOSURE CONCEPTS
PART 6
COUNTERING PRIMARY DEFENSES
CUTBACK
CHASING THE ANKLE (SHELF)
GOOD MORNING (HEAD BETWEEN THE LEGS)
SUMI GAESHI CARTWHEEL COUNTER
SINGLE LEG TO BODY LOCK
CONCLUSION/OUTRO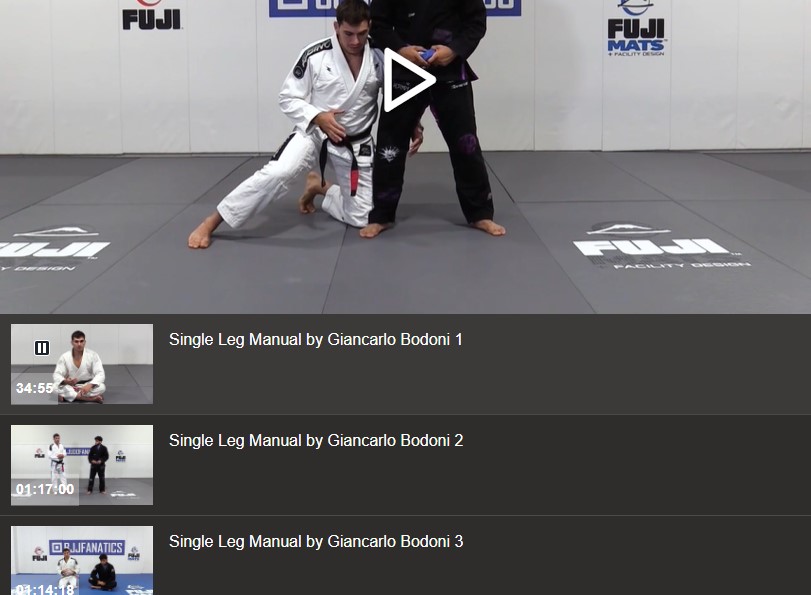 Format file 6x MP4 HD 720p
please inform if you need FHD 1080p
duration 3 hours 10 minutes
Single Leg Manual: Jiu Jitsus Most Versatile Attack by Giancarlo Bodoni
Product Code: bjj1394
Availability: In Stock
---