Learn Checkmat Founder Leo Vieira's Unique Passing 50/50 Arm Passing System That Completely Shuts Down Submissions, Sweeps, And Guard Retention!


Leo Vieira is a legendary black belt and co-founder of Checkmat BJJ, one of the top Jiu-Jitsu teams in the world!
Make the 50/50 Arm Passing System even more effective in the Gi, with specific grip details that make it even more powerful than the no-gi variation.
The 50/50 Arm Passing system is a unique way to gain control over your opponent's guard and avoid sweeps/submissions.
Unwind and dismantle complex guards like spider, lasso guard, and more!
Force opponents to expose their back or accept the pass with the fold and flip method.
Learn passing concepts that range from basic controls and passes to high-level tournament tested techniques that Leo has refined for DECADES of Jiu-Jitsu!


The 50/50 Arm Passing System: Gi is a 4-part series focusing on a complete passing system from BJJ legend Leo Vieira. Vieira is known for his ability to slice through some of the best guards in BJJ. With his latest series he looks to give guard passers of ALL levels the upper hand when dealing with a variety of open guard situations including spider guard, reverse spider guard, lasso guard and MORE!


Passing modern Jiu-Jitsu players can be a daunting task. In short, The Gi based 50/50 Arm Passing approach can simplify the biggest challenges of passing the guard. Leo's system helps you gain control over an opponent's leg, apply pressure, and secure a pass. What makes it even more effective is that the complete system works with one specific grip that can easily be obtained.


Early in the series Vieira goes into detail on how to achieve this grip and immediately put it to use. Once the grip is achieved you can immediately pressure into opponents and force predictable reactions that you can use to secure guard passes. The 50/50 approach also allows you to pass from your knees, one knee up one knee down, or completely standing. Leo teaches how to blend these three approaches together to deal with your struggling opponent. Who, at this point, will be doing anything they can to TRY and escape the 50/50 Arm Passing system!


If you are looking for a consistent method to pass the guard that works from an easy to obtain grip, shuts down sweeps, and avoids submissions then the 50/50 Arm Passing System from Leo Vieira is for YOU!


SO, WHAT EXACTLY DO YOU GET?
PART 1
INTRODUCTION
THE INSTRUCTIONAL IDEA
THE BASICS
BASIC POSITION CONTROL #1 - BOTH KNEES ON THE MAT
BASIC POSITION CONTROL #2 - ONE KNEE DOWN ONE KNEE UP
BASIC POSITION CONTROL #3 - BOTH FEET ON THE GROUND/SQUATTING
PART 2
FUNDAMENTALS
LIFT AND FLIP
LEG DRAG WITH LAPEL CONTROL
LEG FRAME TO LEG DRAG
LEG FRAME TO HEAD CONTROL
FAKE LASSO CONTROL
PUSH AND PASS


PART 3
ADVANCED
LIFT AND PASS WITH LEG DRAG ROLL
LEG DRAG LAPEL CONTROL TO SWITCH SIDES
SWEEP BAIT FROM LEG DRAG TO TAKE THE BACK
LEG FRAME TO CAPOEIRA PASS OR BACK TAKE


PART 4
50-50 ARM PASSING VERSUS LASSO GUARD
50-50 ARM PASSING VERSUS DOUBLE LASSO GUARD
50-50 ARM PASSING VERSUS SPIDER GUARD
WHAT TO DO WHEN THE OPPONENT THROWS THE LEG OVER TO DEFEND THE PASS
50-50 ARM PASSING VERSUS REVERSE SPIDER GUARD
50-50 ARM PASSING VERSUS KIMURA
OUTRO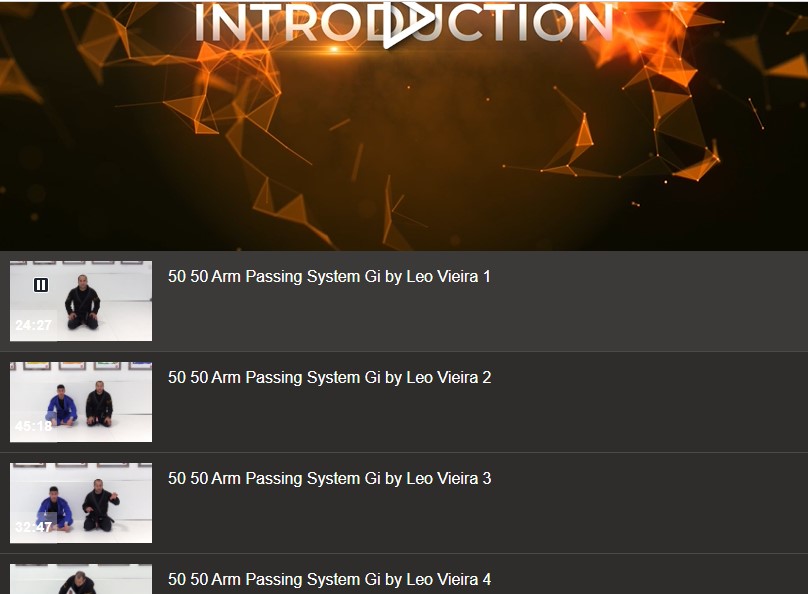 Format file 4x MP4 HD 720p
please inform if you need FHD 1080p
duration 2 hours 20 minutes
The 50/50 Arm Passing System Gi by Leo Vieira
Product Code: bjj1395
Availability: In Stock
---