Develop A Complete Understanding Upper Body Open Guards With BJJ Black Belt And International Competitor Ariel Tabak!


Refine one of the most important positions in Jiu-Jitsu, the open guard!
Ariel takes you on a tour through the most important concepts and techniques from upper body open guards like Lasso guard, Tarantula guard, Double Sleeve, and MORE!
Pile on the pressure with constant attacks that can combine into hard-to-stop attack sequences.
Upgrade your omoplata to a complete system of attack with Ariel's unique approach to snagging the omoplata, using it to control opponents, and setting up sweeps/submissions.
Learn to win hard-to-spot micro battles that can make a HUGE difference in your open guard success.


BJJ black belt and international competitor Ariel Tabak looks to share the essentials of playing open guard with a specific focus on upper body guards. This includes powerful modern guards like Lasso, Double Sleeve, Spider guard and countless variations of each! Learn to control opponents, shut down guard passes, and execute a wide range of highly-effective offense with Ariel Tabak!


With each position Ariel dives in on the critical mechanics of what makes each position work. Have you ever felt like you were missing key details to a move and it just felt off? No more. Ariel applies a deeply analytical approach to instruction leaving no stone unturned. You will learn critical components of every guard, sweep, controlling mechanic, submission, and more with Ariel's approach.


Ariel adds new life to positions like lasso guard and spider guard by adding useful variations to each position. This helps layer on the offense as you progress from half lasso to full lasso and then eventually DEEP lasso all while your opponent struggles to maintain their balance. You'll be going from a basic omoplata to complete omoplata systems that provide for the perfect hub to launch sweeps and submissions.


Ariel's unique approach to Jiu-Jitsu allows people from all ranges of experience to completely upgrade their game. Whether you are just starting out and looking to clear up some of the confusion with playing open guard, or a grizzled veteran looking for the upper hand in your next competition, Ariel's 8-section series on mastering the upper body open guard is for you!


SO, WHAT EXACTLY DO YOU GET?
PART 1
INTRODUCTION AND OVERVIEW
WHAT IS OPEN GUARD?
OVERVIEW
KEY CONCEPTS
WINNING THE INSIDE SPACE
OFF BALANCING OVERVIEW
IMPORTANCE OF HIP ORIENTATION
KEY MOVEMENTS
KEY OFF BALANCING MOVEMENTS
FRAMES
DOUBLE SLEEVE GUARD
MAIN MICRO BATTLES
POSTURES VS DOUBLE SLEEVE GUARD
TROUBLESHOOTS TO MICRO BATTLES


PART 2
TROUBLESHOOTS TO MICRO BATTLES (CONT.)
OFF BALANCING FROM THE DOUBLE SLEEVE GUARD
MAIN ATTACKS FROM THE DOUBLE SLEEVE GUARD
ATTACKS AGAINST STANDING/HIP HINGE POSTURE
FEET TO FLOOR OFF BALANCES AND ATTACKS FROM THE DOUBLE SLEEVE
ATTACKING FROM FOOT ON OPPOSITE SIDE OF SPIDER GUARD
ATTACKS FROM FOOT IN BETWEEN THE LEGS
ATTACKING FROM THE BUTTERFLY HOOK
ATTACKS FROM FOOT ON SAME SIDE AS SPIDER GUARD
THE OMOPLATA
THE TRIANGLE CHOKE
FINISHING THE TRIANGLE CHOKE
TROUBLESHOOTS TO COMMON RESPONSES
DOUBLE SLEEVE ATTACKS VS COMBAT BASE
COMMON MISTAKES
COMMON RESPONSES + TROUBLE SHOOTS FOR THE STEERING WHEEL SWEEP
STEERING WHEEL SWEEP TO "DIFFICULT" SIDE
ATTACKS AGAINST THE SQUAT
ATTACKS AGAINST KNEELING OPPONENT
ATTACKS AGAINST UPRIGHT/DEADLIFT POSTURE
SUMMARY
PART 3
DIVING COMPONENTS OF THE DOUBLE SLEEVE GUARD
COLLAR HALF LASSO
POSTURES APPLICABLE FOR COLLAR HALF LASSO
MICROBATTLES
TROUBLESHOOTS
OFFBALANCING WITH THE COLLAR HALF LASSO
MAIN ATTACKS COLLAR HALF LASSO
OMOPLATA/TRIANGLE FROM COLLAR HALF LASSO
SNAP ARMBAR FROM COLLAR HALF LASSO VS COMBAT BASE
TRANSITIONING TO THE SHALLOW LASSO


PART 4
TRANSITIONING TO THE SHALLOW LASSO (CONT.)
MICROBATTLES SHALLOW LASSO
MAIN ATTACKS SHALLOW LASSO
COMMON MISTAKES TRICEP OMOPLATA
VARIATION: LEG IN FRONT OF FACE TRICEP OMOPLATA
COLLAR BICEP RIDE
FRAMES OF COLLAR BICEP RIDE
POSTURES APPLICABLE
MICROBATTLES COLLAR BICEP RIDE
MAIN ATTACKS COLLAR BICEP RIDE
INVERTED OMOPLATA SERIES
CHOI BAR ON THE BICEP RIDE SIDE


PART 5
THE OMOPLATA
MAINTAINING THE OMOPLATA
ASPECTS OF MAINTAINING THE OMOPLATA
MICROBATTLES OF THE OMOPLATA - OPPONENTS PERSPECTIVE
MICROBATTLES OF THE OMOPLATA - GUARD PLAYER'S PERSPECTIVE
USING THE FISHNET OFF THE OMOPLATA
CRAB RIDE COUNTER TO STEP OVER
ATTACKING FROM THE OMOPLATA
THE STOMP SWEEP - INSPIRED BY DAVID MARINAKIS
ARMBAR FROM COMPLETED STOMP SWEEP
CHOI BAR FROM OMOPLATA VS STATIC OPPONENT
FUNDAMENTAL SEQUENCE VS OPPONENT SQUARING UP OUT OF OMOPLATA
TRIANGLE CHOKE FROM THE OMOPLATA
FAR SIDE ARMBAR OFF OPPONENT ATTEMPTING TO SQUARE UP
SHORT ARMBAR FROM OMOPLATA
"PRETZEL-PLATA" SUBMISSION - INSPIRED BY LEVI JONES
ATTACKING THE OMOPLATA FROM A PARALLEL POSITION TO YOUR OPPONENT
OMOPLATA CRUCIFIX ROLL THROUGH AND SHOULDER LOCK FINISH
GRIP VARIATIONS AND HOW THEY AFFECT YOUR ROLL THROUGH
FINISHING THE CHOKE FROM THE OMOPLATA CRUCIFIX


PART 6
THE CHOI BAR
CONTROL WITH THE CHOI BAR - BREAKDOWN
RE-ESTABLISHING CONTROL: BEND THE ELBOW & SIT ON THE SHOULDER
COMMON MISTAKES
CUTTING ARMBAR (IF THE ELBOW DOES NOT BEND)
BELLY DOWN ARMBAR OFF CUTTING ARMBAR
COMMON COUNTER: THE STEP OVER
TURN OVER COUNTER TO THE STEP OVER
OPTIONS FROM STEP OVER (LATE STAGE)
ATTACKING FROM THE CHOI BAR
KIMURA "TRAP"/ SERIES ATTACKS
TAKING THE BACK FROM THE KIMURA TRAP
ARM DRAG TROUBLESHOOT IF YOUR OPPONENT PUTS YOUR BACK ON THE MAT
TRIANGLE CHOKE OPTION FROM ATTACKING THE KIMURA TRAP BACK TAKE
TARIKOPLATA FROM THE KIMURA GRIP
TROUBLESHOOT TO PINNING THE BOTTOM LEG DEFENSE
CHOI BAR SPECIFIC ATTACKS
SHOULDER TORQUE BACK TAKE FROM THE CHOI BAR
LEG AMERICANA IE. "THE COIL" FORM THE CHOI BAR


PART 7
THE DEEP LASSO
FRAMES OF THE DEEP LASSO GUARD
OFF BALANCING
MICROBATTLES OF THE DEEP LASSO GUARD: GUARD PLAYER'S PERSPECTIVE
MICROBATTLES: OPPONENT'S PERSPECTIVE
TROUBLESHOOTS TO MICROBATTLES
MAIN ATTACKS FROM THE DEEP LASSO GUARD
TRICEP DRAG SERIES: TRICEP DRAG TO BUTTERFLY HOOK SWEEP
TRICEP ARMBAR OFF OPONENT POSTING ON HIP
TRANSITIONING TO THE LOWER LIMB OFF THE FAILED BUTTERFLY HOOK SWEEP
ATTACKING THE CLOSED GUARD ARMDRAG SERIES OFF THE FAR SIDE POST
BELLY DOWN ARMBAR OFF TRICEP DRAG
OVERHEAD SWEEP SERIES
BASIC DEEP LASSO VARIATION
BUTTERFLY HOOK VARIATION
TROUBLESHOOTING THE SPRAWL VS BUTTERFLY OVERHEAD SWEEP
OVERHOOK ARMBAR FROM OVERHEAD SWEEP VS. OVERCOMMITTED UNDERHOOK


PART 8
THE TARANTULA GUARD
OFF BALANCING FROM THE TARANTULA GUARD
MICROBATTLES FROM THE TARANTULA GUARD: OPPONENT'S PERSPECTIVE
MICROBATTLES: GUARD PERSPECTIVE
DIFFERENT POSTURES VS TARANTULA GUARD
MAIN ATTACKS
TARANTULA GUARD OMOPLATA
TARANTULA TRIANGLE SET UP
TARANTULA TRIANGLE SET UP
TARANTULA ATTACKS FROM FOOT IN BETWEEN LEGS: BUTTERFLY HOOK APPROACH
TARANTULA ATTACKS: FOOT TO OPPOSITE SIDE OF THE SPIDER GUARD
TARANTULA ATTACKS: FOOT TO SAME SIDE AS THE SPIDER GUARD
TARANTULA GUARD TO KNEE BAR/50 50 - INSPIRED BY BRAULIO ESTIMA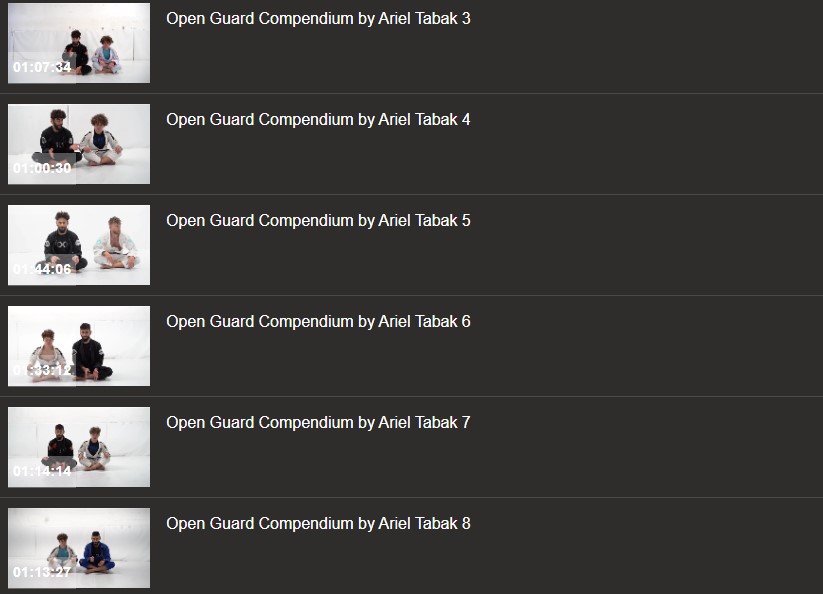 Format file 8x MP4 HD 720p
please inform if you need FHD 1080p
duration 9 hours 53 minutes

Open Guard Compendium: Upper Body Guards by Ariel Tabak
Product Code: bjj1396
Availability: In Stock
---