Gain A Biomechanical Advantage EVERY TIME You Take The Back With Björn Friedrich's Lessons On Low-Effort Back Takes & More!
BJJ black belt and instructor Björn Friedrich details unique entries, setups, and variations for next-level rolling back takes.
Simplify the rolling back take with new ways to lock up opponent's and force them into indefensible territory!
Learn to maximize your leverage and potential for tight back takes from a wide range of positions/scenarios.
Add the threat of submission to your back takes with multiple versions of the twister and calf crank.
Björn Friedrich stresses proper structure throughout series to keep your knees, hips, and ankles safe, while providing the perfect platform to execute rolling back takes.
PROBLEM NO. 1 - PRESSURE AT THE KNEE
PROBLEM NO. 2 - A 50/50 POSITION
ROLLING BACK TAKE I (INSIDE TRIANGLE)
ROLLING BACK TAKE II (OUTSIDE TRIANGLE)
ROLLING BACK TAKE III (GO INTO THE OTHER DIRECTION)
THE CLASSICAL ROLLING BACK TAKE REVISITED
ROLLING BACK TAKE FROM MOUNT POSITION
ROLLING BACK TAKE FROM TURTLE POSITION
THE BASICS OF THE LEG PIN
LEG DRAG TO ROLLING BACK TAKE
LEG PIN TO ROLLING BACK TAKE
LEG PIN TO OUTSIDE HEEL HOOK
LEG PIN TO INSIDE HEEL HOOK
PREVENT THE ROLLING BACK TAKE
REVERSE THE ROLLING BACK TAKE I
REVERSE THE ROLLING BACK TAKE II
REVERSE THE ROLLING BACK TAKE III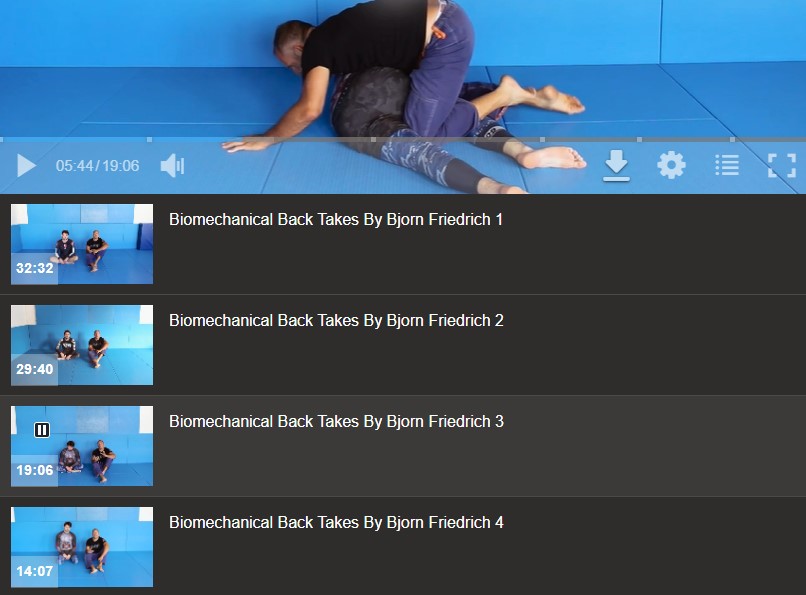 Format file 3x MP4 HD 720p
please inform if you need FHD 1080p
duration 1 hour 35 minutes
Biomechanical Back Takes by Bjorn Friedrich
Product Code: bjj1470
Availability: In Stock
---