Are You Tired Of People Telling You To Only Play Half Guard Underhook Just Because You're A Heavyweight?
Being a heavyweight has its pros and cons. Pros include being bigger than everyone you roll with and using your weight to smesh left and right. Cons on the other hand include being told to play a limited guard game that involves mostly half guard and closed guard because bigger people can't play fancy, modern, inverted jiu jitsu right? WRONG!
Victor Hugo Introduces Modern Jiu Jitsu For The Big Person.
After releasing two instructionals here on Jiu Jitsu X, namely Big Man Flow and 50/50 Manual, Victor is here to take you under his big wing and prove to you that ANYONE can play in the Upside Down World. Whether your gi size is A0 or A5, the techniques shown in this course will make you understand that you do not need to be small and flexible to attack your opponent from the upside-down angle.
The techniques inside this course have been tested at the highest level of competition by Victor Hugo. Get your first-class ticket now and make your way through the chapters where you will learn new ways to sweep and submit from half guard, sweep and submit from the reverse de la riva, and inside chapter 3 you will learn the upside down guard. It involves berimbolos, leg drags, waiter sweeps, and back takes for the bigger person.
The Right Key To Enter The Upside Down World.
Problems inverting? Don't worry, your nose does not have to touch your chest for these techniques to work. If your neck isn't the most flexible, you'll be glad to know Victor always rolls over his shoulders in this course, and you will do the exact same.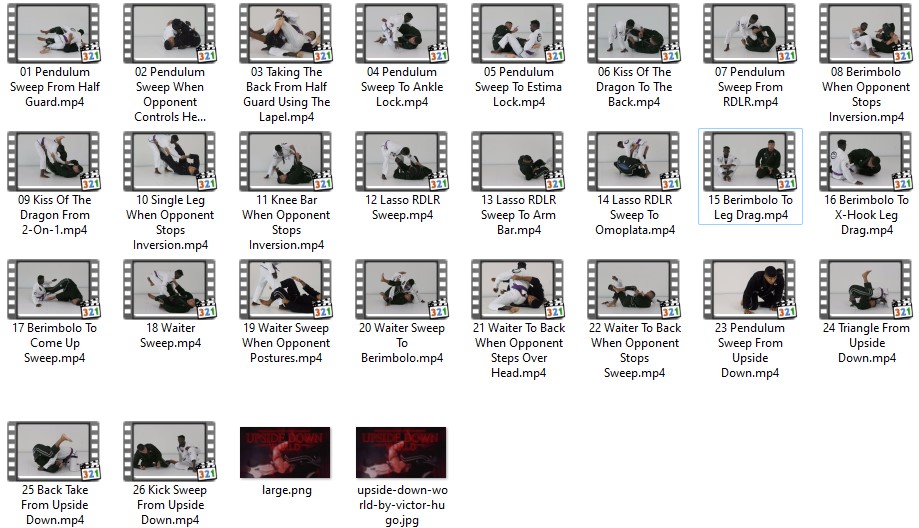 Format file 26x MP4 FHD 1080p
duration 1 hour 8 minutes
Upside Down World by Victor Hugo
Product Code: bjj1477
Availability: In Stock
---