Standing2Ground Upper Body Takedowns by John Danaher
See why upper body takedowns offer unique advantages in submission grappling, and the highest percentage techniques for success in taking down talented opposition
Join Professor Danaher for special studies into some of his preferred upper body techniques, including the cow catcher, uki waza, sumi gaeshi, and more
Work with some of the best takedowns from control positions like underhooks, overhooks, pinch headlocks, and more
John Danaher is one of the world's greatest grappling coaches, with championship students like Gordon Ryan, Georges St. Pierre, Garry Tonon, and more learning these systems from him at Team New Wave
Professor Danaher goes through specific takedowns that benefit older, less athletic grapplers so that any level of student can benefit from this instruction
Improve your takedown attack with this 8-volume masterclass in upper body offense from perhaps the greatest grappling instructor on Earth - Professor John Danaher - as he shows you some of the same techniques his students used to dominate and win big at ADCC 2022. Use the strongest positions and moves from above the waist to gain control, take an opponent down, and start pinning and attacking immediately.
Professor John Danaher is one of the most popular and recognizable coaches in modern grappling, with students who have achieved at the highest levels of the sport using his innovative, groundbreaking systems. These are some of the same lessons that Professor Danaher has given students like Gordon Ryan, UFC Hall of Famer Georges St. Pierre, and Garry Tonon, now made available to students of all levels.
Use special specific study into some of John's favorite upper body attacks, including the cow catcher, uke waza, sumi gaeshi, and more - each time breaking down how and why you can use each one to its maximum. Don't just focus on one part of the body anymore with John's coaching on how you can become a much more dynamic takedown threat with upper body offense like the trips and throws he goes through here.
So, What Exactly Do You Get?
UPPER BODY TAKEDOWN CONCEPTS
THE CENTRAL PROBLEM OF TAKEDOWNS IN JIU JITSU
ADVANTAGES OF UPPER BODY TAKEDOWNS
DISADVANTAGES OF UPPER BODY TAKEDOWNS
MINIMUM ATHLETIC REQUIREMENTS TO PERFORM THE MOVES IN THIS VIDEO
ENTERING INTO UPPER BODY GRIPS: THE 3 MAIN METHODS
THE LEGS AS A GATEWAY TO THE UPPER BODY
THE FIRST GREAT TRAINING METHOD TO DEVELOP UPPER BODY SKILLS: PUMMELLING
THE SECOND GREAT TRAINING METHOD TO DEVELOP UPPER BODY SKILLS: HIP JOUSTING
SPECIAL STUDY: THE COW CATCHER
TWO APPROACHES TO THE COW CATCHER: ONE CHIN STRAP FIRST TWO TIGHT WAIST FIRST
GO BEHIND SETUPS TO THE COW CATCHER
REACTIONS BASED OFF ELBOW POSITION
THE PERFECT COMPLIMENT TO THE COW CATCHER: THE ROLL THROUGH
OPPONENT'S 2ND LINE OF DEFENSE TO COW CATCHER: STANDING UP
A GREAT SETUP FOR THE COW CATCHER: STOPPING A SHOT
AN ALTERNATIVE WAY OF ENTERING THE COW CATCHER: WAIST FIRST CHIN STRAP SECOND
DRILLING SCENE FEATURING PLACIDO SANTOS
ARM DRAG AND HIP VARIATION
SPECIAL NOTE ON ARM DRAG AND HIP VARIATION
2 ON 1 OPPONENT HEADLOCKS
OVERHOOK UKI WAZA: THE LATERAL DROP
MY FAVORITE SETUP OVERHOOK UKI WAZA (LATERAL DROP)
2 ON 1 UKI WAZA FOR THE STRONGEST LATERAL DROP
SPECIAL STUDY: SUMI GAESHI
WHIZZER AND WRIST VS SINGLE LEG
LAT AND WRIST VS SINGLE LEG
CHEST WRAP SUMI GAESHI VS DOUBLE LEG
BUTTERFLY SUMI GAESHI VS DOUBLE LEG
SUMI GAESHI VS HIGH CROTCH
YOKO SUMI GAESHI ON THE MAT
SPECIAL STUDY: UDE GAESHI
THROWING FROM THE OVERHOOK
UKI GOSHI (HALF HIP THROW)
THROWING FROM THE OVER UNDER TIE UP
UKI GOSHI (HALF HIP THROW)
SINGLE KNEE DROP VARIATION
DOUBLE KNEE DROP VARIATION
KOSOTO GAKE CALF TO CALF VARIATION
UNDERSTANDING DOUBLE OVERHOOKS
CALF TO CALF KOSOTO GAKE (OUTSIDE TRIP)
UNDERSTANDING DOUBLE UNDERHOOKS
STEP AROUND KOSOTO GAKE (OUTSIDE TRIP)
CALF TO CALF KOSOTO GAKE (OUTSIDE TRIP)
THROWING FROM AN UNDERHOOK
UKI GOSHI (HALF HIP THROW)
KOUCHI TRIP (SMALL INSIDE TRIP)
KOSOTO AND KOUCHI FROM PINCH HEADLOCK
SPECIAL TOPIC: GEORGES ST. PIERRE HYBRID THROW
UPPER BODY TAKEDOWNS FOR OLDER LESS ATHLETIC ATHLETES
WHAT IS IT THAT MAKES UPPER BODY TAKEDOWNS DIFFICULT FOR OLDER AND LESS ATHLETIC PEOPLE
TAI OTOSHI FROM ARM DRAG AND LAT GRIP
ARM DRAG AND HIP KOUCHI TRIP
THE LATERAL DROP UKI WAZA
UKI GOSHI (HALF HIP THROW)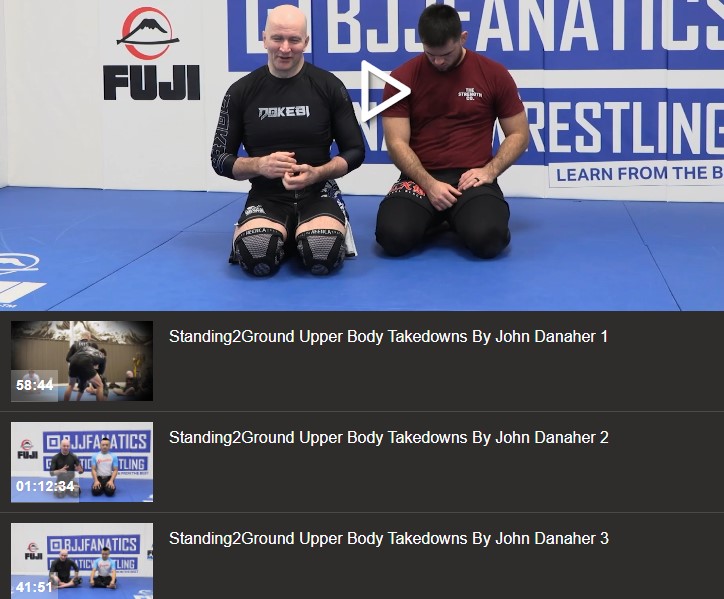 Format file 8x MP4
HD 720p
please inform if you need FHD 1080p
duration 8 hours 21 minutes
Standing2Ground Upper Body Takedowns by John Danaher
Standing2Ground Upper Body Takedowns by John Danaher
Product Code: bjj1622
Availability: In Stock
---