Dont Be A Sitting A Duck Guide to Neutral Ashi by Gabriel Daffron
Stop Being A Sitting Duck For Your Opponent's Leg Locks By Learning How To Defend, Escape, And Counter Their Lower Body Attacks With Gabriel Daffron
Learn how to break grips and positions like single leg x so that you can escape any potential leg locks.
Develop counters to holds and subs that will let you take control of the fight.
Counter single leg x, one of the most common leg lock positions, and take your opponent's back off of it.
Counter your opponent's leg locks with your own to be just as dangerous on the lower body as your opponent.
Stop Being A Sitting Duck For Your Opponent's Leg Locks By Learning How To Defend, Escape, And Counter Their Lower Body Attacks With Gabriel Daffron.
So, What Exactly Do You Get?
YOUR STUDY SHOULD START WITH OFFENSE
GRIP BREAKING FROM SINGLE LEG X
COUNTER TOE HOLD NEUTRAL ASHI
AKOKI LOCK COUNTER SINGLE LEG X
PASS OFF SERIES FORCING OUTSIDE ASHI
PASS OFF SERIES INVERTED HEEL HOOK
DILEMMA BETWEEN BOOT AND TOE POINT
HIDDEN HEEL ROLLING FOR INVERTED
PASS BACK TO RUSSIAN KNOT STEERING WHEEL TOE HOLD
CRISS CROSS COUNTER FROM INSIDE TRIANGLE
DEFENSE HEEL SLIPPING MECHANICS FROM OUTSIDE ASHI
DEFENSE HEEL SLIPPING MECHANICS FROM INSIDE TRIANGLE
SINGLE LEG X COUNTER BACK TAKE SERIES
COUNTER BACK TAKE SERIES KNEE WEDGE
ONE KNEE UP ONE KNEE DOWN SERIES SMASH
ONE KNEE UP ONE KNEE DOWN SERIES BUTTERFLY GUARD PASS
ONE KNEE UP ONE KNEE DOWN SERIES ROLLING KIMURA REACTION
ONE KNEE UP ONE KNEE DOWN SERIES ROLLING FRONT HEAD REACTION
ONE KNEE UP ONE KNEE DOWN SERIES ROLLING TOE HOLD
STANDING SERIES SINGLE LEG X GIANNI GRIPPO
STANDING SERIES SINGLE LEG X HEAD AND ARM COUNTER
STANDING SERIES SINGLE LEG X DILEMMA BETWEEN DRAG AND HEEL
BACK TAKE SERIES FROM STANDING
BACK TAKE SERIES SIT UP REACTION
STANDING SINGLE LEG X ROLLING TOE HOLD
TOREANDO PASSING BACK STEP DEFENSE TO COUNTER TO INVERTED HEEL
X GUARD COUNTER TO INVERTED HEEL HOOK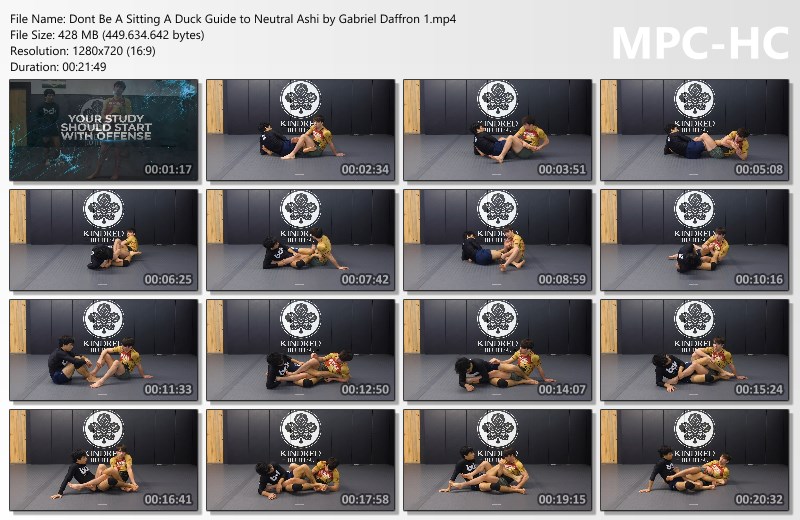 Format file 4x MP4 HD 720p
duration 1 hour 58 minutes
Dont Be A Sitting A Duck Guide to Neutral Ashi by Gabriel Daffron
Dont Be A Sitting A Duck Guide to Neutral Ashi by Gabriel Daffron
Product Code: bjj1674
Availability: In Stock
---