Ageless Jiu Jitsu: Winning When You're Older Or Less Athletic Top Game NoGi by John Danaher
Stay Competitive With - And Even Dominate - Younger, Faster Athletes With The Help Of The World's Most Sought After Jiu-Jitsu Coach, Professor John Danaher, As He Shows You His Formula For Success For The Top Game As An Older Grappler
John is one of the world's premier coaches in jiu-jitsu and submission grappling and now you can watch him break down the realities of the sport for aging athletes and how you can best adapt!
Uncover the power of passing from half guard with John's next-level details on maximizing connection and using connection to maximize control over athletic opponents.
Learn to consistently funnel opponents into half guard from common guard passes such as toreando, tight waist, bodylocks, over/under and MORE!
Unlock the power of pinning with John's unique dynamic pinning system that allows you to tire more athletic opponents out while conserving your own energy.
Every series and move is optimized and explained with the older grappler in mind, giving you the tools necessary to be successful without speed or flexibility.
The series focuses on specific submissions that are easy to perform, low risk, and don't involve you giving up position. A key component to the Ageless Jiu-Jitsu series is to use high percentage techniques that don't require high risk. With John's approach if your opponent manages to defend a submission, the process simply starts over from the same dominant position. Before long even the most athletically gifted athletes will start to run out of energy!
So whether you're a beginner looking to develop a strong foundational top game or an experienced practitioner looking to refine your skills, "Ageless Jiu Jitsu Top Game No-Gi" is the ultimate tool for taking your game to the next level. Don't miss your chance to learn from one of the greatest BJJ coaches of all time!
So, What Exactly Do You Get?
HALF GUARD MAXIMIZES CONNECTION: CONNECTION MAXIMIZES CONTROL
UNDERSTANDING ADVANTAGE IN HALF GUARD
HALF GUARD TOP: GETTING INTO HALF GUARD TOP POSITION
GETTING TO CHEST TO CHEST POSITION
CLEARING A KNEE SHIELD PART 2
CLEARING A HIGH KNEE SHIELD
DEALING WITH AN UNBREAKABLE KNEE SHIELD
KEEPING A KNEE SHIELD OUT AFTER YOU'VE PASSED IT
STOPPING 2 OF YOUR OPPONENT'S BEST DEFENSIVE MOVES
THE 2 KEY KNEE POSITIONS THAT WILL MAKE YOU SUCCESSFUL FROM HALF GUARD TOP
WINNING THE UPPER BODY HALF GUARD BATTLE: PINNING THE HEAD & SHOULDERS WITH UNDERHOOKS
3 DIRECTIONS OF PASSING FROM HALF GUARD
PASSING WITH A FAR SIDE UNDERHOOK
NEARSIDE UNDERHOOK & HEAD BLOCK
WINNING THE LOWER BODY BATTLE: USING REVERSE CROSS FACE AND FLATTENING THE FAR HIP
GETTING TO A QUASI MOUNT AND USING IT TO WIN THE UPPER BODY BATTLE
USING YOUR OPPONENT'S DEFENSE TO PASS HIS GUARD
TACTICAL INSIGHT FOR OLDER/LESS MOBILE ATHLETES: USING HALF GUARD TOP TO EXHAUST AND FRUSTRATE YOUNGER AND FITTER OPPONENTS
THE GUARD PASSING GAME PLAN FOR OLDER/MOBILITY COMPROMISED ATHLETES
PASSING HALF BUTTERFLY GUARD
HALF BUTTERFLY GUARD IS A DIFFERENT PROBLEM FROM PASSING HALF GUARD
NULLIFYING A HALF BUTTERFLY GUARD
USING NEAR SIDE UNDERHOOK AGAINST HALF BUTTERFLY GUARD
FOOTWORK MAKES THE MOVE WORK
THE POWER OF PINNING FOR OLDER & ATHLETICALLY COMPROMISED ATHLETES
THE MOST IMPORTANT SIDE PIN VARIATIONS FOR DYNAMIC PINNING
MOVING TO OTHER FORMS OF PIN
STABILIZING REAR MOUNT PART 2
SPECIAL STUDY: AMERICAN LOCK
REFLECTIONS ON THE AMERICAN LOCK
THE ADVANTAGES OF THE AMERICAN LOCK
MECHANICS OF A STRONG AMERICAN LOCK
DRILLING THE AMERICAN LOCK
THE AMERICAN LOCK FROM MOUNTED POSITION
KIMURA IS THE PERFECT LOCK FOR OLDER & LESS ATHLETIC STUDENTS
ROLLING THROUGH WITH KIMURA
SPECIAL STUDY: NORTH SOUTH STRANGLE
THE NORTH SOUTH STRANGLE FOR OLDER & LESS ATHLETIC PLAYERS
MECHANICS OF A NORTH SOUTH STRANGLE
ADDING A DETAIL THAT IS DIFFICULT TO SEE
TROUBLESHOOTING THE NORTH SOUTH STRANGLE
THE 3 BEST SET UPS TO THE NORTH SOUTH STRANGLE
SPECIAL STUDY: KATAGATAME
THE MOST IMPORTANT KATAGATAME SETUPS FOR OLDER & ATHLETICALLY COMPROMISED ATHLETES
A SIMPLE TRICK TO INCREASE YOUR EFFECTIVENESS WITH KATAGATAME: THE SHOULDER DROP
SPECIAL STUDY: REAR STRANGLES
STRANGLING FROM THE BACK WITH YOUR ARMS FOR OLDER & ATHLETICALLY COMPROMISED PLAYERS
THE RELATIONSHIP BETWEEN UPPERBODY THREAT AND LOWER BODY THREAT FOR REAR STRANGLES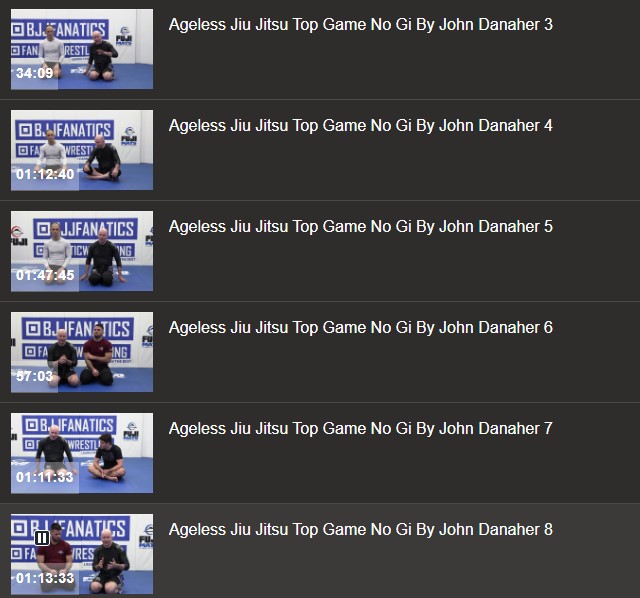 Format file 8x MP4 HD 720p
please inform if you need FHD 1080p
duration 8 hours 26 minutes
Ageless Jiu Jitsu: Winning When You're Older Or Less Athletic Top Game NoGi by John Danaher
Ageless Jiu Jitsu: Winning When You're Older Or Less Athletic Top Game NoGi by John Danaher
Product Code: bjj1680
Availability: In Stock
---