Never Get Smashed Side Control And Mount Escapes by Gregor Gracie
Learn Secrets About Using Your Opponent's Weight Against Them From The Bottom With Gregor Gracie's Series On Escaping All Of The Worst Positions In Jiu Jitsu
Tired of being stuck on the bottom? Gregor Gracie explains how to create space even against the heaviest opponents, allowing you to escape from nightmare positions like bottom side control and mount.
Gregor gives you the tools to make your defenses stronger and your offense more dangerous so that your opponents and training partners never feel safe.
Learn the power of the active underhook from Gregor Gracie and begin applying it today as the perfect 'get out of jail free card'.
This series can help beginners or experienced grapplers spend less time desperately digging out of bad spots and more time dominating your opponents and polishing your submissions.
So, What Exactly Do You Get?
SIDE CONTROL - UNDERHOOK AND BRIDGE ESCAPE
FIGHTING FOR THE UNDERHOOK
CROSS SHIELD FRAME TO UNDERHOOK
MISGUIDING YOUR OPPONENT'S WEIGHT
OPENING UP YOUR OPPONENT TO GET THE UNDERHOOK
SHIFTING YOUR OPPONENT'S WEIGHT TO GET THE UNDERHOOK
UTILIZING BOTH ARMS IN BOTTOM SIDE CONTROL
BLOCKING THEIR LEG AND BRIDGING FROM BOTTOM SIDE CONTROL
KEEPING AN ACTIVE UNDERHOOK
SHELVING THE LEG WHEN THEY WHIZZER
CONNECT KNEE AND ELBOW TO ESCAPE BOTTOM SIDE CONTROL
ESCAPING BOTTOM SIDE CONTROL WHEN THEY FACE YOUR HIPS
ESCAPING BOTTOM SIDE CONTROL WHEN THEY FACE YOUR HIPS WITH ONE ARM TRAPPED
BOTTOM SIDE CONTROL TO HALF GUARD
REGUARD - ONE LEG AT A TIME AND HOOK SWEEP
FIGHTING THEIR CROSSED ANKLES
OPPONENT FLATTENS THEIR FOOT
OPPONENT FRAMES THEIR KNEE AND FOOT
HIP ESCAPE FROM TECHNICAL MOUNT
KNEE BUMP FROM TECHNICAL MOUNT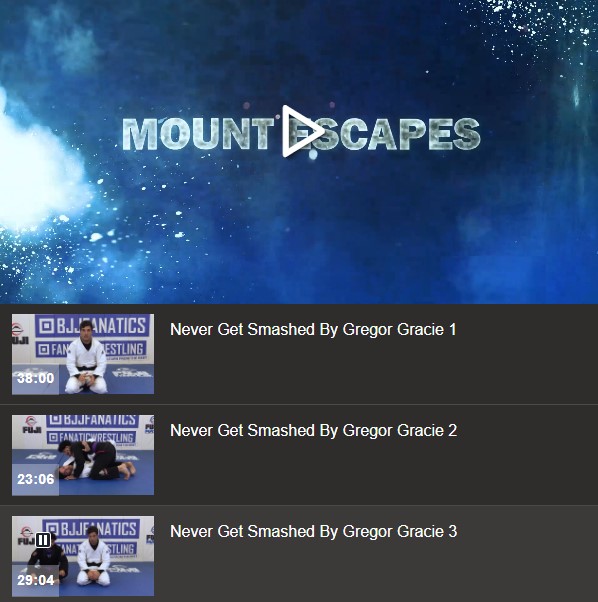 Format file 3x MP4 HD 720p
please inform if you need FHD 1080p
duration 1 hour 30 minutes
Never Get Smashed Side Control And Mount Escapes by Gregor Gracie
Never Get Smashed Side Control And Mount Escapes by Gregor Gracie
Product Code: bjj1685
Availability: In Stock
---