The Daisy Fresh Curriculum: White Belt Stripe 1 by Heath Pedigo
Pedigo Submission Fighting Head Coach Heath Pedigo Presents His Essential Daisy Fresh Curriculum For White Belts! The First 100 buyers will receive a FREE Shirt - We will email you to get your size!
Heath is the head coach of the winningest team in Jiu-Jitsu for white and blue belts!
Learn the essentials of white belt including clear cut strategies for standing techniques, attacking from closed guard, guard retention, and escaping bad positions.
Uncover unique training details designed for rapid improvement.
Develop go-to escapes for some of Jiu-Jitsu's most difficult positions.
Discover match-winning details to today's most tournament tested techniques like taking the back from closed guard, and finishing with the ultra high percentage bow and arrow choke!
Heath Pedigo, head coach of Pedigo Submission Fighting, brings you the highly anticipated "The Daisy Fresh Curriculum: White Belt Stripe 1." This revolutionary program is designed to accelerate your growth, develop rock-solid fundamentals, and turn you into a formidable BJJ practitioner. Get a jumpstart to your Jiu-Jitsu journey with a complete step-by-step guide to winning at white belt.
The first installment of the Daisy Fresh Curriculum is designed to give you a clear cut blueprint on how to start a match, get the fight to the floor and into closed guard. From there you will learn a litany of techniques that have been tournament tested time and time again. Learn consistent methods of breaking your opponent's posture, exposing their back, and securing match-ending chokes. Heath also mixes in other guard attacks that force opponents into hard to defend dilemmas where they are under constant threat of sweeps and submissions!
The series also explores key components to winning from bad positions. Learn essential guard retention concepts that will have you holding off aggressive and athletic passers. If they are able to pass your guard, Heath has you covered with several of his favorite positional escapes including escapes from mount, side control, and pinned half guard!
Heath Pedigo has trained countless world champions and elite grapplers, and now he's sharing his secrets with YOU! The Daisy Fresh Curriculum will provide you with a clear, concise roadmap to mastering the core techniques, strategies, and concepts of Brazilian Jiu-Jitsu whether you are just starting out or a grappling veteran looking to refine your foundation!
So, What Exactly Do You Get?
ALL MATCHES START STANDING
ATTACKING FROM CLOSED GUARD
ARM ACROSS THE CENTERLINE
ATTACKING THEIR STRUCTURE
WHEN YOU CAN'T BREAK THEM DOWN - BOW AND ARROW CHOKE
KNEE ASSIST HEEL HOOK GRIP ON ELBOW
SITTING VS STANDING RETENTION
WHEN THEY GRAB BOTH PANT LEGS
SIDE CONTROL ESCAPE TO CLOSED GUARD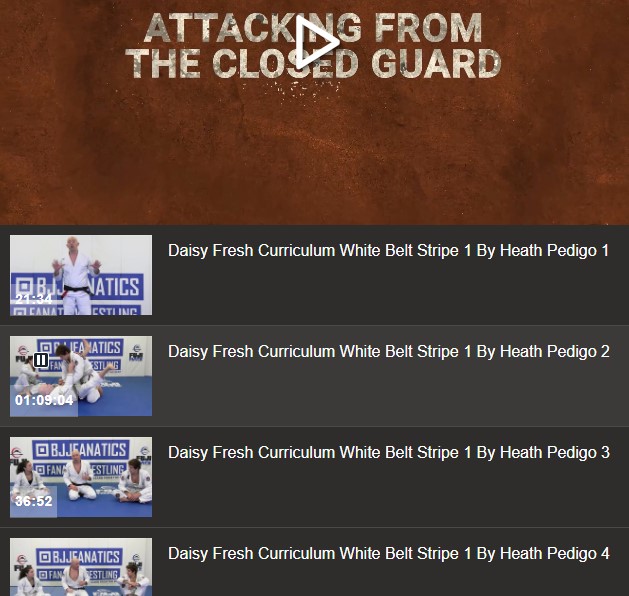 Format file 4x MP4 HD 720p
please inform if you need FHD 1080p
duration 2 hours 4 minutes
The Daisy Fresh Curriculum: White Belt Stripe 1 by Heath Pedigo
The Daisy Fresh Curriculum: White Belt Stripe 1 by Heath Pedigo
Product Code: bjj1690
Availability: In Stock
---