The Daisy Fresh Curriculum: White Belt Stripe 3 by Heath Pedigo
Pedigo Submission Fighting Head Coach Heath Pedigo Presents His Essential Daisy Fresh Curriculum For White Belts! The First 100 buyers will receive a FREE Shirt - We will email you to get your size!
Heath is the head coach of the winningest team in Jiu-Jitsu for white and blue belts!
Focus your game on the most proven techniques and concepts that Heath and his team have tested time and time again at the highest levels of the sport.
Troubleshoot problems in real-time with Heath's white belt students, as they learn and progress through the same techniques as you!
Develop a go-to passing system with techniques that stifle your opponent's movement and provide the best chance to secure the pass.
As an added bonus Heath teaches helpful tips on securing knee on belly, mount, and back control from guard passing situations!
Start Your Jiu-Jitsu Journey Off Right With The Daisy Fresh Curriculum: White Belt Stripe 3 From Heath Pedigo!
Heath Pedigo, head coach of Pedigo Submission Fighting, brings you the highly anticipated "The Daisy Fresh Curriculum: White Belt Stripe 3." This revolutionary program is designed to accelerate your growth, develop rock-solid fundamentals, and turn you into a formidable BJJ practitioner. Get a jumpstart to your Jiu-Jitsu journey with a complete step-by-step guide to winning at white belt.
For stripe 3 Heath sets his focus on dominating from the top. Ideally as a white belt, especially in competition, you want to be on top as much as possible. The series looks to give you an ample amount of tools to pass your opponent's guard with a wide range of passes executed from both outside and inside positioning. Having options is always a good idea when dealing with today's modern guards. That said Heath provides ample amounts of strategy to not only defend tricky guards, but to consistently pass them!
The series also offers a unique perspective by troubleshooting problems in real-time with two of Heath's white belt students. Learn to diagnose and fix common problems that occur with defensive opponents in real-time as Heath guides his students through roadblocks most commonly encountered.
Heath Pedigo has trained countless world champions and elite grapplers, and now he's sharing his secrets with YOU! The Daisy Fresh Curriculum will provide you with a clear, concise roadmap to mastering the core techniques, strategies, and concepts of Brazilian Jiu-Jitsu whether you are just starting out or a grappling veteran looking to refine your foundation!
So, What Exactly Do You Get?
RED ZONE GREEN ZONE PASSING DRILLS
AMERICANA TO ARMBAR FROM MOUNT
TRIANGLE FROM ARMBAR GRIP BREAK
HEAD AND ARM CHOKE (DISMOUNT)
THE BETTER HEAD AND ARM CHOKE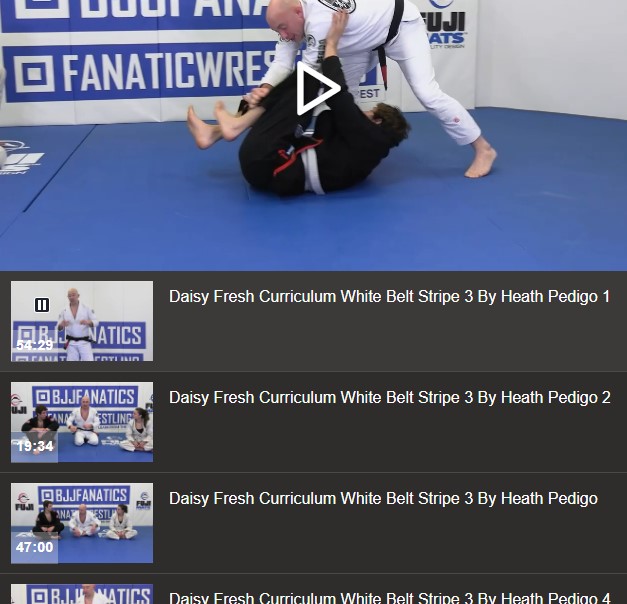 Format file 4x MP4 HD 720p
please inform if you need FHD 1080p
duration 2 hours 53 minutes
The Daisy Fresh Curriculum: White Belt Stripe 3 by Heath Pedigo
The Daisy Fresh Curriculum: White Belt Stripe 3 by Heath Pedigo
Product Code: bjj1692
Availability: In Stock
---