Pull Weight Not Guard by Dante Leon
Learn the Conjugate Strength Training System for BJJ and Build Game Changing Power with 2019 Black Belt World Champion, Dante Leon!
Learn the secrets to building freakish strength that will supercharge your BJJ game with #2 ranked 77kg GF Team Black Belt Dante Leon
Adopt the strength training systems that Leon has used to cultivate incredible power, developed through his training with the legendary Louie Simmons of Westside Barbell fame
Leon intelligently and safely Dispels the myths that heavy lifting is detrimental to BJJ training with the perfect selection of exercises that will get you strong in all the right places and help to protect you from injuries
With a treasure chest of IBJJF Gold earned over the last decade, Dante Leon has remained a force at the highest levels of BJJ competition through all belt levels. The Black Belt GF Team standout continues to turn in impressive performances, most recently claiming 2019 IBJJF World Gold and a Kasai Title in 2020. With Pull Weight Not Guard, Leon reveals his conjugate method for BJJ, based on the legendary training methods of Louie Simmons of Westside Barbell, dispelling myths and rumors that heavy lifting is detrimental to BJJ training. Leon will lay out his entire game changing approach to weight training, safely helping you adopt the perfect exercises to cultivate true power, that will not only give you the edge in your BJJ exchanges but also reduce your chances of injury and keep you on the mat for years to come!
You'll begin with a lesson in theory as Leon explains why he believes in this particular method of training, how it's positively impacted his career, and why YOU should adopt these training methods. From there you'll dive right into the exercises as Leon carefully guides you through safety protocols, proper form, alternate methods, and tips for success that will get you on the path to building freakish strength. Leon will help you properly perform classic powerlifting movements like the bench press, deadlift, and squat with tips and details to keep you safe and reaping maximum benefits. You'll also receive a library of accessory exercises to assist the main lifts as you work your way through this program designed with the grappler in mind!
If you want to develop real strength that will truly impact your grappling, look no further. Leon has designed this entire program with the grappler in mind to help you build strength in all the right places and drastically reduce your chances of injury. Use proven strength training methods of a world champion to enhance your game and start reaping the benefits of a stronger more durable body that will pay dividends in all of your grappling exchanges!
SO, WHAT EXACTLY DO YOU GET?
CONJUGATE METHOD PHILOSOPHY
CONJUGATE METHOD BREAKDOWN
CONJUGATE METHOD FOR BRAZILIAN JIU JITSU
SAMPLE STUDY FOR CONJUGATE METHOD TRAINING
CONVENTIONAL BARBELL ROWS
TRICEPS ACCESSORY EXERCISES
MANAGING FATIGUE AND OVERTRAINING
USING WEIGHT TRAINING ACCESSORY EQUIPMENT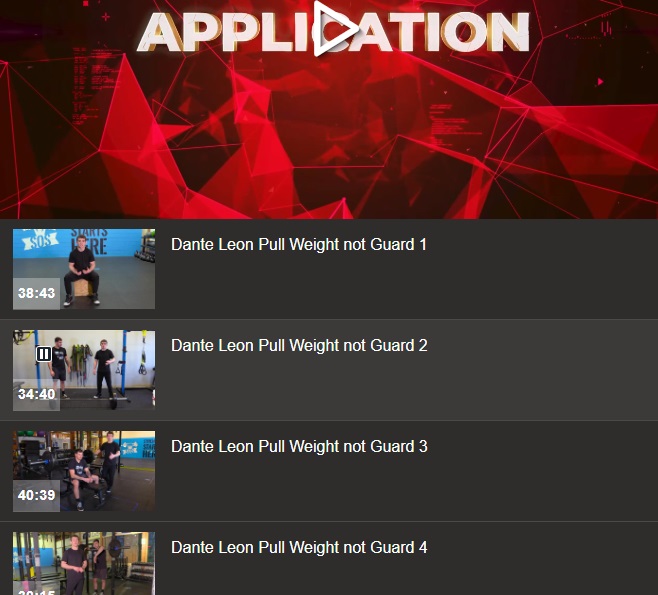 Format file 4x MP4 HD 720p
please inform if you need FHD 1080p
duration 2
hours 24 minutes
Pull Weight Not Guard by Dante Leon
Pull Weight Not Guard by Dante Leon
Product Code: bjj1766
Availability: In Stock
---