Open Guard Compendium Lower Body Guards Leg Entanglements and Crab Ride by Ariel Tabak
Build A Complete Lower Body Guard System With World-Class Instructor Ariel Tabak and His 6-Part Masterclass Instructional!
Ariel is an accomplished international competitor with a keen eye for details that can lead to drastic improvements in your game!
Master some of the most effective guards in Jiu-Jitsu with Ariel's in depth guides on X-Guard, K-Guard, 50/50, and variations of each!
Force opponents into hard-to-defend territory with relentless crab ride attacks that can be used to take the back and pass the guard.
Troubleshoot common reactions and develop offensive sequences that will drastically improve your ability to sweep opponents.
Watch real-time examples of X-Guard mastery with Ariel's rolling breakdown to get an idea into the mindset of a high-level guard player!
Consistently weave your way underneath opponents with a variety of entries into advantageous positions that make your sweeps or back takes INEVITABLE!
Threaten opponents like never before with leg locks that blend seamlessly with you other offensive options!
SO, WHAT EXACTLY DO YOU GET?
INTRODUCTION TO X GUARD VARIANTS
MAIN OBJECTIVES OF X GUARD
COMMON DEFENSIVE REACTIONS TO THE X GUARD
OFF BALANCES FROM X GUARD
CONTEXT OF EACH VARIANT OF X GUARD
COLLAR AND PANT X GUARD ATTACKS
COLLAR AND PANT X AGAINST STANDING OPPONENT
COLLAR AND PANT X ATTACKS: OPPONENT'S FAR KNEE IS ON THE FLOOR
GET UP SEQUENCE TO THE FAR SIDE
IMPORTANCE OF PATHWAY/DIRECTION OF OPPONENT'S FOOT
DOUBLE PANT SWEEP SERIES: INTRODUCTION
BASIC DOUBLE PANT GET UP SWEEP
"SUBMARINE" TAKEDOWN VARIATION
IDEAL GRIPS FOR DOUBLE PANT GET UP SWEEPS
RESPONSE TO YOU OPPONENT PICKING UP YOUR TOP LEG
DOUBLE PANT ROLL THROUGH SWEEP (SWITCHING SIDES ON THE GET UP SWEEP)
FAR SIDE X: CONVENTIONAL ATTACK SEQUENCE
CONVENTIONAL FAR SIDE X ATTACKS WITH COLLAR & SLEEVE GRIPS
LEG ACROSS POSITION: INTRODUCTION
BASIC BACK TAKE FINISH FROM THE LEG ACROSS POSITION
ATTACKING THE BACK SEQUENCE FROM THE LEG ACROSS POSITION: UPPER BODY POST DILEMMA
DOUBLE PANT GET UP SWEEP FROM LEG ACROSS
USING THE FISHNET TO ATTACK THE DIAGONAL CONTROL POSITION
LEG ACROSS BACK TAKE VARIATION FROM SLX/IRIMI ASHI
BACKWARDS ROLL ENTRY INTO BELLY DOWN FOOT LOCK
INSIDE ANKLE LOCK / AOKI LOCK
IMPORTANCE OF KNEE POSITION FOR THE FOOT LOCK
GRIP VARIATIONS IN THE K GUARD
MAIN GOALS OF THE K GUARD
USING YOUR OPPONENT'S BACK STEP TO SET UP ATTACKS AND TRANSITIONS
COMMON GUARDS USED TO TRANSITION TO K GUARD
BODY X / DOUBLE K GUARD (WITH FOOT ON COLLAR EXPLANATION)
DEALING WITH COMMON COUNTERS TO THE K GUARD
HEAD ON OUTSIDE VD HEAD ON INSIDE ENTRIES
LOW K GUARD WHEN YOU CANNOT WIN THE BATTLE FOR THE ELBOW/KNEE SPACE
ATTACKING FROM K GUARD: EXPLANATION OF DIFFERENT FOOT POSITIONING IN THE K GUARD
THE MATRIX (CALF SLICER ENTRY)
SPIRAL ENTRY TO DOUBLE PANT X GUARD
STANDARD TRANSITION BACK TO X GUARD AND BUTTERFLY ASHI
USING THE INVERSION TO CREATE A STRONG OFF BALANCE (SETTING UP ATTACKS VIA FORCING HANDS TO THE MAT)
ATTACKING A KNEELING OPPONENT: 50/50 TRANSITION & BABY BOLO
TRANSITIONING TO BUTTERFLY ASHI WITH OVERHOOK
ATTACKING THE TRIANGLE AND CLOSED GUARD FROM K GUARD
TRIANGLE ENTRY FROM BODY X SCENARIO
BACKWARDS ROLL COUNTER TO BASIC SWEEP
ATTACKING WITH THE HIPS FACING TO THE OUTSIDE: DOUBLE PANT SWEEP
ATTACKING WITH HIPS FACING TO THE OUTSIDE: BABY BOLO SEQEUCE (WITH UPPER BODY POST DILEMMA)
OVERVIEW OF ATTACKING WITH THE HIPS FACING THE OUTSIDE
ATTACKING WITH THE HIPS FACING TO THE INSIDE: TORNADO STYLE SWEEP
INSIDE SPIN OFF THE TORNADO SWEEP ATTEMPT
SHOR HOOK KNEE BAR ENTRY WHEN THE HIPS FACE THE OUTSIDE
50/50 FOOT LOCKS: IMPORTANCE OF KNEE POSITIONING
50/50 FOOT LOCKS: ESTIMA LOCK
50/50 ARM DRAG SEQUENCE: ARMBAR AND BACK TAKE
50/50 ARMDRAG SEQUENCE: LONG STEP FROM 50/50
DOUBLE 50/50 KNEE BAR (HOPE DOUGLAS SIGNATURE KNEE BAR)
50/50 ESCAPES: INTRODUCTION TO EXTRACTING PRIMARY LEG (WITH THE SECONDARY LEG)
USING A SHORT HOOK TO EXTRACT THE PRIMARY LEG
EXTRACTING THE LEG WITH THE HIPS TURNING IN
COMMON WAYS TO FINISH THE CRAB RIDE BACK TAKE
CLOSING SPACE WHEN CREATING BACK EXPOSURE
IDENTIFYING THE DIFFERENT BACK TAKING APPROACHES: - DIRECT STACK (LIFT THE HIPS AS HIGH AS POSSIBLE) - BRING THE HIPS ONTO YOUR BELLY - DIAGONAL CONTROL
USING YOUR SHINS TO "CRAB RIDE" IE. SCENARIO WHERE YOUR HOOKS ARE CLEARED/DENNIED
UPPER BODY CONTROL & GRIPS
COMMON WAYS TO PROGRESS TO STRONG UPPER BODY CONTROL
RESETTING OR RE-ESTABLISHING CRAB RIDE (INCLUDES DEALING WITH LEG PUMMELING)
STACKING WITH THE CRAB RIDE
IMPORTANCE OF "WEDGE" / KNEE POSITIONING OF BOTTOM KNEE
USING THE SHIN BEHIND KNEE TO STACK
MAIN GOALS OF THE LEG DRAG HOOK (ROLL THROUGH SEQUENCE)
FULL CRAB RIDE STACK FROM THE LEG DRAG HOOK
SUMMARY/LINKING THE TECHNIQUES
NARRATED SPARRING FROM THE X GUARD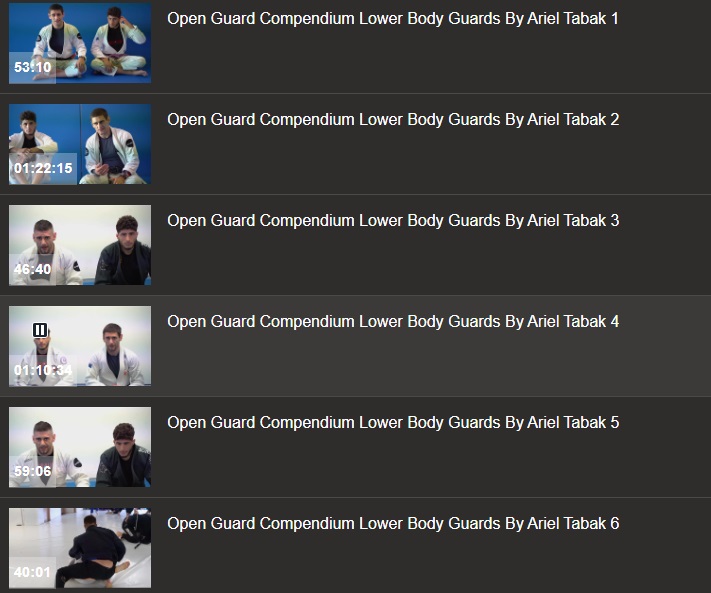 Format file 6x MP4
HD 720p
please inform if you need FHD 1080p
duration 5
hours 51 minutes
Open Guard Compendium Lower Body Guards Leg Entanglements and Crab Ride by Ariel Tabak
Open Guard Compendium Lower Body Guards Leg Entanglements and Crab Ride by Ariel Tabak
Product Code: bjj1768
Availability: In Stock
---