Developing and Discovering Your Own Unique Games by Marcos Tinoco
Develop Your Own Unique Game Under The Guidance Of Top-Tier Competitor And Instructor Marcos Tinoco!
Marcos Tinoco is a BJJ black belt and accomplished international competitor with a well rounded game and the unique ability to help you develop your own!
Build a well rounded bottom game with Tinoco's guide on a variety of guards including closed, half, butterfly, lasso, spider, and MORE!
Explore a wide range of attacks from each position so you can tailor your own game to attacks that work best for you.
Tinoco details hard-to-teach concepts in a way that practitioners of ALL levels can integrate into their own game.
Sharpen your skills with skill-specific drills that will help you rapidly progress with advanced positions like spider guard, lasso guard, and X-guard!
Take your game to the next level with match-winning strategies, sweeps, submissions, and transitions with world-class competitor and coach Marcos Tinoco!
SO, WHAT EXACTLY DO YOU GET?
GRIPS CONNECTIONS AND TRANSITIONS
DE LA RIVA SUBMISSIONS AND TRANSITIONS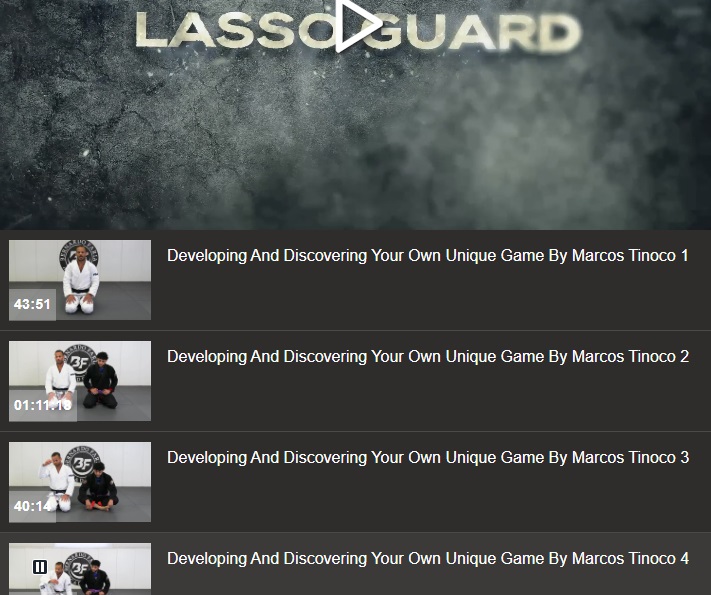 Format file 4x MP4
HD 720p
please inform if you need FHD 1080p
duration 3
hours 42 minutes
Developing and Discovering Your Own Unique Games by Marcos Tinoco
Developing and Discovering Your Own Unique Games by Marcos Tinoco
Product Code: bjj1769
Availability: In Stock
---