Ageless Jiu Jitsu Winning When You're Older or Less Athletic Top Game Gi by John Danaher
Utilize the over/under, double under, knee cut, and long step pass alongside systematic half guard passing to defeat even the most sophisticated guard players!
John is one of the world's premier coaches in Jiu-Jitsu and submission grappling and now you can watch him break down the realities of the sport for aging athletes and how you can best adapt!
Develop a go-to standing system with John's strategies on obtaining precise grips, creating kuzushi, and executing a variety of time-tested takedowns.
Stay ahead of tricky guard players with a complete guard passing system that utilizes high-percentage guard passes that ANYONE can use.
Make pinning a hidden weapon in your arsenal and discover unique ways to maintain stability while generating immense pressure against explosive opponents!
Every series and move is optimized and explained with the older grappler in mind, giving you the tools necessary to be successful without speed or flexibility.
The Ageless Jiu-Jitsu series looks to provide an in-depth guide for older and less athletic grapplers looking to stay competitive with their younger counterparts. Ageless Jiu-Jitsu Top Game Gi is focused around high-percentage techniques spanning a complete top-game. Learn precise techniques and concepts from standing, passing, pinning, taking the back, obtaining submissions, and more! Each technique is perfectly adapted to give older or less athletic practitioners the advantage every time they step onto the mat.
With over ten hours of content spanning 8 volumes John leaves no stone unturned when it comes to dominating from the top. The series starts with a unique look at fighting in the standing position. What is usually seen as an extreme disadvantage for older less athletic practitioners, John transforms into an area where they can thrive. Through a battle-tested system of grip fighting tactics, off-balancing techniques, tips on timing, and a series of easy to execute takedowns, your standing skills will receive a massive upgrade!
Since you'll be landing more takedowns than ever, you'll need a go-to passing system! Thankfully, John provides a complete blueprint on high-percentage guard passes that will be able to defeat even the trickiest guard players. Learn to utilize the over/under, double under, knee cut, and long step passes in a way that doesn't require you to be overly athletic or strong. John also explores the art of forcing and passing half guard, one of the most effective passing strategies for older grapplers!
Continue through the anthology of top game techniques with a complete guide on pinning. Master the art of pinning with concepts on maintaining stability, grip/wedge variations, transitioning to more dominant positions, and more! Make athletic opponents overwhelmed and tired as you work towards John's favorite Gi-based submissions for older grapplers. Drastically increase your finish rate, regardless of opponent, with John's insanely detailed breakdowns of the sliding collar, cross collar, Ezekiel choke, and variations of each!
So whether you're a beginner looking to develop a strong foundational top game or an older/less athletic practitioner looking to refresh your skills, "Ageless Jiu Jitsu: Top Game Gi" is the ultimate tool for taking your game to the next level. Don't miss your chance to learn from one of the greatest BJJ coaches of all time!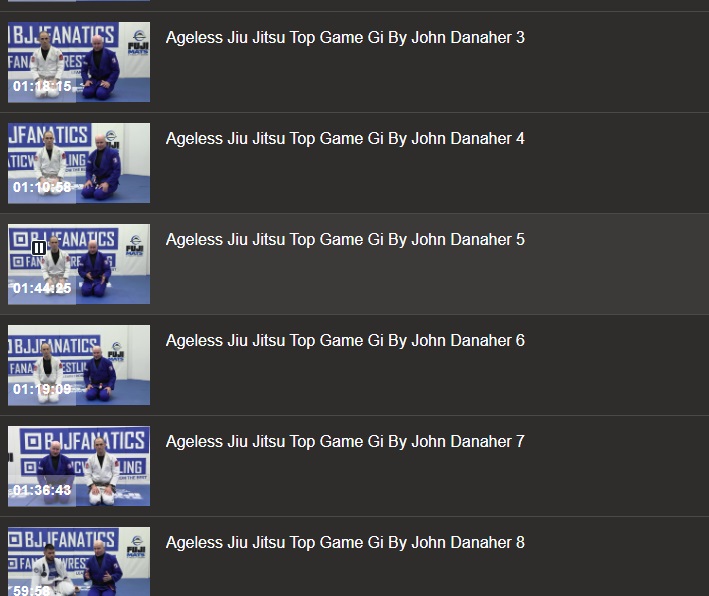 Format file 8x MP4
HD 720p
please inform if you need FHD 1080p
duration 10
hours 54 minutes
Ageless Jiu Jitsu Winning When You're Older or Less Athletic Top Game Gi by John Danaher
Ageless Jiu Jitsu Winning When You're Older or Less Athletic Top Game Gi by John Danaher
Product Code: bjj1772
Availability: In Stock
---