Develop An Effective Escape Plan Against Upper Body Submissions Including Ways To Escape Armbars, Triangles, Omoplatas, Guillotine Chokes, and MORE!
Take your defensive game to the next level with part 2 of the Escape Artist series!
Stay out of danger by using Adam's battle-tested, preemptive defense to help stop the submission before it starts.
Take on savvy opponents by consistently finding ways out of secure submissions.
Defeat submission attempts and work your way towards better position, with Adam's reversals.
Stay in the fight by becoming harder to submit!
Atos coach and competitor Adam Bradley is back again to add to his Escape Artist Series! This time around he looks to give you tried and true techniques to take on BJJ's most effective upper body submissions. Learn tactical ways to deal with crippling armbars, tight triangles, brutal chokes and more!
Much like the first part of the series Adam provides an inside look at top-tier techniques that have helped him and his teammates at Atos stay at the top level of the sport. The series covers escape methods like the hitchhiker escape in granular detail so that you can successfully dismantle high-level armbars. The series goes into great length to break down key concepts that will make the difference between submitting and surviving.
Adam covers the most common submissions and their variations in multiple phases of defense. As the saying goes "an ounce of prevention is worth a pound of cure". This is especially true with defending submissions. The series covers how to be more aware of your opponent's plans before they launch their attack. This puts you in a better position to totally avoid, or be a step ahead when your opponent springs their attack.
The Escape Artist Series Part 2 from Adam Bradley is perfect for grapplers of all levels looking to fortify their defense. If you are getting caught in submissions left and right, don't worry you are not alone! Upgrade your game with next level submission defense and escapes!
DEFEAT THE STRAIGHT ARMLOCK
SO, WHAT'S ON THIS SERIES?
PART 1
INTRODUCTION
NO-GI EZEKIEL COUNTER
AMERICANA ESCAPE
STRAIGHT ARMLOCK ESCAPE
ARMLOCK ESCAPE STACK
HITCHHIKER ESCAPE
ARM TRIANGLE BACK ROLL ESCAPE
ARM TRIANGLE ESCAPE MAKING SPACE
PART 2
OMOPLATA ESCAPE FRONT ROLL OPTION 1
OMOPLATA ESCAPE FRONT ROLL OPTION 2
EARLY TRIANGLE ESCAPE
MID TRIANGLE ESCAPE BACKING OUT
LATE TRIANGLE ESCAPE SIT AND PRY
TEN FINGER GUILLOTINE ESCAPE SIT OUT
ARM IN GUILLOTINE ESCAPE HOP TO FAR SIDE
CLOSED GUARD ARM IN GUILLOTINE FIGHT HANDS
PART 3
GUILLOTINE COUNTER GUARD PASS TO VON FLUE CHOKE
ARM IN GUILLOTINE ESCAPE TURNING OUT
DARCE ESCAPE FROM BOTTOM
DARCE ESCAPE FROM TOP
ANACONDA CHOKE ESCAPE
MOUNTED GUILLOTINE COUNTER TAKING THE BACK
PART 4
UNLOCKING THE RNC
CLOSED GUARD KIMURA COUNTER BACK TAKE
NORTH SOUTH CHOKE ESCAPE NECK PRESS
MOUNTED TRIANGLE ESCAPE TRAP & ROLL
TRIANGLE ESCAPE INVERT
OUTRO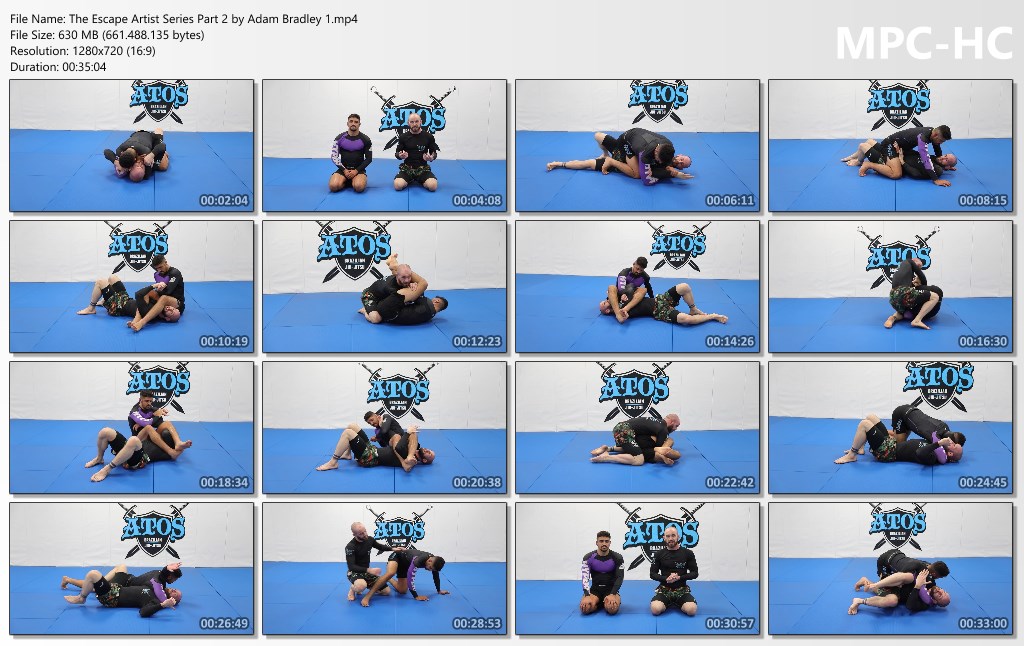 instant download only
Format file 4x MP4 HD 720p (please inform me if you need FHD 1080p)
duration 1 hour 58 minutes
Release August 2021
The Escape Artist Series Part 2 Upper Body Submission Escapes by Adam Bradley
Product Code: gra185
Availability: In Stock
---