Two time All-American and NCAA Finalist Dan Vallimont takes a deep dive into all aspects of advanced folkstyle wrestling.
Add a wide variety of offensive and defensive drills into your practice and focus on making them perfect for when it's game time.
Master these shot recovery drills and make sure your down blocking includes some of the highest level techniques.
Incorporate this strategic 4 part instructional into your training and watch your folkstyle game flourish and transform before your eyes.
The way to properly nail high level moves under the lights is to drill them relentlessly in training. This instructional offers a wide variety of drills covering fundamental movements, finishing and recovering from a bad shot, takedown defense, and so much more. Focus on both the offensive and defensive sides of the neutral position and always be a step ahead of your opponent.
Use these welding and pummeling drills to ensure you always have the upper hand and use them to transition to high level attacks. Utilize other mastery hand fighting techniques to clear and change ties to suit the attack of your choice. Using all the necessary detail, Dan walks you through a series of knee pound drills to secure the high crotch double and head inside single leg every time.
Nearly all of part 4 of this instructional is dedicated to multiple go behind options, covering scenarios if your partner shoots and stays down, comes up, or gets a single or double leg to ensure you are ready for every possible situation. When you thought he couldn't possibly cover more material, Dan details all viable options for blocking shots with defensive drills that keep you sharp and ready to defend against anything.
Dan Vallimont is an extremely accomplished wrestler at both NCAA and Olympic levels. Following his successful career at Penn State, Dan has transitioned into a coaching role at the collegiate level and above. His coaching career has helped shape his understanding of all aspects of the sport, and has gifted him with the talent and opportunity to be an extremely effective and sought after teacher. Gain the knowledge to progress your understanding of folkstyle wrestling to the most advanced levels by checking out his instructional!
So, What Exactly Do You Get?
PART 1
INTRO
STANCE MOTION, BASIC MOVEMENT DRILLS
WELDING DRILLS
PUMMELING DRILL
7 P-WORDS: CREATING MOTION
SHOOT AND LIFT DRILL: HIGH CROTCH/DOUBLE LEG
SHOOT AND LIFT DRILL: SINGLE LEG
OVER PENETRATION DRILL FROM THE HIGH CROTCH
KNEE POUND: DRILL HIGH CROTCH/DOUBLE
KNEE POUND: HEAD INSIDE SINGLE LEG
PART 2
OFFENSIVE RE ATTACK 2 SHOTS TOGETHER
SHOT RECOVERY DRILL
CLEARING AND CHANGING TIES: HAND FIGHTING WITH NO SHOTS
HAND LOCKED ON LEG DRILL
EASY IN/TOUGH FINISH
TOUGH IN/EASY FINISH
PLAY WRESTLING
DRILL MATCH
PART 3
DEFENSIVE DRILLS
HEAD BLOCKING
THUMB BLOCKING
DOWN BLOCKING
FAKE SHOT/RE ATTACK
SHOT RESHOT DRILL
PART 4
GO BEHIND #1 OPPONENT SHOOTS AND STAYS DOWN
GO BEHIND #2 OPPONENT SHOOTS AND COMES UP
GO BEHIND #3 OPPONENT GETS TO SINGLE LEG
GO BEHIND #4 OPPONENT GETS TO HIGH CROTCH OR DOUBLE
CLEARING FRONT HEADLOCK
30 SECOND OFFENSE DEFENSE
OUTRO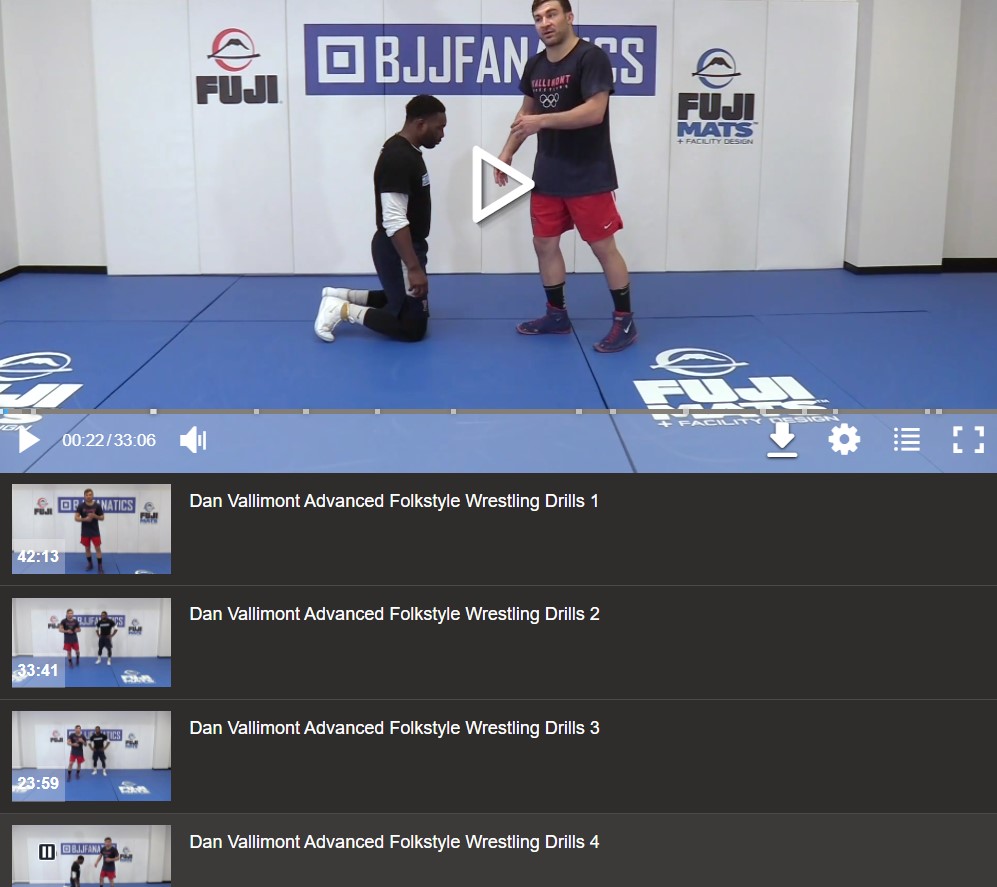 Instant download Only
Format file 4x MP4 HD 720p
duration 2 hours 13 minutes
release May 2021
Advanced Folkstyle Wrestling Drills by Dan Vallimont
Product Code: gul275
Availability: In Stock
---