Nick Heflin focuses on the finishing mechanics of takedowns, touching specifically on the areas where people struggle the most
Check out these incredibly effective variations of the high crotch, single leg, and double leg finishes.
The application of these techniques will make you elite and place you in the best position to win.
Completely transform your stand up game and pick up these subtle yet technical moves to finish the takedown every time.
The big picture when it comes to takedowns includes a ton of different parts. From the setup to finishing mechanics, to following through in a dominant position; they require a lot of technique when done properly. In this series, Nick Heflin provides various subtle but important techniques and adjustments to make sure you have the best takedown finishing rate possible, with a focus on setting up shots and other attacks that can be finished with strong and quick technique.
Nick takes his time to explain all of your options from just about every imaginable position. Work on your takedowns from the lower levels such as finishes to the high crotch from the knees and a low single. Use that transferable technique in your double leg from the knees also, and check out exactly what it takes to always pull off a successful high crotch from the feet.
Look closely at the pop and lift technique for a single leg, and focus on securing the leg to the point where you give your opponent absolutely no options for a quick escape. In focusing on where he sees wrestlers struggle the most, Nick hones in on these areas to complement the rest of your game and ensure that your technique is well-rounded and top-notch.
Nick Heflin is a successful Team USA wrestler, as well as a Big Ten Champion and three-time NCAA All American. He currently serves as the assistant wrestling coach at Oklahoma University, and has the opportunity to work with and coach some of the top-level athletes in the sport. As you see the adjustments Nick makes in these techniques that you have been using forever, you will quickly notice how your whole game takes a shift for the better. Make sure you have the top-tier techniques that will make your takedowns unstoppable and check out his instructional now!
SO, WHAT EXACTLY DO YOU GET?
HIGH CROTCH FINISHES FROM THE KNEES
HIGH CROTCH FROM THE FEET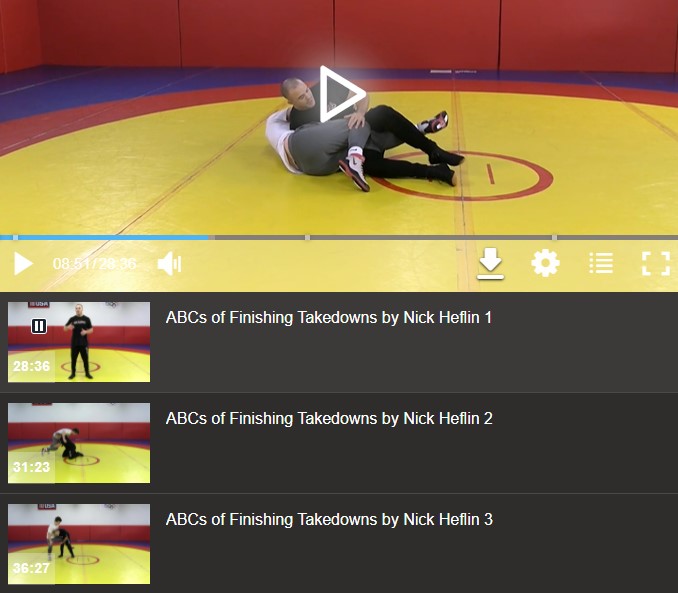 Format file 3x MP4 HD 720p
please inform if you need FHD 1080p
duration 1 hour 36 minutes
ABC's of Finishing Takedowns by Nick Heflin
Product Code: gul292
Availability: In Stock
---