Olympic freestyle wrestler Ivanov Georgi walks through the complete guide to the high-level Fireman's system he has developed
Master variations with and without the leg and know exactly what you're looking for when it comes to troubleshooting and following through with the attack.
Explore this move in depth by looking at some of the best setups such as the arm drag and understanding how to make directional finishing successful.
Additionally, Georgi takes his time to really explain the principles of these techniques, making sure you can not only perform the move but that you really understand how and why they work so well.
All aspects of wrestling are obviously important, however, having a solid game with the Fireman's Carry and front headlock technique has the ability to really take you to the next level. These are the types of positions that you can begin to dominate with these techniques as you start to understand them at a depth that you never knew before. In this series, Georgi Ivanov gives you that in-depth understanding as he provides this high-level system for you to incorporate into your game.
Begin by gaining an understanding of the fundamentals of the position such as utilizing the proper lock and focusing on the ins and outs of directional finishing. Start using the setups that will allow you to nail this move every time such as the arm drag and look at various high-level finishes including the head behind the arm finish.
Pair these fireman's techniques with some of the best front headlock moves from the feet, and explore the application of the no leg fireman's and how to troubleshoot based on your opponent's reactions. Georgi also dives down the rabbit hole with more advanced attacking techniques such as elbow deep offense, monkey grip combinations, throws, and so much more.
As Georgi flows through the techniques in this series, it is easy to see the high-level understanding and master class technique that he possesses from his years of experience. This series is designed to make your game flourish and really start to elevate you to the next level. If you have any interest in jump-starting the effectiveness of your game, waste no more time and check out his instructional now!
SO, WHAT EXACTLY DO YOU GET?
PART 1
INTRO
PROPER LOCK
DIRECTIONAL FINISHING
IVANOV FIREMAN'S
FAR SIDE FIREMAN'S
HEAD BEHIND THE ARM FINISH
ARM DRAG TO FIREMAN'S
PART 2
NO LEG FIREMAN'S AND MORE
TROUBLESHOOTING
BONUS MOVE
FRONT HEADLOCK SERIES FROM THE FEET
PART 3
HEAD IN THE HOLE SERIES
ELBOW DEEP OFFENSE
MONKEY GRIP COMBINATIONS
THROWS
PRINICPALS
OUTRO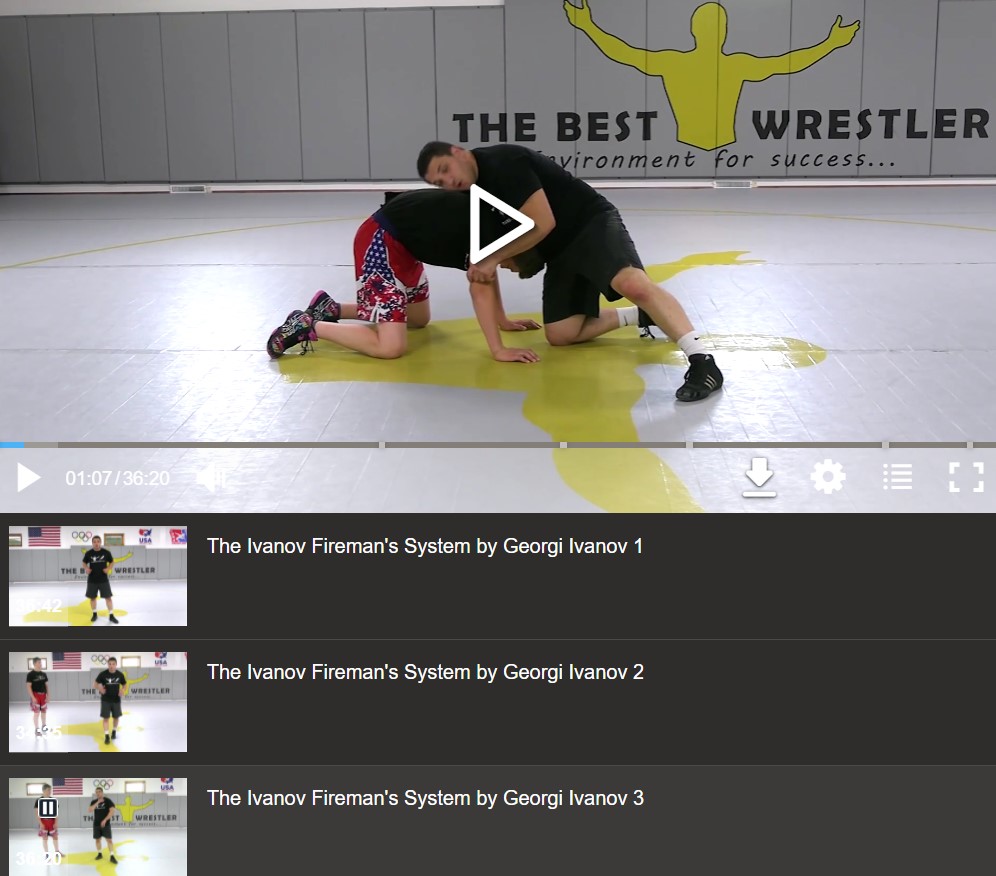 Instant Download Only
Format file 3x MP4 HD 720p
duration 1 hour 47 minutes
Release July 2021
The Ivanov Fireman's System by Georgi Ivanov
Product Code: gul294
Availability: In Stock
---