Build an Entire At-Home Grappling Program With Drills and Workouts from 2-TIme NCAA All-American Dan Vallimont
Dan Vallimont is an Olympic Trials veteran, former D1 Coach, 5-Time Placer at the US Senior Open, and still competes internationally for the Pennsylvania RTC
Learn how to get a phenomenal grappling workout without the facility or the training partners
Explore multiple options for warm-ups, techniques, and cardio to help you build the perfect at-home workout so you can stay sharp even when you can't make it to training
In Solo Home Wrestling Drills & Workouts, heavily decorated veteran wrestler Dan Vallimont is going to give you the tools you need to build an entire grappling workout without the use of a facility or training partners! From warm-ups, to multiple techniques, cardio, and cool downs, Vallimont has you covered in this one-of-a-kind library dedicated to solo grappling so that you can improve your skills even when you're stuck inside or can't make it to practice!
If you're serious about your training but can't make it to practice, Vallimont has provided the perfect resource to help you create a program at home so you can continue progressing! He'll start with some great warm-up options to get the body moving and then dive into a long list of techniques and movement drills that you can perform solo to keep your mind and body sharp. Vallimont will round things out with some great cardio options to keep the lungs strong and some cool downs as well to properly end your solo grappling session!
You CAN become a better grappler without training partners and Vallimont will prove it to you in this instructional! Whether you're stuck inside or just simply can't make it to practice, this series will give you the tools you need to make it work at home! Vallimont is more than qualified to bring you this content and he's assembled the perfect collection of solo content based on his years of experience at the highest levels of competition and coaching, to help you get the edge even when you can't make it to training!
BEAR CRAWL, FRONT, BACK, SIDE
INTRODUCTION TO TECHNIQUE
STANCE 1 FORWARD/BACKWARDS
STANCE 2 DOWNBLOCK CIRCLE
STANCE 4 SMALL CIRCLE LEFT AND RIGHT
PENETRATION STEP (DOUBLE LEG)
PENETRATION STEP 2 (SINGLE)
STANCE 5 (MULTIPLE SHOTS)
PAR TERRE #1 (GUT WRENCH)
TRADITION SQUAT (VARIATIONS)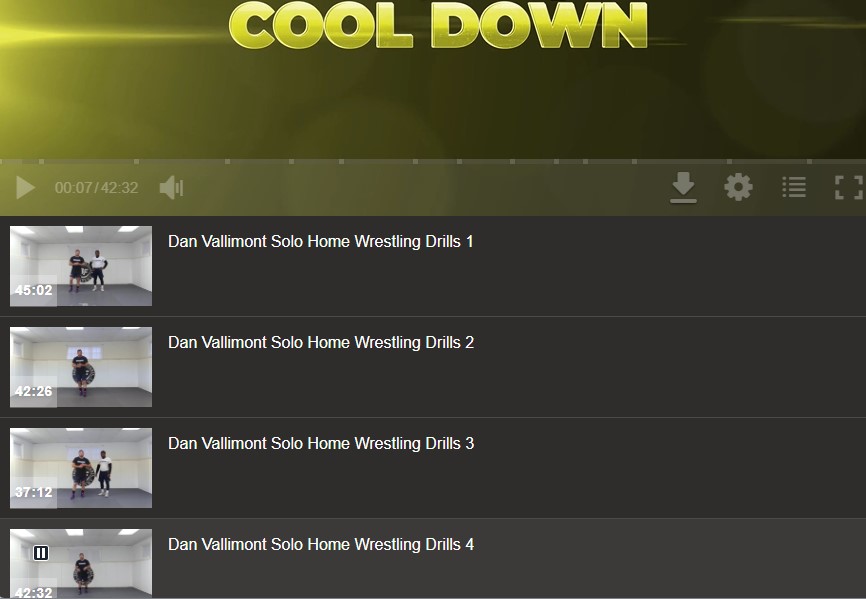 Format file 4xMP4 HD 720p
please inform if you need FHD 1080p
duration 2 hours 47 minutes
Solo Home Wrestling Drills and Workouts by Dan Vallimont
Product Code: gul351
Availability: In Stock
---