Put Your Hands On Him by Tom DiGennaro
Learn to Systematically Dominate From A Wide Range Of Tie Ups and Use Your Opponent's Grips To Your Advantage!
Tom DiGennaro is a former D-1 wrestler turned coach with a unique approach to winning from control tie positions.
Learn to take common tie ups like collar ties, over/under, underhooks, and inside ties and transform them into powerful opportunities to launch high-octane offense!
Generate advantageous movement against your opponent and make takedowns even easier, more efficient to land.
Utilize skill-specific drills that will enhance your ability to develop proper timing for deep, high-percentage takedowns!
Always gain the upperhand in tie ups with next-level positioning details that help you dominate from each time you lock up with an opponent.
Take your neutral game to the next-level with Tom DiGennaro's Put Your Hands On Him instructional series!
SO, WHAT EXACTLY DO YOU GET?
2. BACK SIDE COLLAR TIE - OPPONENT OVERTIE
3. BACK SIDE COLLAR TIE - OPPONENT OVERTIES - PART 2
4. BACK SIDE COLLAR TIE - OPPONENT COLLARS OPPOSITE SIDE
5. BACK SIDE COLLAR TIE - OPPONENT GOES TO ELBOW PASS
PART 2 - INSIDE /OUTSIDE TIES
PART 3 - UNDERHOOKS AND OVER/UNDER POSITION
1. LEFT ARM UNDERHOOK OFFENSE STEERING WHEEL DRILL
2. RIGHT ARM UNDERHOOK OFFENSE
3. BEAR HUGS AND SHALLOW RIGHT ARM UNDERHOOK
4. ATTACKING DOUBLE OVERHOOKS AND UNDERHOOKS
5. CLAMPING ON THE OVERHOOK
6. PINNING THE OVERHOOK TO THE BODY
1. HIGH CROTCH AND DOUBLE
2. COUNTERING THE LEG PASS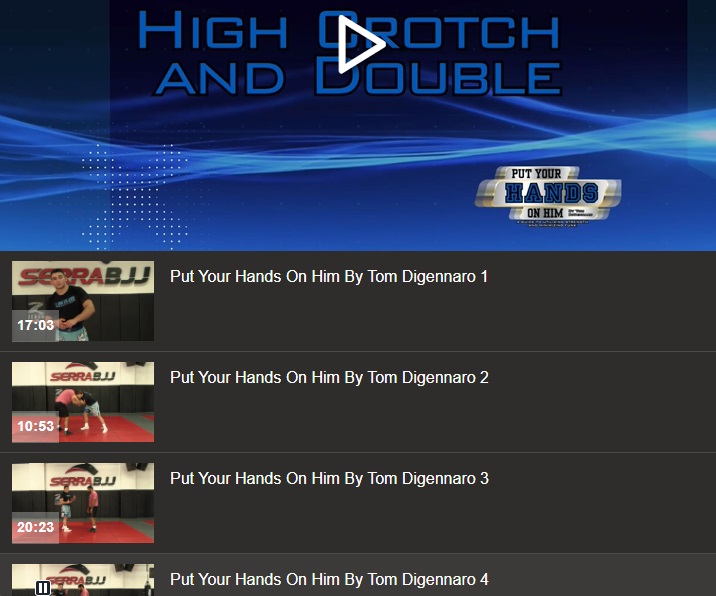 Format file 3x MP4 HD 720p
please inform if you need FHD 1080p
duration 1
hour 11 minutes
Put Your Hands On Him by Tom DiGennaro
Put Your Hands On Him by Tom DiGennaro
Product Code: gul407
Availability: In Stock
---