Travis Stevens Shares His Innovative And Effective Ashi Waza System Across This 5-Part Masterclass!
Build confidence in your footsweeps with Travis's battle-tested approach.
Learn fundamentals through shadow and partner drills that help you develop the technique and timing to perform effortless footsweeps.
Master a wide range of ashi waza techniques that compliment other throws in your arsenal.
Use advanced combinations and set ups to foot sweep even the most saviest opponents!
Threaten opponents with constant attacks from a variety of grips, stances, and set ups.
Develop a sophisticated ashi waza strategy from Travis Stevens!
Travis Stevens is an Olympic silver medalist, and is widely regarded as one of the best American Judo players of all-time. His latest instruction provides a comprehensive look at all-things ashi waza. Learn everything from fundamentals to advanced combinations, and everything in between. Stevens is a superb instructor with the ability to take seemingly complex techniques and simplify them in a way that ANYONE can learn.
With Travis's latest must-have instructional you'll learn how to obtain useful grips, utilize footwork, and execute a variety of footsweeps through drills. Shadow drills are perfect for fine tuning footwork for footsweeps. Part 1 of the series covers several shadow drills that you can use to get more comfortable moving in different directions, staying light on your feet, and how to maintain readiness for foot sweep attacks. Stevens takes this several steps further by demonstrating several drills you can do with a partner in part 2!
Footsweeps can and should play an integral part in ANY Judo practitioner's arsenal. Not only can they be effective techniques on their own, but they also lay out perfect opportunities to transition to other techniques. This is where the rest of the series kicks in! Part 3-5 of the series covers basic footsweeps, intermediate combinations, and advanced footsweeps. Travis takes you through his favorite methods of securing footsweeps from a plethora of different setups and scenarios, and includes uchikomi for each!
If you are looking for a complete system that utilizes ashi waza to the highest levels, then American Judo System The Ashi Waza Encyclopedia is for you! Upgrade your ashi waza arsenal with a unique, and easy-to-learn gameplan that has been battle tested by Travis Stevens!
SO, WHAT EXACTLY DO YOU GET?
PART 1
SHADOW DRILLS
INTRO
BASIC FOOT SWEEP GOING LEFT TO RIGHT
OKURI ASHI BARAI - MOVING SIDEWAYS
TSUBAME GAESHI - STATIC
KO OUCHI GARI - FORWARD/BACKWARD
OUCHI GARI MOVING FORWARD AND BACKWARD
SKIPPING FOOT SWEEP - MOVING LEFT RIGHT
SAESEI TSURIKOMI ASHI - STEPPING INTO IT
PART 2
PARTNER DRILLS FOR TIMING
INTRO
HOW TO CUP YOUR FOOT FOR A FOOT SWEEP
STEP AND SWEEP LATERALLY
PULL AND SWEEP FOR KO UCHI GARI
WALKING FORWARD FOOT SWEEP
WALKING BACKWARD FOOT SWEEP
CIRCLING TO FOOT SWEEP
PART 3
BASIC FOOTSWEEPS
INTRO
CONCEPT OF HARAI TSURIKOMI ASHI
BASIC UCHIKOMI FOR HARAI TSURIKOMI ASHI LIFT PULL FOOT SWEEP
BASIC NAGE KOMI FOR HARAI TSURIKOMI AHSI
CONCEPT OF OKURI ASHI HARAI SLIDING FOOTSWEEP
BASIC UCHIKOMI FOR OKURI ASHI HARAI
BASIC NAGE KOMI FOR OKURI ASHI HARAI
CONCEPT OF HIZA GURUMA KNEE WHEEL
BASIC UCHIKOMI FOR HIZA GURUMA
BASIC NAGE KOMI FOR HIZA GURUMA
DEVELOPING POWER FOR HIZA GURUMA
CONCEPT OF SASAE TSURIKOMI ASHI SUPPORTING FOOT LIFT-PULL THROW
BASIC UCHIKOMI FOR SASAE TSURIKOMI ASHI
BASIC NAGE KOMI FOR SASAE TSURIKOMI ASHI
DEVELOPING POWER FOR SASAE TSURIKOMI ASHI
CONCEPT OF DE ASHI HARAI FORWARD FOOT SWEEP
BASIC UCHIKOMI FOR DE ASHI HARAI
BASIC NAGE KOMI FOR DE ASHI HARAI
CONCEPT OF KO SOTO GARI MINOR OUTER REAPING THROW
BASIC UCHIKOMI FOR KO SOTO GARI
BASIC NAGE KOMI FOR KO SOTO GARI
CONCEPT OF KO SOTO GAKE MINOR OUTER HOOK
BASIC UCHIKOMI FOR KO SOTO GAKE
BASIC NAGE KOMI FOR KO SOTO GAKE
CONCEPT OF O GURUMA LARGE WHEEL
BASIC UCHIKOMI FOR O GURUMA
BASIC NAGE KOMI FOR O GURUMA
CONCEPT OF TSUBAME GAESHI SWALLOW COUNTER
BASIC UCHIKOMI FOR TSUBAME GAESHI
BASIC NAGE KOMI FOR TSUBAME GAESHI
CONCEPT OF ASHI GURUMA LEG WHEEL
BASIC UCHIKOMI FOR ASHI GURUMA
BASIC NAGE KOMI FOR ASHI GURUMA
CONCEPT OF COUNTERING HIP THROWS KOSOTO GAKE
BASIC UCHIKOMI FOR COUNTERING HIP THROWS KO SOTO GAKE
BASIC NAGE KOMI FOR COUNTERING HIP THROWS KO SOTO GAKE
CONCEPT OF COUNTERING UCHIMATA WITH DE ASHI BARI
BASIC UCHIKOMI FOR COUNTERING UCHIMATA WITH DE ASHI BARI
BASIC NAGE KOMI FOR COUNTERING UCHIMATA WITH DE ASHI BARI
CONCEPT OF THE STICKER
BASIC UCHIKOMI FOR THE STICKER
BASIC NAGE KOMI FOR THE STICKER
CONCEPT OF STEP ON THE FOOT FOOTSWEEP
BASIC UCHIKOMI FOR STEP ON THE FOOT FOOTSWEEP
BASIC NAGE KOMI FOR STEP ON THE FOOT FOOTSWEEP
PART 4
INTERMEDIATE COMBINATIONS
INTRO
CONCEPT OF OSOTO GARI TO KO SOTO GARI
APPLICATION OF OSOTO GARI TO KO SOTO GARI
CONCEPT OF KO SOTO GARI TO KO SOTO GAKE
APPLICATION OF KO SOTO GARI TO KO SOTO GAKE
CONCEPT OF OUCHI GARI TO DE ASHI HARAI
APPLICATION OF OUCHI GARI TO DE ASHI HARAI
CONCEPT OF SASAE TSURIKOMI ASHI TO OSOTO GARI
APPLICATION OF SASAE TSURIKOMI ASHI TO OSOTO GARI
CONCEPT OF SASAE TSURIKOMI ASHI TO HARAI GOSHI
APPLICATION OF SASAE TSURIKOMI ASHI TO HARAI GOSHI
CONCEPT OF SASAE TSURIKOMI ASHI TO HARAI TSURIKOMI ASHI
APPLICATION OF SASAE TSURIKOMI ASHI TO HARAI TSURIKOMI ASHI
CONCEPT OF KOUCHI GARI TO DE ASHI HARAI
APPLICATION OF KOUCHI GARI TO DE ASHI HARAI
PART 5
ADVANCED FOOTSWEEPS
INTRO
DE ASHI HARAI TO OSOTO GARI RVSR
SASAE TSURIKOMI ASHI TO OSOTO GARI RVR
SODE TSURIKOMI GOSHI TO ASHI BARAI RVR
DE ASHI HARAI TO YOKO TOMOE NAGE LVR
STICKER TO UCHIMATA LVSR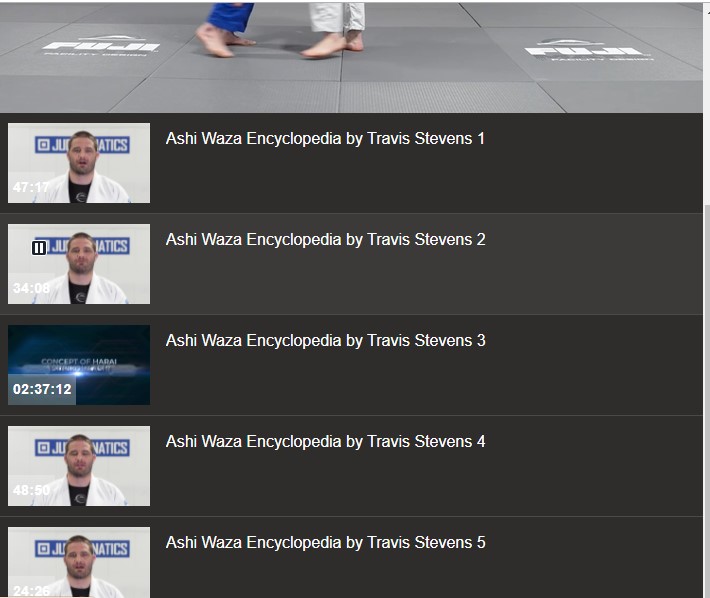 Instant Download Only
Format file 5x MP4 HD 720p (please inform me if you need FHD 1080p)
duration 5 hours 11 minutes
Release August 2021
American Judo System: The Ashi Waza Encyclopedia by Jimmy Pedro and Travis Stevens
Product Code: jud223
Availability: In Stock
---