Seiji Nishimura adalah sensei karate dari Jepang dengan Dan 7 Wado-Ryu Karate dan merupakan pelatih Japan Karatedo Federation (JKF) yang karir nya sukses.
Lahir dan dibesarkan di Kumamoto Prefecture, Nishimura mulai berlatih karate pada usia 15 tahun. Setelah 11 tahun berlatih keras, pada tahun 1982, ia memenangkan gelar juara dunia Kumite. Gelar juara tersebut membuat nama Nishimura semakin dikenal sebagai Master Karate Kumite baik di Jepang maupun di luar negaranya.

Nishimura mulai melatih tim karate nasional Jepang di bawah organisasi JKF, selama 15 tahun sebagai pelatih tim nasional, ia telah membantu banyak karateka dengan latihan dan pengalamannya yang membuat murid-murid nya sukses dikenal luas internasional: misalnya, Manabu Takenouchi memenangkan kejuarann Nishimura tahun 1994, Kejuaraan Nasional Kumite. Seiji Nishimura berlatih Wado-Ryu,Goju-Ryu dan gaya Kushin-ryu. Dia sendiri lebih memilih gaya Wado-Ryu karena fleksibilitas teknik dan efisiensi. Nishimura membuka dojo sendiri dan mengajar di Universitas Fukuoka. Dia juga memberikan seminar mingguan di seluruh Jepang dan luar negeri, salah satunya di pelatihan Karate musim panas tahunan di Ravensburg-Jerman.
teknik yang dipelajari antara lain :
Ladder Training
Punching training using mitt.
Basic training of fixing, single-shot techniques.
Basic combination training.
Attack with oneユs body half twisted.
Attack with oneユs body twisted 360 degree.
Techniques with oneself advanced.
Techniques with stepping backward.
Using blocking techniques.
Response training.
Stamina training for muscle.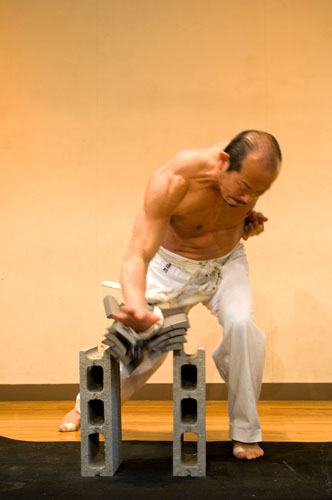 Umur boleh 57 tahun, tapi kekuatan boleh diadu!!!
Sensei Nishimura memperagakan ilmu kanuragan Tameshi wari
kualitas DVDRip
durasi 1 jam 22 menit
dubbing inggris
detil lihat di preview
Karate Kumite Technique Seminar 3-Seiji Nishimura
Product Code: kar127
Availability: In Stock
---