Land strong and effective elbow strikes in MMA with these clean techniques from Coach Mike Winklejohn and UFC Star Holly Holm!
Coach Winkeljohn has trained some of MMA's greatest champions, like Jon Jones, Georges St. Pierre, Holly Holm, Carlos Condit, and more!
Holly Holm is one of the best women's fighters in MMA history, including winning the UFC Bantamweight Championship
Learn footwork, positioning, and technique for landing the best possible elbow strikes in the cage
Connect with powerful and quick elbow strikes against the cage with these specialized MMA lessons
The elbow strike is one of MMA's most underused weapons, and now you can learn everything about them on this masterclass series from UFC star trainer and fighter, Mike Winklejohn and Holly Holm. With techniques that have worked in elite MMA competition, you can begin to understand and throw elbows with more precision and power.
Learn concepts for throwing the elbow, including positioning, set ups, footwork, and more. Coach Mike and Holly show you how to build a good elbow in combination with other strikes to create the most effective attacks possible, explaining every proven combo in full detail for you.
Throw from the center of the cage or against the wall, setting up the best opportunities for you from everywhere. With a coach and trainer who have won at the elite levels, including a UFC World Bantamweight Championship for Holly Holm, these are concepts and techniques that work at the highest level, broken down for you.
SO, WHAT EXACTLY DO YOU GET?
ELBOW CONCEPTS & APPLICATION
FOOTWORK FOR ELBOWS (CENTER OF THE CAGE)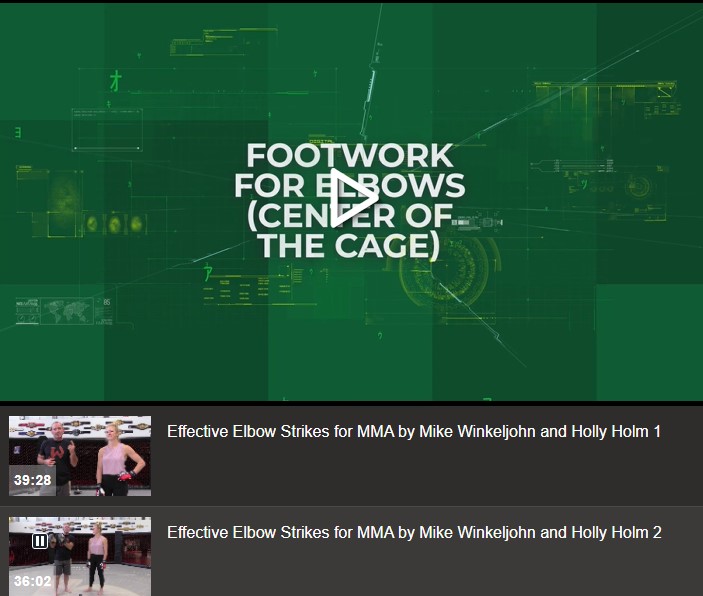 Format file 2x MP4 HD 720p (please inform if you need FHD 1080p)
duration 1 hour 15 minutes
Effective Elbow Strikes For MMA by Mike Winkeljohn and Holly Holm
Product Code: mma256
Availability: In Stock
---