Take Less Damage and And Learn Critical Evasion Concepts with Budo Martial Arts Owner Charlie Vinch's Guide To Effective MMA Blocking and Countering!
Charlie Vinch has been training in the martial arts for over two decades and he holds a BJJ Black Belt under the Migliarese Brothers
Blocking and evading is one of the most important yet underutilized skill sets in MMA
Learn and master defensive strategies that will help you take on less damage and become a more well rounded fighter
A career martial artist, Charlie Vinch has been training for over two decades. As a BJJ Black Belt under the Migliarese Brothers and the owner of Budo Martial Arts, Vinch shares his experience and concepts through his instruction with his students and now, with you! In this important series, Vinch addresses the side of MMA striking that's often overlooked but CRITICAL to success. With Blocking and Evading for MMA Striking, Vinch will provide you with the key details and concepts that you need to take on less damage and move around the ring with more confidence!
SO, WHAT'S IN THE SERIES?
Great defense in MMA is truly a necessity. We'd all like to hunt for the knockout in every fight, but what happens when you run into that proficient striker and your defensive skills aren't up to par? As you work through this specialized series, Vinch will introduce you to evasion and blocking concepts that will help you stay upright and in the fight. You'll learn to read body language, block common strikes, and use proper movement, to avoid those fight ending blows that we will undoubtedly encounter in our MMA endeavors!
Make your defense a priority. Take the time to recruit this special set of tools that will help you become a more well-rounded and prepared fighter, with enhanced confidence in your stand-up game. Vinch has the secrets and key details you need to expand your defensive toolbox. His instruction is clear, concise, and easy to follow, and he'll quickly help you realize how important this crucial set of skills is to your advancement in the sport!
SO, WHAT EXACTLY DO YOU GET?
PART 1
INTRO
READY BODY LANGUAGE
SHOULDERS/FEET STANCE
EVADING HEAD MOVEMENT
EVADING DRILL
EVADING DRILL/JAB
BACK PARRY
EVADE FOR THE HOOK
HUG THE HEAD
LEAD INSIDE, BODY, HEAD
PART 2
DRILL LEAD
EVADE FOR THE LEAD
EVADE FOR THE RUSH
EFFECTS OF STANCE
EVADE/BLOCK CROSS
REAR LEG KICK
REAR SIDE EVADE
REAR SIDE EVADE PART 2
PART 3
EVADE/CATCH REAR LEG
SIDEKICK
BLOCK AND EVADE FOR TRAP
UPPERCUT
PUTTING IT ALL TOGETHER
RHINO BLOCK
ELBOW BLOCK
FINE DETAILS PERRY
DIAMOND EVADE
MIDDLE ROUND KICK * CHECK DETAILS
OUTRO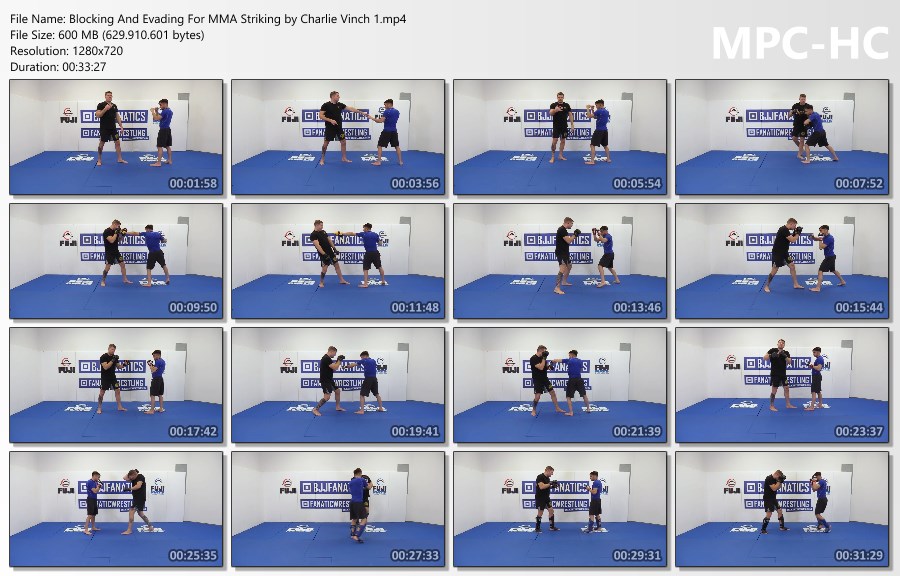 Instant Download Only
Format file 3x MP4 HD 720p
duration 1 hour 40 minutes
Release August 2021
Blocking And Evading For MMA Striking by Charlie Vinch
Product Code: mma250
Availability: In Stock
---