Master The Art Of Cage Control For MMA With Essential Lessons, Concepts, & Combat Strategies From 2020 Co-Coach Of The Year Eric Nicksick!
Learn how to use footwork and aggressive striking to take control of the cage and use it to your advantage.
Leave no option of escape with pressure-packed combinations that put opponents in compromising positions against the fence.
Add dozens of high-level combinations to your arsenal, and how to effectively drill them inside of the cage.
Nicksick is a top-tier coach and has helped some of the brightest stars in the sport shine even brighter!
MMA is unique in a multitude of ways. Not only is it's blended ruleset unlike any other combat sport, it also commonly takes place inside of a cage! The cage is a vital part of MMA and knowing how to use it to your advantage is a wise choice for MMA practitioners of ALL levels. Thankfully, longtime Xtreme Couture coach and 2020 co-coach of the year Eric Nicksick is here to lay out a complete cage control blueprint in this MUST-HAVE 4-part series!
Cage Control For MMA breaks down a wide range of concepts that are specifically designed to pressure opponents and take advantage of the cage. The series is broken into distinct sections where you will learn cage control warm ups, combination breakdowns, the roll series, as well as the pressure release series. Build your ability to control the cage, avoid damage, and land hard-hitting combinations with EACH section of Eric's 4-part series.
Eric starts the instructional with a unique warm up that is so much more than your traditional warm up. This specific warm up will have you drilling essential cage control concepts and combinations. He pushes this a step further in part 2 of the series where he goes over his favorite and most used combinations. You'll learn some of the same combinations and set ups that fighters like Francis Ngannou and Dan Ige use in the UFC!
Part 3 and 4 of Cage Control For MMA contains two unique series that Nicksick purposefully saves for last as they build off of the previous sections. The roll and pressure release series are where you really start to develop the ability to take control of the cage and push opponents around! Keep opponents guessing with tempo changes, counters, creative angles, and MORE!
SO, WHAT EXACTLY DO YOU GET?
THE BUILDING BLOCKS OF CAGE AWARENESS
THEORIES AND TACTICS FOR CAGE CONTROL
CAGE CONTROL WARM UP LEAD HANDS ONLY
CAGE CONTROL WARM UP REAR HANDS ONLY
CAGE CONTROL WARM UP TWO HANDS ONLY
CAGE CONTROL WARM UP WITH TWO LEAD HANDS
CAGE CONTROL WARM UP TWO LEAD HANDS WITH A ALLEY CROSS
CAGE CONTROL WARM UP TWO LEAD HANDS ALLEY CROSS WITH A HOOK VARIANT
CAGE CONTROL WARM UP TWO LEAD HANDS ALLEY CROSS WITH RELOAD VARIANT
CAGE CONTROL WARM UP TWO LEAD HANDS ALLEY CROSS WITH BARÃO VARIANT
TWO BODY + LOW KICK + RETURN
TWO BODY + LOW KICK + SWITCH CROSS HOOK
TWO BODY + LOW KICK + SWITCH CROSS HOOK + PLANT CROSS
TWO BODY + LOW KICK + SWITCH CROSS HOOK + ROLL BACK HOOK
TWO BODY + LOW KICK + SWITCH CROSS HOOK + ROLL BACK WITH SAME SIDE KICK
TWO BODY + LOW KICK + SWITCH CROSS HOOK + ROLL BACK WITH REEM
ONE BODY + LEAD SIDE VARIANT HOOK
ONE BODY + LEAD SIDE VARIANT WITH A KICK
ONE BODY + HENDO + POST CROSS
TWO HANDS WITH THE FRAZIER BOTH STANCES
TWO HANDS WITH DOUBLE FRAZIER
TWO HANDS + TRACE BOTH STANCES
TWO HANDS + BLENDING FRAZIER AND TRACE
TWO HANDS + TRACE + FRAZIER
TWO HANDS + FRAZIER SAME SIDE KICK WITH ADD ON
TWO HANDS + TRACE WITH SAME SIDE HIGH KICK
JAB SPLIT + TWO HANDS REAR PAD
JAB SPLIT + TWO HANDS + ROLL BODY
ROLL BODY + LOW KICK + RETURN
TWO HANDS + ROLL BODY + LEAD UPPER CUT
ROLL MONKEY SWING WITH A PULL COUNTER
MONKEY SWING FIT IN PULL POP
ROLL BARÃO WITH OUTSIDE POST
ROLL BARÃO + INSIDE POST WITH ELBOW
ROLL BARÃO + INSIDE ELBOW + FIT IN
JFK SAME SIDE WITH A ROLL BACK
ROLL BARÃO FELDER WITH TRACE
PRESSURE RELEASE CONCEPTS
SWING BACK WITH A RELOAD + FRAZIER
SWING BACK WITH A RELOAD + TRACE
SWING BACK OUT OF BOTH STANCES
SWING BACK HIDING THE ALLEY
SWING BACK DEFENDING THE SINGLE LEG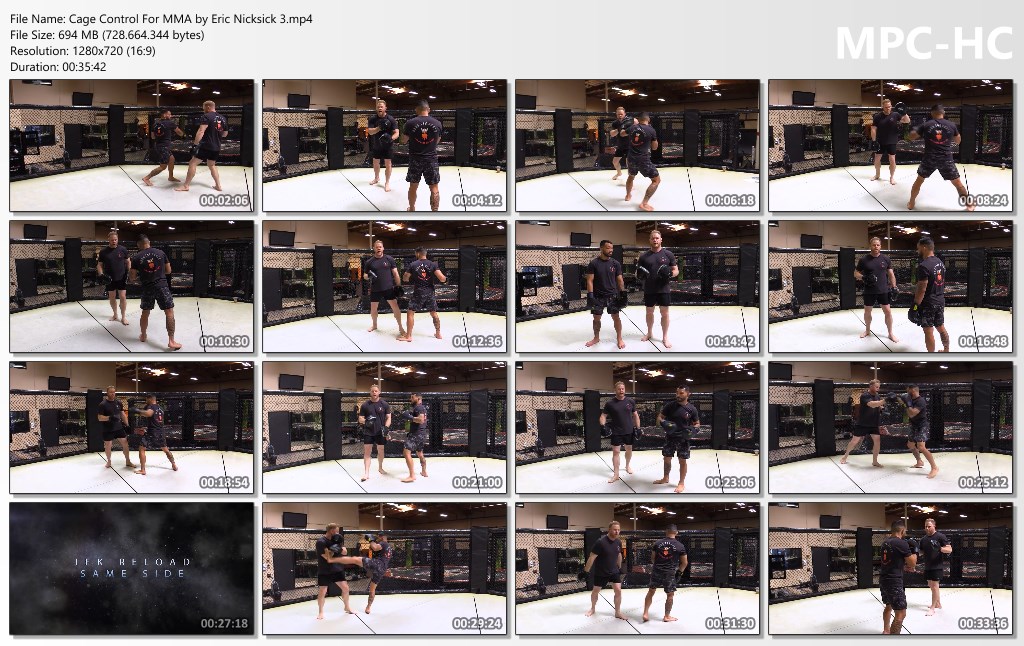 Format file 4x MP4 HD 720p (please inform if you need FHD 1080p)
duration 1 hour 43 minutes
Cage Control For MMA by Eric Nicksick
Product Code: mma255
Availability: In Stock
---