MMA Drills for Elite Level Fighters Chaining Attacks by James Doolan
James Doolan is the highly respected founder and head coach of the internationally renowned Higher Level MMA gym in Bathgate, West Lothian in Scotland. A former MMA champion himself, the BJJ black belt has coached multiple fighters to not only the UFC, but also an assortment of other world level promotions across the globe as well, including EFC, Bellator and Cage Warriors.
Well known for his systemised approach to coaching MMA, James has created his own methods for ensuring his fighters are more than prepared for any level of opposition, no matter what rule set they compete under.
From isolating skills individually through to chaining attacks via MMA drills, he understands implicitly how to prepare athletes for any arena that involves both grappling and striking.
James was introduced to combat early on in his life. He progressed through all disciplines earning himself not only a black belt in BJJ, but also a Karate black belt and a Taekwondo black belt in the process.
His vast coaching success is highly down to his experience and time competing across all martial arts. The Scotsman's main focus was to compete and gain the experience to transition into the coaching role. James started coaching early on at just 16 under his instructor, then opened his own club at 21.
With the intention of just having one bout. Doolan then competed 28 times inside the cage with a record of (17-9-2). Competing on shows such as Cage Rage, BAMMA, and Cage Warriors.
Here, for the first time ever, he has filmed an in-depth volume of work showcasing his unique approach to coaching
MMA Drills for Elite Level Fighters - Chaining Attacks
In it, he goes through step by step, a whole manner of amazing coaching content, knowledge and drills he personally likes to utilise regularly with the world class fighters he trains - Proactive Wrestling, Reactive Wrestling, Striking off Wrestling, Chaining Attacks, Two Phase Single Leg, Mat Returns, MMA Progression Drills, Trapping on the Ground and MMA Flow Drills.
So, whether you are looking to take your own personal game to the next level or want to develop further as a coach, you will find this volume of work indispensable.
The 1st MMA Dilemma. It is impossible to defend both your head and your hips at the same time. James uses this concept to his advantage when coaching setting up Takedowns
Proactive Wrestling. How to use specific MMA striking, movements and feints to cover the distance and set up Wrestling attacks from the outside.
Centre line Dynamics. A multitude of different ways to set up Takedowns and controls when your opponent wants to strike simply by understanding the centre line.
Striking off Wrestling. How to use Wrestling attacks to set up highly effective striking exchanges from different angles and ranges
The 2nd MMA Dilemma. You can either attack resistance or move away from it. Knowing when to change from one dynamic to another and not chase something that is not working is paramount to elite success.
Chaining Attacks. A complete framework for chaining different styles of Takedowns and controls to maximise your chances of being effective against experienced opponents.
Two phase Single Leg. The Single Leg Takedown is one of the safest ways to attack without risking getting into bad positions when wrestling. Going from standing or the ground, learn how to keep the pressure on with this multi pronged attack.
The 3rd MMA Dilemma. What do you do after you land a Takedown and meet Resistance? A lot of the time, fighters are successful in their initial attack but then fail to capitalise it. Drill all your opponents potential responses to ensure you keep in control.
Mat Returns. An in-depth look at how to keep control of an opponent and return them back to the mat when they start to scramble from your initial Takedowns and Wrestling attacks.
Progression Drills. A whole series of drills that will allow you to develop the skills you need to succeed at every step in an MMA exchange. Going from Standing to Grappling and back again.
Trapping On the Ground. James's personal system for controlling and pinning an opponent whilst on the ground in order to set up striking.
MMA Flow Drills. Putting it all together. Once you understand the concepts raised by understanding all the dilemma's MMA raises, you need to drill them in their entirety to ensure your skills develop to elite level.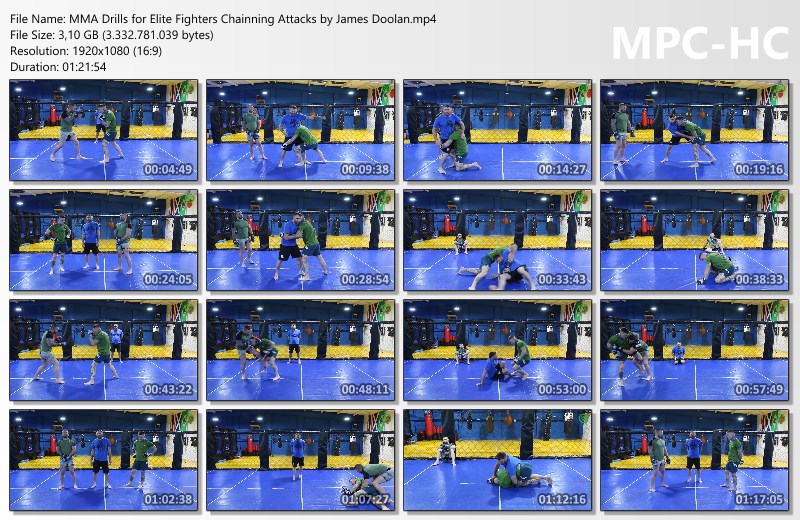 Format file MP4
FHD 1080p
duration 1 hour 21
minutes
MMA Drills for Elite Level Fighters Chaining Attacks by James Doolan
MMA Drills for Elite Level Fighters Chaining Attacks by James Doolan
Product Code: mma315
Availability: In Stock
---