Put Your Hands Together And Begin Punching In Effective Combinations With Coaching From Hall of Fame Trainer & Boxing Analyst Teddy Atlas
See how to start punching in combination by creating openings and using real technique that has served Teddy's athletes for decades
With techniques that Teddy has like the elevator, the treasure, 3 scoops, and more, get tons of ways to punch in volume that are safe and useful
Teddy is a hall of fame trainer and one of the most recognizable personalities in boxing, with decades of experience coaching and working at the elite levels of the sport
Learn how to throw punches in bunches without opening yourself up for unnecessary counter shots
Combination punching is key to your development as you learn the sweet science of boxing!
Let combination punching be your pathway to better boxing with this three-part series from Hall of Fame coach Teddy Atlas, as he shows you how to be an effective combo puncher in the ring and some of his favorite attacks. Use these techniques to open up and punch more, setting up your shots with the combination, without opening yourself up to unnecessary counters using Teddy's decades of experience.
Teddy Atlas is one of the best boxing trainers in the world, and he's spent a lifetime studying the sweet science and teaching world champions and hall of farmers how to box at the highest levels. Now, you can learn from one of the most experienced and descriptive coaches in the game as he shows you all you'll ever need to know about combo punching.
With combos like the Up, Up & Away, the Lean On Me, and To The Point, Teddy shows you combinations with coaching on when to use each and how to make sure each punch is as useful as possible. Let your boxing improve with three volumes packed with moves that strikers of all levels can add to their arsenal, taught like only Teddy can.
Combo punchers rule the sport at the highest levels of boxing, and now you can find out why with Teddy's help. This series can really benefit fighters of all levels, from novice up through pro, to develop into better combo punchers who can keep offense flowing instead of having to start and stop.
SO, WHAT EXACTLY DO YOU GET?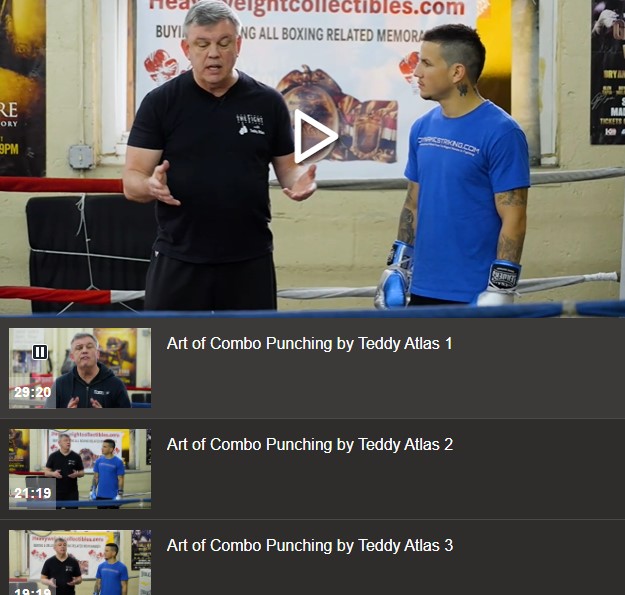 Format file 3x MP4 HD720p
please inform if you need
FHD 1080p
duration 1 hour 9 minutes
Art of Combo Punching by Teddy Atlas
Product Code: tin169
Availability: In Stock
---