The 4hr Comprehensive Pad Work System by Rany Steinke
Randy Steinke Teaches The ESSENTIALS Of Padwork In This 3-Part Masterclass On Using A Variety Of Pads In An MMA Setting!
MMA Lab coach Randy Steinke is a former professional fighter and has helped some of the top-tier talent in MMA.
Steinke uncovers the gritty details behind being a next-level pad holder to allow for fighters to rapidly increase their skills.
Start slow and build into a flurry of creative combinations that actually work in real-world settings!
Learn to use flow drills to help students utilize footwork, head movement, distance management, and more.
Develop precision, timing, and speed with specific drills that will help you keep opponents guessing while you deploy evasive footwork!
Padwork 101 Is A 3-Part Series Where Randy Steinke Lays Out A Complete Blueprint On Utilizing A Variety Of Pads For Rapid Skill Acquisition!
So, What Exactly Do You Get?
SLIPS AND ROLLS LEFT SIDE ISO
SLIPS AND ROLLS RIGHT SIDE ISO
SLIPS AND ROLLS BOTH SIDES
KICK - KNEE - HOOK - KICK REAR SIDE
KICK - KNEE - HOOK - KICK LEAD SIDE
ELBOW AND KNEE FLOW DRILL
CROSS - UPPER CUT - HOOK - CROSS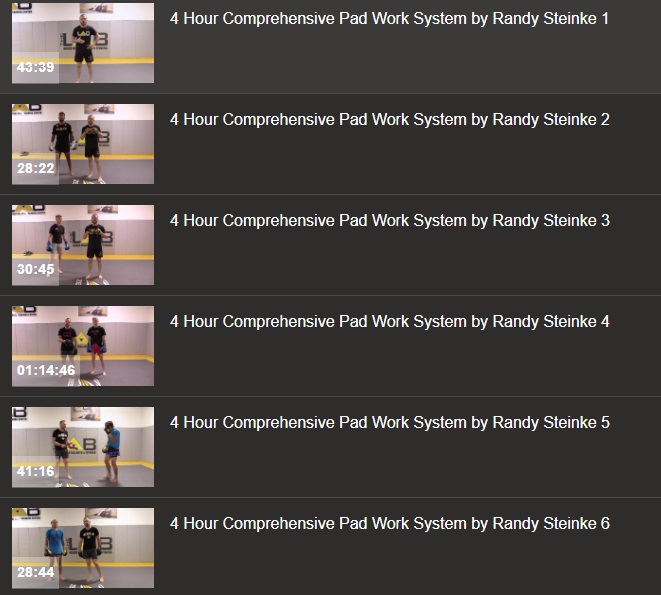 Format file 6x MP4
HD 720p
please inform if you need FHD 1080p
duration 4 hours 7 minutes
The 4hr Comprehensive Pad Work System by Rany Steinke
The 4hr Comprehensive Pad Work System by Randy Steinke
Product Code: tin205
Availability: In Stock
---