Learn The Simple, Safe And Highly Effective Line Drills From Matt Edgington That Will Boost The Techniques You Actually Use When Rolling And Improve Your Overall Physical Ability - Perfect For Warm Ups & At Home Work Outs!
Learn just how useful line drills are and why you need to implement them into your training whether it's for you or for your students.
Line drills are perfect for functional warm ups that not only get your students ready for class but also get them to train real practical movements
Start off with the basics like shrimping and hip escapes and work your way up to more advanced moves like inversions and one handed cartwheels!
Aside from functional, Jiu-Jitsu centric movements, build strength with moves like the gorilla and elephant walks
SO, WHAT EXACTLY DO YOU GET?
PART 1
INTRO
BASICS
TOE TOUCH
DOUBLE LEG
SHRIMP
BACKWARD ROLL
FORWARD ROLL
TECHNICAL SIT 1
3 SIDE STEP SPRAWL
BACK BREAK FALLS
HEEL SCOOT
WRESTLERS ROLL
STEAMROLLER
CRAB WALK
FRANKENSTEINS
FROG HOPS
LOW LEVEL HEEL TO TOE
PART 2
TECHNICAL
BOLOS
ALLIGATOR
1 LEG BEAR CRAWL
SHOOT DRILL (Z DRILL)
SIDEWINDERS
SIDE PLANK WALK
DUCK WALK
SHRIMP TO SPRAWL
FORWARD BREAK FALLS
GORILLA WALK 2
ELEPHANT
KANGAROO
COMBAT CARTWHEEL
HEADSTAND CARTWHEEL
HANDSTAND CARTWHEEL
PLANK TOE TOUCHES
TECHNICAL SIT
SIDE SHRIMP
HITCHHIKER ESCAPE
FIREMAN'S CARRY
INCHWORM
DUCK-UNDER (LEG RAISE/SIDE LUNGE)
BACKWARDS BEAR CRAWL
SKYWALKERS
3 STEP SIDE SPRAWLS
CROSS COLLAR CHOKES
FORWARD SHRIMPS
SIT-THROUGHS (LANDING KICKOUTS)
PART 3
COMPLEX
KICKOUT
GORILLA WALK 2
FIGURE 4 PUSH
SPRAWL TO SPIN
HANDSTAND TO ROLL
2 FOOT TOUCH SHOOT
BACKWARD CARTWHEEL (SPIN WHEEL)
TUMBLEWEEDS (TOE GRAB)
SIDE BUTT SCOOTS
CREATURE CRAWLS
BONUS WORKOUT
THE JIU-JITSU BURPEE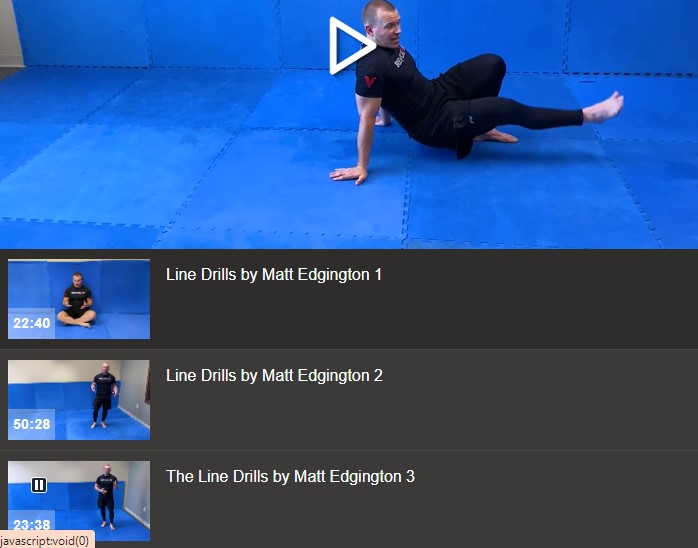 Format file 3x MP4 HD 720p
duration 1 hour 36 minutes
The Line Drills by Matt Edgington
Product Code: wor162
Availability: In Stock
---