Strong and Stable Knees 4 Life by Firas Zahabi
"If you don't develop a Black Belt Level of stability, you can kiss your wheels goodbye." Firas Zahabi
Coach Zahabi has seen more broken knees then any other coach alive today, MMA/BJJ is brutal, no other sport can compare! In fear of seeing his own knees break someday Coach Zahabi spent years working with the top experts from around the world on how to prevent and rehabilitate injuries. Over the years he develop the Strong and Stable 4 Life program.
"Simply put, we need to develop what I can Black Belt stability, most trainers however will only take you to the most basic level of stability training, that's all they know, that's all they can do, with knowledge of the correct progressions anyone can develop world class stability" Firas Zahabi
This program is designed for athletes of every kind and should be mandatory for all life‑long athletes. You need this video to ensure you good health. This is must have content!
As always, Coach Zahabi gets directly to the point. The video begins with a few key concepts about alignment to keep you fit and healthy for life. Coach then moves on to foundational exercises that will help you build STRENGTH, STABILITY, POWER, MOBILITY and DURABILITY in the lower body and help you protect your knees for life. All these components are needed for strong and stable knees.
Most athletes injure themselves with poor form, tight muscles, poor alignment and poor choice of exercise. Coach addresses all these issues in the first 45min of the program.
In Part 1, you will discover:
The Forbidden Exercise (Do Not Attempt): a demonstration in Black Belt stability.
Knee positioning concepts (must know)
Neutral Spine concepts (must know)
Neutral Neck concepts (must know)
Hip-Hinge concepts (must know)
Understanding the tight muscle problem
Stability ball hamstring curl progression
Advanced stability training
Combat base position on ball and progressions
Proprioception training (enhance speed of communication)
The most important BJJ mobility exercise for Guard Pass Prevention
More advanced stability ball exercises
Stability hamstring stretch
Quad stability Stretch (yes sometimes it needed to go knees over toes)
Expert only Med ball toss (Do not attempt)
Isometric holds you can do anywhere (no equipment needed) (Internal/external rotation)
The best substitute for running
Safely building rotational power
How to Box Squat for power and safety
How to build powerful hamstrings
The Fred Hatfield Concept
How to get maximum tension on the bar
Once the basics are covered in Part 1, Coach Zahabi goes into the Knees in Depth portion of the video. In this portion Coach will teach you what you need to know to build strong healthy knees for life. Reserve this portion of the video for when it's most convenient. Here, Coach goes into many deep concepts such as:
Why alignment is paramount
Why tight muscles are dangerous
Why stability training is king
Would you build a house of cards on a wobbly table?
Why you need an Iron Base
Why we never do stability training before live training
Why we need power: "Train like a Ferrari not like a tow truck"
Why we need low impact plyometrics
Why we keep our knees from going over our toes
Would you do a barbell squat with a rounded back?
Consistency over intensity (how many reps and sets?)
Why excessive soreness is the enemy
The pain rule (when it's ok to work through pain and when to stop)
When you should go see a physiotherapist
Why you want to avoid knee injuries
Coach's own personal knee injuries
What he has observed from training professionals for over 20 years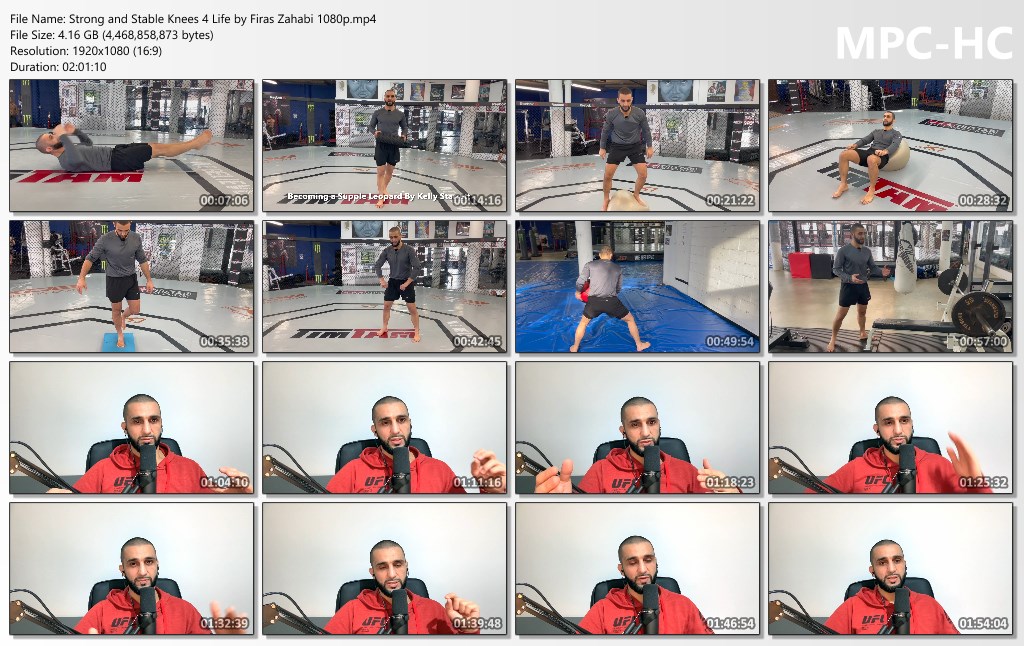 Format file MP4
FHD 1080p Video Only No PDF
duration 2 hours 1 minutes
Strong and Stable Knees 4 Life by Firas Zahabi
Strong and Stable Knees 4 Life by Firas Zahabi
Product Code: wor186
Availability: In Stock
---